Ford v Ferrari Review TIFF 2019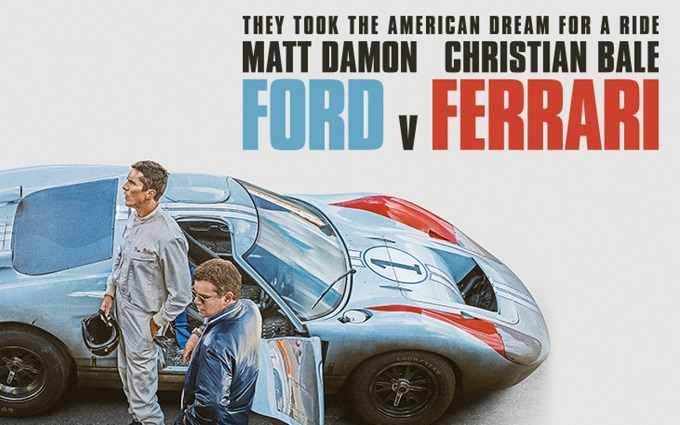 The Plot
The true story of how iconic car designer Carroll Shelby and racing legend Ken Miles helped the Ford motor company tackle the seemingly impossible task of challenging Ferrari for racing dominance at the Le Mans 1966 24hr race.
The Good
This film is an astonishing piece of work that eloquently captures the exhilarating pain, passion and glory of motorsport. For the uninitiated it represents a perfect introduction to the sport via one of its most iconic moments, for seasoned fans it is an intricately crafted celebration that brings glorious memories vividly back to life.
Director James Mangold has a polished track record at delivering films that balance flawless production design with sincere storytelling. Ford v Ferrari does a sensational job at recreating the look and feel of one of the most astonishing periods in motorsport history. The classic vehicles of that golden era roar back to life, lending the film both instantly iconic personality and unquestionable authenticity.
Matt Damon and Christian Bale are both on truly sensational form as the passionate partnership tasked with making unprecedented racing history. Damon plays visionary designer Carroll Shelby with a compelling mix of straight talking southern charm and obvious inner turmoil. Likewise Christian Bale delivers yet another amazing turn as Ken Miles, giving the flamboyant driver depth and heart. Bale expertly explores the nuanced contradictions of a man capable of being both a fiery tempered racing obsessed perfectionist but equally a tenderly devoted husband and father.
The dynamic friendship between these two motorsport icons is the true heart of this film. Bale and Damon work magic in capturing the frayed tempers and compassionate loyalty that helped these two friends ultimately archive iconic feats. It's a relationship that enthrals and inspires in equal measure.
An outstanding supporting cast helps the film to further achieve unparalleled greatness. Caitriona Balfe and Noah Jupe are compelling as Ken Miles' wife and young son. This authentic portrayal of a family that truly loves and understands one another crucially gives the film an additional emotional dimension.  At the same time Jon Bernthal, Josh Lucas and Stacy Letts each play their roles to perfection as the various Ford company bigwigs struggling to fully comprehend the true nature of the history they're making. The film's cast is a well-oiled machine with everyone and everything in its perfect place.
Of course beyond the human element the film's biggest character is undoubtedly the astonishing depiction of racing drama. Once again the film is an engine roaring success as it vividly brings to life the break neck speeds and exhilarating rush of drivers pushing unbelievable vehicles past the point of technical and human limitations. It's hard to do justice in words to just how expertly crafted these portions of the film are. Packed with suspense, wry humour and buckets of raw adrenalin.
The Bad
It's a rare delight to find so few flaws in a film. Obviously those with an existing distain for watching 'fast cars drive around in circles' will be prepared to dislike this film. But I defy them to watch it anyway. If it can't persuade you to change your mind about the entire sport, you will at least find the underlying human story of a passionate friendship among those who push life to its absolute limits a compelling tale.
The Ugly Truth
Ford v Ferrari is high octane storytelling of the highest calibre that demands to be seen. It is a beautifully crafted and fitting testament to the ingenuity, sacrifice and friendship of iconic men who made breath-taking history in the face of abundant dangers and doubt. Whether you share a passion for cars or not, do not miss this film.
Review by Russell Nelson