The Children Act Review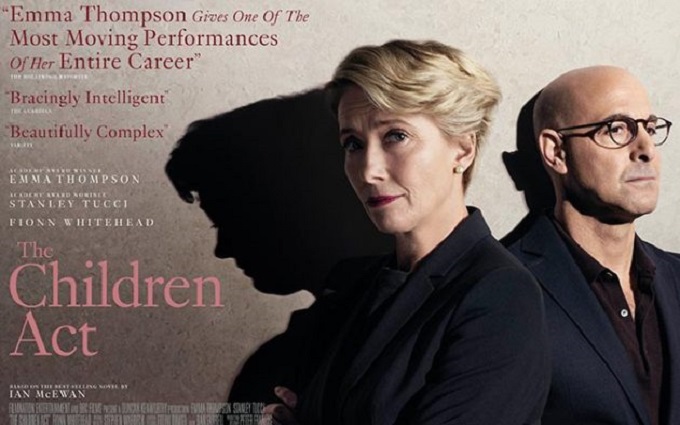 The Plot
A family court judge struggles with the pressures of her own faltering marriage and a complex case involving a young boy refusing lifesaving medical treatment on religious grounds. A strange and unlikely bond develops between the pair, challenging both their world views and creating considerable emotional turmoil.
The Good
Based on the book by much celebrated author Ian McEwan, The Children Act is a thoughtful and sincere adaptation of an undeniable poignant story. The fact that it is at least loosely inspired by real life legal drama and personal tragedy adds an extra dimension of credibility to an already well-crafted production. The film's authentic legal settings and faultless production values in particular allows it to provide a compelling and immersive portrait of the stark emotional realities of family court's often traumatic work.
Emma Thompson is an actress of singular skill and subtly. It is simply impossible to imagine anyone better suited to delivering this nuanced and achingly troubled performance. Her ability to trade swiftly in both brisk professional stoicism and evident reservoirs of deeper personal emotions enables her to deliver a performance that excels even by her own typically high standards. Few actors are so readily able to truly capture the complex layers of strength and weakness that so often distinguishes real life from mere storytelling.
Young Dunkirk star Fionn Whitehead likewise gives his character a captivating wide eyed intensity. He lurches skilfully from youthful charm to anguished uncertainty throughout a slow burning tale that injects each scene with a raw and nervous energy. It's testament to the skill of this young star that he is capable of portraying fresh faced optimism and harrowed nihilism with equal convincing sincerity.
Supporting turns from a host of recognisable talents and a sharply precise script further helps director Richard Eyre deliver a film capable of fully investing audiences in admittedly difficult subject matter.
The Bad
While The Children Act showcases undoubtedly outstanding performances, its dark and often tragic themes will prove difficult if rewarding viewing for audiences. The film's lack of clear messages will leave many emotionally drained by the absence of the kind of cathartic emotional triumph they will likely expect and crave from typically escapist blockbuster drama.
Irrespective of how skilled and earnest the production and its stellar cast are, the fact remains that this is a film which deals with terminal illness, the legal profession and personal tragedy. Despite the film's commendable handling of each of these themes, their collective impact on audiences may inevitably be more downbeat and sombre than uplifting or entertaining.
Ultimately the film's brave choice to leave much of its emotional subtext more realistically confused may prove a little daunting for more casual audiences.
The Ugly truth
The Children Act is a thoughtful and sincere adaptation of a story that deals with complex emotional subject matter, particularly through a pair of brilliant central stars. Emma Thompson is on absolutely stellar form and her five star performance largely helps carry the poignant burden such subject matter inevitably places on audiences.
Review by Russell Nelson