Sin City: A Dame To Kill For Review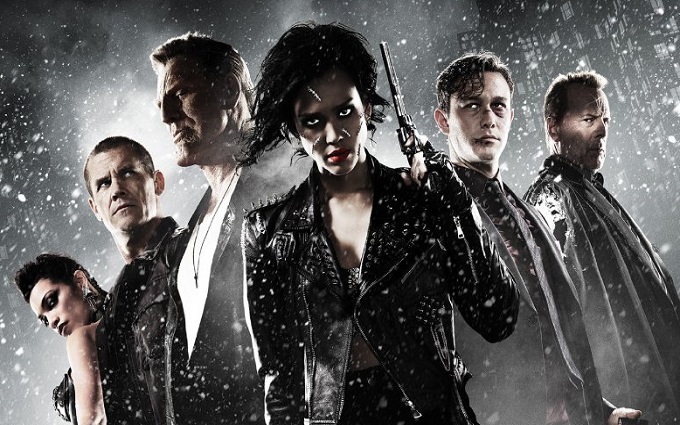 The Plot
Robert Rodriguez and Frank Miller team up again to bring a second dose of stories from Miller's ever popular graphic novel. Bruce Willis, Powers Boothe and Mickey Rourke are among the returning faces, whilst newcomers Joseph Gordon-Levitt, Josh Brolin and Eva Green are added this time around.
The Good
It's been 9 years since cinemagoers were first introduced to the beautifully shot streets of Sin City, with its nods to film noir and incredibly well adapted scenes which, quite literally brought Frank Miller's comic book series to life. But finally Robert Rodriguez and co-director Miller have managed to gather the previous actors together as well as add in a few new faces for a selection of more stories from the city where 'you go in with your eyes open, or you don't come out at all' as Joseph Gordon Levitt's Johnny so eloquently puts it.
This is perhaps the best way to describe Sin City: A Dame to Kill for. It's certainly a wonder to watch as Rodriguez and Miller bring the same beauty that made the first film such a hit. The stories explored this time around feature the aforementioned Gordon-Levitt in The Long Bad Night as Johnny a smug young gambler who swaggers into Sin City in the hopes of embarrassing Powers Booth's Senator Roarke in a game of poker. We also have Eva Green joining the film in the titular storyline, A Dame To Kill For as femme fatale, Ava Lord who has Dwight McCarthy (with Josh Brolin replacing Clive Owen as a younger version of the character) wrapped around her little finger in the way that someone only of Green's calibre could do.
Wrapped around these stories we also have the return of Mickey Rourke looking and sounding as gruff as the last time we saw him as Marv, in Just Another Saturday Night where he has a run in with some frat boys attacking a homeless man. And finally, Bruce Willis returns as John Hartigan along with Jessica Alba's Nancy Callahan in Nancy's Last Dance.
Each of the four stories weave effortlessly in and out of each other with characters popping up here and there before taking the stage for themselves in their own stories. While it's nice to see Willis and Rourke back, the highlights this time around are undoubtedly Eva Green and Joeseph Gordon-Levitt. Gordon-Levitt becomes instantly likeable as the cocky Johnny but Green eventually tops him as she charms the audience just as easily as she does Brolin's Dwight.
The Bad
The nine year gap has not helped Sin City in the long run. Though it is just as amazing to watch as it's predecessor, A Dame To Kill For doesn't have anything really new or ground-breaking to warrant it's existence. If it had been released maybe a year or two after the first, we could have had a strong franchise on our screens by now. However as entertaining as a third instalment would be, if the gap between films is even half as long next time round, interest will surely have died out altogether.
Another wrong move in the sequel is the cameo's. While Christopher Lloyd just about gets away with his, the appearance by Lady Gaga feels incredibly out of place. This is a film which certainly doesn't need cameo's like this to keep it interesting so why Rodriguez bothered to include her for such a blink and you'll miss it scene is just plain confusing.
The Ugly Truth
Joeseph Gordon-Levitt and Eva Green shine brightest in the long overdue sequel to the dark adaptation of further stories from Sin City while Bruce Willis and Mickey Rourke bring a sense of familiarity with them. Although it has issues with the lengthy gap between the first instalment and this one, and it's unnecessary cameos (mainly Lady Gaga's), fans will definitely get a kick out of returning to the beloved setting.