Idina Menzel World Tour Wembley Concert Review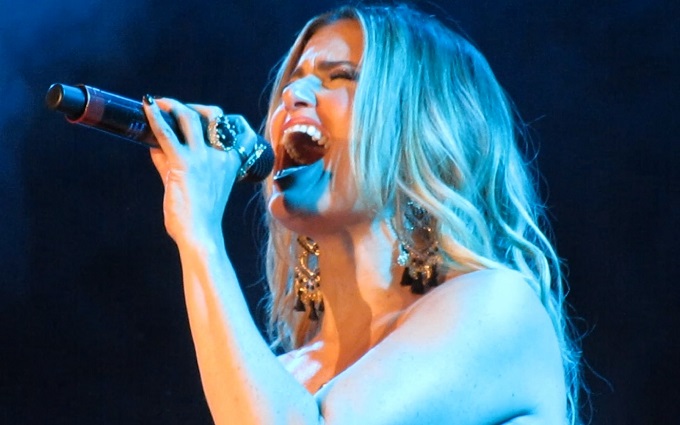 The Set List
Defying Gravity , Don't Rain on My Parade, Brave, I Stand, The Wizard and I, River, Love For Sale/Roxanne, There's No Business Like Show Business/Anything Goes/ Everything's Coming Up Roses, Still I Can't Be Still, Creep, Take Me or Leave Me, No Day But Today, Always Starting Over, Let It Go.
Encore: Child, Tomorrow.
The Good
Tony Award winning theatre icon Idina Menzel is now a record breaking global superstar, adored by generations of fans around the world as the voice of Frozen Disney princess Elsa. After Oscar glory and the unprecedented pop culture phenomenon of Let It Go, it's fitting that Menzel fulfills one of her own admitted life ambitions to play to a delighted crowd in Wembley Arena.
Menzel has a staggering vocal power which burst from the stage with every note of every ballad. There's a deep rich tone to her voice and an unashamed theatricality to her performance, honed through years of Broadway and West End productions. She's a true show stopping diva, of a caliber rarely seen.
Playing to over 10,000 people tonight in the cavernous arena, the ever undaunted Idina delivers a crowd pleasing section of familiar songs that serves almost like a musical autobiography. The set combines ionic tracks from productions like Rent and Wicked with covers that pay heartfelt homage to Menzel's own musical influences.
Opening with Defying Gravity gives audiences the instant satisfaction of hearing the definitive version of Elphaba's uplifting ballad. Though many talented performers have followed in her footsteps, nobody ever truly matches Wicked's original star Menzel. Idina speaks with fond passion about the all the productions that made her a star. It's especially poignant to hear her pay an emotional tribute to Rent creator Jonathan Larson before delivering a tear stained version of No Day But Today. These are the songs that won Menzel a devoted following before she ever became 'Disney famous', and they clearly mean just as much to her as her fans.
Menzel has a close connection to her fans and there's no better way to show that than by literally rushing off the stage to sing among and with them. During a jaunty rendition of Take Me or Leave Me, Idina races around the crowd to duet with stunned fans, before dragging some of the most talent singers back on stage with her. It's a perfect embodiment of the beautiful spirit of community and mutual love that often distinguishes theatre stars from their pop and rock star counterparts.
Menzel is fully aware she's part of a proud legacy of bold stage divas and she pays frequent homage to that with covers of classic songs by Ethel Merman and Julie Styne. More contemporary covers of acts like Radiohead, The Police and Joni Mitchell prove to show Menzel's own range as an artist and unsurpassed skill as a vocalist.
Of course for most fans, the true bucket list moment of the night is undoubtedly helping Menzel proudly blast out a belting rendition of Let It Go. It's the song which single handily made her an instant household name around the world, beloved by children and relieved parents alike. Live, she attacks the endlessly played song with joyous enthusiasm. Indeed, the true secret of the song's unique success and global appeal is that it encapsulates the spirit of bold anthemic optimism embodied in much of Menzel's work. Let It Go is a song defined by Idina Menzel, not just a song that defines her.
It's hard to imagine any encore that could possibly surpass the power ballad might of Let it Go, but closing out a set with Tomorrow from Annie is a beautiful way to leave audiences indeed.
The Bad
Younger fans may be a little traumatized to learn that when she's not letting it go as Queen Elsa, Menzel also has a habit of letting f-bombs go on stage. Menzel's between songs chatter is endearingly sassy and frequently foul mouthed. Though admittedly it's highly amusing and quite charming for the mostly adult crowd to see Menzel knowingly show off in front of fellow grownups for a change.
The fiercest critics might point out that Menzel mostly sings material written by other people or borrowed from other artists. But that would do a cruel disservice to the transformative power of her unique voice and emotional performance. For example, when Menzel delivers her heart wrenching version of Radiohead's Creep, backed by the heavenly crescendo of a big band, it's fragile and triumphant in ways which arguably eclipse the original version.
The Ugly Truth
Idina Menzel is a delightful diva with a powerhouse voice big enough to dominate any stage and enchant any audience. Working her way through a well-chosen hit list of show tunes and show stoppers she gave London an unforgettable night and a flawless dive masterclass.