Goodbye, Donglees! Gets Edinburugh Festival Premiere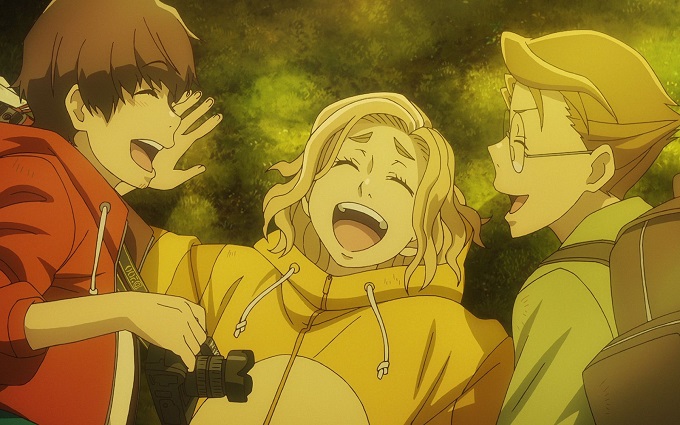 There's no time more exciting yet poignant than the end of youth: when we weigh up what's truly special to us and become aware of the wider world outside our humble hometowns. This fond farewell to childhood is at the heart of Goodbye, DonGlees!, a coming-of-age adventure that Anime Limited are excited to bring to new horizons with the film's UK Premiere at the 75th Edinburgh International Festival on 16th August 2022, with the film's director Atsuko Ishizuka in attendance! Goodbye, DonGlees! will receive a wider theatrical release in the UK and Ireland later this year.
Outcast by their classmates, teenagers Roma, Toto and Drop found each other and became the tightly knit friendship group dubbed the "DonGlees". However, after meeting up for one last summer firework show together, they find themselves blamed for a nearby forest fire. Believing a wayward drone to be the only way of proving their innocence, the trio head into the rural mountains, and alongside frightful bears and perilous waterfalls, find that growing up might be taking them down different paths in life.
A story of embracing youthful adventure punctuated by emotional soul-searching, Goodbye, DonGlees! embodies the hallmarks that led director Atsuko Ishizuka's 2018 anime series A Place Further Than the Universe to critical acclaim, with the New York Times naming it one of the Best International Shows of the Year. Ishizuka has also previously directed the highly popular fantasy anime series No Game. No Life, and its theatrical prequel No Game, No Life the Movie: Zero.
Goodbye, DonGlees! will be shown at Edinburgh International Film Festival on Tuesday 16th and Friday 19th August 2022, with the director in attendance for the former screening only. The film will be shown in Japanese with English subtitles.
For more information and to book tickets, please visit https://www.edfilmfest.org.uk/