Fortune Favours Lady Nikuko Gets UK Release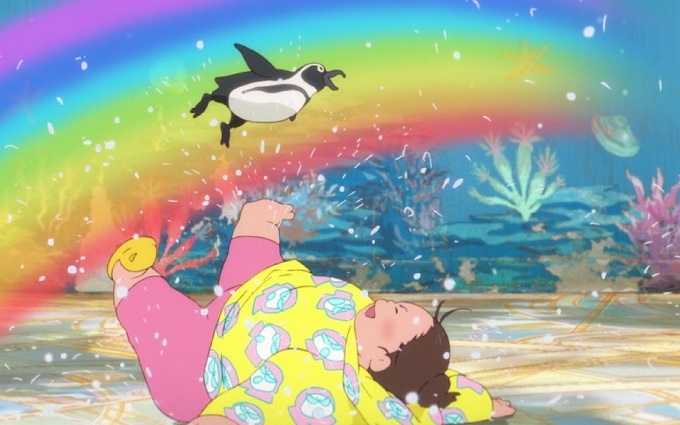 While the anime medium has seen a recent renaissance owing to exciting epic fantasies and dazzling romances that are literally out of this world, sometimes, an ordinary life is the best of all. That's the charm of Fortune Favors Lady Nikuko, an eccentric yet heartwarming testament to the earnest lives of ordinary people from Japanese comedy legend Sanma Akashiya and award-winning director Ayumu Watanabe (Children of the Sea). Anime Limited are delighted to announce that Fortune Favors Lady Nikuko is joining their Cine Matsuri season of exciting anime films, coming exclusively to selected cinemas in the United Kingdom and Ireland from 10th August 2022.
Everyone knows about Nikuko, the larger-than-life woman who works at the local grill house and lives in a cosy houseboat moored at the docks of a small town. She's loud and the furthest from being fashionable, but she has a big heart - whether that's for deadbeat men sure to deceive her, or her daughter. A girl on the cusp of adolescence, Kikuo wants nothing more than to fit in and is often embarrassed by her mother, until the unearthing of a secret threatens to either bring them closer together, or tear them apart.
The colourful and heartfelt story of Fortune Favors Lady Nikuko was brought to life after the film's creative producer, the popular Japanese comedian Sanma Akashiya, found himself moved by the love between parent and child found in Kanako Nishi's original novel, with Nikuko's cheerfulness reminding him of women he knew growing up in Kansai. When deciding to bring Nikuko to life through anime, Akashiya believes that "There are many things that Japan can be proud of and defend on the global stage. Anime is one of them".
This makes Fortune Favors Lady Nikuko more than a perfect addition to Anime Limited's ongoing Cine Matsuri season, which will continue to bring a jam-packed line-up of exciting, diverse anime films to cinemas across the United Kingdom and Ireland throughout summer and autumn.