Top Movie Couples Of All Time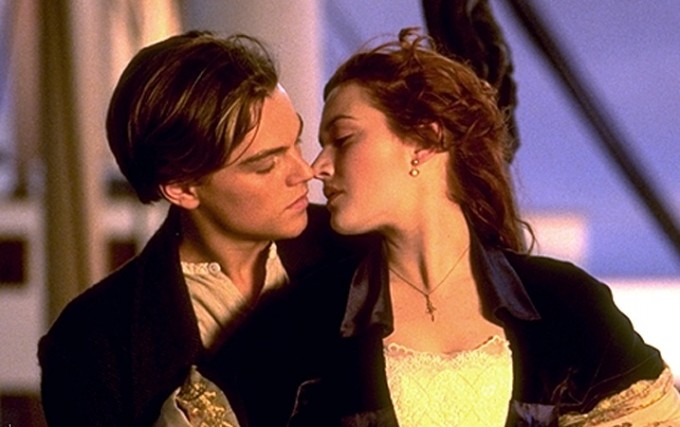 Love is most definitely in the air  as we celebrate the top movie couples of all time. From slushy feel-good rom-coms to heart-breaking tragedies we laugh, cry and cheer our way through all these cinematic love stories. Nothing can compete with the exhilaration of first love, the pain of unrequited love or the ultimate euphoria of a happy ending when two people finally kiss.
Big screen romance can be important and inspiring. It puts the most complicated and special human emotion up in the spotlight for harsh examination and joyous celebration. So in that spirit let's begin our list of top movie couples…
1. Jack & Rose – Titanic
We turn to one of Hollywood's most iconic on screen couples to start our list. The love between Jack and Rose in Titanic is so epic and intense it took almost four hours and an unrelenting Céline Dion power ballad to adequately capture it on screen.
The story of a reluctant socialite falling for a pretty poor boy may be a familiar romantic staple, but setting their doomed love against the backdrop of the world's most infamous nautical disaster lent their romance both timeless elegance and tragic grandeur.
Kate Winslet was in full bloom as the perfect English rose and Leonardo Di Caprio's angelic face was at the very height of its powers. From young girls to charmed grannies, generations of women worldwide were all joyously infected by the welcome hysteria of "Leo Mania".
Titanic remains an unparalleled romantic phenomenon. It took $1.8 billion at the box office, thanks to the fact that every woman alive took her friends, family and increasingly bored boyfriend to see it approximately nine times each.
Maybe it was the winning combination of forbidden love and ultimate sacrifice that made the film so emotionally addictive. Or perhaps it was just the vain hope that if we just watched it enough times and wished hard enough that ending might change.
Either way, James Cameron is hoping we'll all watch it nine more times as Titanic sets sails back to the big screen 3D.
2.  Romeo & Juliet
 Leonardo Di Caprio also lent his perfect face to one of the definitive star–crossed lovers in Baz Lurhman's adorably opulent adaptation of Romeo & Juliet.
Since the time of William Shakespeare one romantic truth has been universally understood, no love is more powerfully intoxicating and utterly romantic than first love, except perhaps… forbidden love.
Watching two besotted teens from warring families fall hopelessly in love reminds us most emphatically that while true love might not always quite manage to conquer all, it probably should.
Clare Danes in angel wings and Leo's floppy haired charms are a perfect picture of an idealised passion that is both innocent and unashamed. It's just a pity they're the only ones who don't know how those stories end.
Romeo & Juliet is bittersweet to the last, it's both a jubilant reminder of the magic of new love and a grim lament on it's all too inevitable fate.
3. Han Solo & Princess Lea – Star Wars Trilogy
 Even more satisfying than couples tragically torn apart by the world, are those that can't stay apart no matter how much they fight it. It's a big screen affirmation of the well know romantic cliché that 'opposites attract'.  They might bicker, squabble and even claim to loath each other, but we all know it's going to end in some serious kissing.
One perfect example of this is Han Solo and Princess Lea. He's a cynical intergalactic smuggler, who's roguishly charming.
She's an idealistic princess, who's bossy and beautiful. On paper they couldn't be more wrong for each other, but from the moment they meet the romantic fireworks between them put the Death Star explosion to shame.
It was clear to everyone that so long as intergalactic civil war didn't keep interrupting them it was only a matter of time before their name calling banter turned into a passionate space embrace.
Though some credit has to go to Carrie Fisher for bravely sipping into a Gold Bikini, Harrison Ford's perfectly smug smile is probably most responsible for the electric chemistry between the two.
4. Indy & Marion – Raiders Of The Lost Ark
 Romantic lighting struck twice for Harrison Ford in Raiders of the Lost Ark, when his adventuring archaeologist Indiana Jones met his perfect match in Karen Allen's feisty Marion Ravenwood.
New love is exciting but no romance burns hotter than an old flame. Whether they were fist fighting Nazis or bus fending of a horde of snakes, these two former lovers still found time to trade playful barbs. Indy and Marion had the kind of furious chemistry that's only possible with a sense of history and the determined passion of unfinished romantic business.
Indy might be the archetypal macho hero, but Marion was the love interest who greeted him with a firm punch to the chiseled jaw and could drink any man under the table. She was the perfect antidote to the usual damsel in distress and ever bit our heroes equal.
After the hysterical blonde love interests of Temple of Doom and The Last Crusade it was very pleasing to see Indy and Marion finally reunited in the latest sequel, although it was a little tragic that their son turned out to be a sweaty Shia Labeouf.
5. Elizabeth Bennett & Mr Darcy – Pride and Prejudice
Some movie couples make their affections immediately obvious but there's something elegantly intense about smoldering hidden passions.  Torn straight from the pages of Jane Austin's classic literature Elizabeth Bennett and Mr Darcy have been sharing the same intense gaze through hundreds of years and countless big screen outings of Pride and Prejudice.
The reason that we're continually captivated by this comparatively chaste couple is that they perfectly encapsulate the notion of longing. Whether welcome or not, most people can immediately relate to an uncontrolled yearning for someone else.
No matter how much the world changes one thing has remained romantically constant; a lingering look between two people can still be just as significant and emotionally explosive as the wildest embrace.
6. Bridget Jones & Mark Darcy – Bridget Jones Diary
Borrowing liberally from Austin's masterpiece Bridget Jones Diary reminded us just how thin the line is between loathing and loving.
Rene Zellwegger admirably managed to keep desperate singleton Bridget the right side of likeable and Colin Firth made sure Mark Darcy was the kind of pompous human rights lawyer you probably wouldn't mind marrying in the end. Despite Hugh Grant's best womanizing  efforts, they were always clearly destined for each other. Proud Mr Darcy really does fight Naughty Daniel Cleaver for Bridget's love… albeit in a hysterically realistic way
Beyond its fisticuffs and big pants silliness, the film actually manages to deliver one of the most honest and important romantic messages. When you love someone, it's always in spite of the flaws. Whether it's dodgy sideburns or idiotic ramblings, at the end of the day we love them just the way they are.

7. Philip Marlowe & Vivian – Bogart & Bacall – The Big Sleep (1946)
Humphrey Bogart and Lauren Bacall were a legendary couple on and off the screen but they never sizzled more than in their finest outing in film noir classic The Big Sleep. Despite a 25 year age gap between them it was mesmerizing to watch the sparks fly as they traded razor edged one liners and sly innuendos.
Bogart was a perfect fit for hard-boiled detective Philip Marlow and Bacall was the ultimate husky voiced femme fatale. If love is a battlefield then it's a joyous education to watch these two masters at work.
It's probably hard to imagine the electrifying impact of their brazen banter on audiences when the film was first released in 1946. Their raw sexual tension, coupled with their real life marriage, gave their performances an added dimension of lust and excitement.
Most silver screen romances are remembered as being tame celebrations of idealistic love, but Bogey and Bacall played with real fire and enjoyed getting burned.
8. Rick and Ilsa – Casablanca
Humphrey Bogart and Ingrid Bergman gave us a more noble type of romance in Casablanca, often hailed as one of the ultimate movie love stories.
Bogart plays Rick Blaine, an exiled American, reduced to running a popular nightspot in the seedy no man's land of Casablanca during World War II.  But when the lost love of his life walk through his doors it opens up old wounds and forces them both to make hard decisions about whether the troubles of two little people in this world really amounts to more than a hill of beans.
The infamous final scene where the two re-united lovers find themselves faced with the impossible decisions between true love and the greater good is well known for good reason. Timeless and inspiring it's a celebration of one of the most important aspects of any great love, sacrifice and the willingness to look beyond selfish concerns.
9. Edward & Vivian – Pretty Woman
No from the heroic to the decidedly sordid…. The Beatles famously sang "Money can't buy me love"… obviously they'd never seen Pretty Woman.
The unlikely love story sees a ruthless businessman falling for the high class prostitute he's hired to impress people he's schmoozing in LA. At least it's an appropriate setting for a film that blurs all the lines between business, pleasure and love.
The world's oldest profession has never been associated with actual love for good reason. Iconic scenes where Richard Gere puts snooty sales clerks in their place by lavishing expensive clothes on Julia Roberts might be superficially satisfying but it's hardly romantic.
But beneath all the trashy materialism maybe the fact the fact that the film shows that ultimately even simulated intimacy leads inextricably to genuine emotions is a positive message, even if it does come in knee high stripper boots.
10. Holly Golightly & Fred – Breakfast at Tiffany's
Whatever Pretty Woman's credentials, the quintessential sex worker romance will always be Breakfast at Tiffanys. Between Audrey Hepburn's chic perfection and the gentle melody of Moon River it's often forgotten that this whimsical classic is actually about a Manhattan call girl and a good natured gigolo.
Miss Holly Golightly is a runaway child bride entertaining abusive men for money and mixed up in organized crime. Paul Varjak is a failed writer kept as a plaything by a rich older woman. On paper it shouldn't be romantic, indeed in Truman Capote's original novella it really wasn't, but much like real life romance people have a habit of seeing what they want to see.
From the opening shot of Audrey Hepburn loitering happily outside of the titular upscale department store to the iconic rain drenched finale there's something so beautiful and elegant about almost everything that happens that it's impossible to not be swept away by its charms.
11. Harry & Sally – When Harry Met Sally
When Harry Met Sally opens with actors playing happy couples relating eclectic real life stories of how they met and fell in love. It then sets out to answer a simple question can men and women ever truly be just friends without sex and love getting in the way.
The friends in question are cynical pessimist Harry (Billy Crystal) and neurotic optimist Sally (Meg Ryan). Along the way through their candid friendship the film explores almost every aspect of relationships from first date etiquette, through break ups and even faked orgasm dilemmas.  What's most compelling and unique about Rob Reiner's classic romantic comedy is that it simultaneously presents everything that's wrong and right with both men and women.
By the time Harry and Sally are ready for a satisfying grand romantic finale we've all learnt a little something about love.
12. Sam & Annie – Sleepless In Seattle
Meg Ryan continued her reign as America's sweetheart with an apparent thing for average looking men in Sleepless In Seattle. Tom Hanks is a depressed widower whose son calls a late night radio talk show asking for a new wife for his dad. Meg Ryan is a happily engaged woman listening on the other side of the country who becomes convinced she might just be the right woman for him.
Armed with a sweet soundtrack, precocious kids and the sheer force of Tom Hanks and Meg Ryan's combined likability it's a magnificent love letter to the ideal of true love and destiny. Though it does also deal admirably with loss and pain it's all worth it for that magic moment when two soul mates eventually meet for the first time.
13. An Affair to Remember
 Sleepless in Seattle borrowed much of its classy romantic mojo, including its Empire State Building themed climax from classic tearjerker An Affair to Remember. Cary Grant is a debonair playboy and Deborah Kerr is a beautiful singer who find themselves accidentally falling in love on a romantic cruise from Europe to New York, despite already being engaged to different people. When tragic fate separates the two lovers it seems they may be cruelly denied their last chance for real love… or will they.
On to watch with a full box of tissues and preferably snuggling up to someone you love. * Warm duvet and a bag of Malteasers optional extras.
14. Sleeping Beauty
Disney took us into the pages of fairy tale romance for the slow dance of our dreams in Sleeping Beauty. When the beautiful Princess Aurora is cursed by an evil witch only true love's first kiss can break the spell. Enter the heroic Prince Phillip fighting his way through goblins, thorns and evil dragons to wake our slumbering damsel with one heck of a good smooch.
Beyond the beautiful animation and enchanting music it's a wonderful example of the kind of white knight syndrome that many men and women suffer from to some extent. The hero that saves the day is literally love, with the emphatic message being that true love really does conquer all.
15. Beauty & the Beast
 As the song goes, Beauty and the Beast is a tale as old as time, but nobody ever managed to tell it quite as well as Disney before. It's a familiar fable of a beautiful girl trapped in an enchanted castle with a cursed man who can once again only be saved by the power of true love.
It's another overt celebration as love as the ultimate salvation from the entire world's woes and our personal struggles. On another level it's also a fairly obvious recognition of the fact men can be grumpy brutes that need to be soothed by the calming influence of women's grace and beauty. And vice versa of course.
16. Aladdin & Princess Jasmine
 Disney took us on another magic carpet ride to a whole new world of smaltzy romance in Aladdin. He's a diamond in the rough street rat who meets the runaway Princess determined to only marry for true love. It's a fairly common theme of lovers from opposite sides of the track, but throw in a beautiful ballad and some Arabian night's magic and suddenly it unforgettable.
Not even Peter Andre and Katie Price warbling a cover version of their love song can prevent Aladdin and Princess Jasmine being one of our top movie couples of all time.
17. Shrek & Princess Fiona / Donkey & Dragon
Another immensely popular animated couple that prove that it's really what's on the inside that counts is Shrek and Princess Fiona.
A grumpy green ogre with the personality and voice of an angry Glaswegian isn't the most likely of romantic heroes, but it's a fairly dramatic representation of the old Blues Brother's wisdom that "Everybody needs somebody to love". The fact that in the end the beautiful princess actually turns into an ogre rather than having Mike Myers suddenly voicing an inexplicably handsome prince, is a nice touch which challenges many of our preconceptions about happy endings and what being yourself really means in a relationship.
Although if you're looking for an even more emphatic example of love conquering all obstacles and an affirmation that there truly is someone out there for everyone we suggest you look at Donkey and Dragon. That's some seriously impressive love my friends.
18. Kermit & Miss Piggy
 Speaking of animal love… the ultimate success story for cross-species coupling has to be Kermit the Frog and Miss Piggy.  For decades the inseparable Muppet odd couple has stayed together. Miss Piggy has kept the fires of love alive all these years by maintaining her piggish figure and Kung Fu chopping anyone she feels the least bit jealous of…..Hiiiiiiiyah!
19. King Kong & Ann Darrow – KING KONG
A decidedly less successful attempt at animal romance was King Kong's efforts to literally sweep Ann Darrow off her feet. He did manage to take her to New York and even get her to the very top of the Empire state Building, but despite adeptly aping the plot of Sleepless in Seattle tragically he still got shot down… literally.
But even though it's a very unsuccessful courtship it does conclusively prove one thing, unrequited love can be a real killer!
20. Bob & Charlotte – Lost In Translation
 Drawing on the unlikely parallels between a middle aged man having a mid-life crisis and a hesitant newlywed coping with her post-graduate malaise; Lost In Translation absolutely captures the pain of isolation and the true essence of platonic love. The kind of intimate connection that can exist between two people independent of sexual tension based purely upon an emotional bond.
At the heart of our innate desire to be loved is an intrinsic need to feel like we're understood. Knowing that someone else gets you and cares just as deeply about your happiness as their own is a very powerful thing.
While we'll never know for sure what Bill Murray whisper's to Scarlett Johansson during their final embrace of the strange streets of Tokyo, it doesn't matter really. The emotional damage is done. They got lost together and they found each other. They'll always be a couple whether they run off into the Japanese sunset together or not.
21.  William Thacker & Anna Scott – Max & Bella – Notting Hill
Notting Hill gave romantic comedies a Meta twist by having Julia Roberts, then arguably the most famous actress on the planet, playing a world famous actress who falls prey to bookshop owner Hugh Grant's floppy haired charms.  Their romance heavy handily reminds us that the big screen objects of our affection and fantasies are still just people looking for love like the rest of us.
However actually the real stars of Notting Hill's romantic show are supporting cast member Tim McInnery and Gina McKee. Their background portrayal of a couple coping with disability and an inability to have children through the strength of unfaltering love is pure magic.
22. Edward Cullen & Bella Swan – Twilight
Twilight's Edward Cullen and Bella Swan reignited the fashion for vampire loving and gave legions of Twi-hard fans a teen friendly version of the Jane Austin style romance. The franchise made Robert Pattinson a household name and the object of lust for at least 50% of the world's hormonally charged teens.
Thought the franchise does boast an infamous love triangle, completed by the perpetually shirtless Taylor Lautner, R-Patz pouty lips and piercing stare are what people pay to see.
More than any other this is the movie couple that reassures teenage girls that it's perfectly acceptable and normal to spend endless hours staring intently at pretty boys that sparkle.
23. Sherlock Holmes & Doctor Watson – Sherlock Holmes A Game Of Shadows

Sherlock Holmes has always been accompanied on his sleuthing adventures by his faithful companion Dr Watson, but Robert Downey Jr and Jude Law took Sir Arthur Conan Doyle's classic literary bromance to brave new levels in recent adventure A Game of Shadows.  Holmes literally interrupt Watsons wedding night dressed in drag before promptly throwing the new Mrs Watson off a moving train into a river.
Another classic bromance has to be Riggs & Murtagh in Lethal Weapon
24. Woody Allen Dianne Keaton – Annie Hall/ Manhattan

Woody Allen and Diane Keaton were so successful at playing neurotic couples in classic films like Manhattan and Annie Hall that for year's many people have mistakenly described them as having been married in real life. She's the perfect scatterbrained foil for Woody's fumbling intellectual neuroses. They're not the most archetypally good looking or functional couple, but they remind us that like broken Lego pieces it doesn't matter how emotionally irregular you are, just so long as you find someone else who fits you.
25. Mrs Robinson & Ben – The Graduate
 Proving that age is just a number The Graduate swiftly gave us an answer to the memorable question "Mrs Robinson are you trying to seduce me?" Watching the cat and mouse game between Dustin Hoffman's nervous graduate and Anne Bancroft's predatory older woman is by turns hilarious, tragic and thoroughly seductive.
While the film's weddng dash ending is often misinterpreted as the euphoria of a conventional love story the real spirit in the film is about doing the wrong thing, precisely because it's the wrong thing. It's about lashing out at the world and its rules in selfish indulgent ways. It's about the cruel truth of relationships that's habitually glossed over by blockbuster romance. Relationships are messy, they hurt and they're often driven by compulsions we're not proud of.
26. Leon & Matilda – LEON
 Luc Besson's thriller Leon took the age gap romance into even more uncomfortable territory with the very questionable relationship between Jean Reno's assassin anti-hero and a 12 year old Natalie Portman. After a young girl's family are killed by corrupt cops a neighbouring killer for hire reluctantly becomes her guardian and surrogate parent. It sounds sweet enough, but the film dangerously flirts with controversial romantic undertones. During one particularly awkward scene Natalie Portman's precocious young character dresses as Marylyn Monroe and overtly tries to seduce a bewildered looking Jean Reno.
27. Spiderman & Mary Jane – Spiderman
On a decidedly lighter note … a radioactive sider bite might have given geeky teen Peter Parker superpowers, but it didn't change the fact he was hopelessly in love with beautiful girl next door Mary Jane Watson. Thought their relationship definitely had its ups and downs and ended with some embarrassing emo themed musical numbers they are still responsible for one of the most unusual and memorable kisses in recent film history.
Movie love is most exciting when it goes beyond our everyday experiences. Few people will probably ever kiss their dream girl while handing upside down in the rain and wearing full body spandex. Go get em' tiger.
28. Forrest Gump & Jenny – Forrest Gump

You don't have to be a genius to realize that Forrest Gump's unwavering love for his bestest friend in the whole wide world Jenny is a beautiful thing. At the heart of the film's rambling narrative of contemporary American history is a man who simply can't help but love unconditionally.
Though the film is unfairly often derided as being too sentimental and implausibly feel-good the sad truth is Jenny and Forrest don't have a fairytale ending and both of their lives are constantly touched by tragedy and harsh realities.
But there's a refreshing sincerity in the bittersweet journey they go on. It's a whimsical reminder that love and life really is like a box of chocolates, you never do know what you're gonna get.
29. Everyone In – Love Actually
 Richard Curtis poured every clichéd romantic comedy staple couple into one film for Love Actually. The result is an unprecedented love fest that touches everyone from ageing rock stars, to Portuguese house cleaners and the prime minster. It's the film that single handily proves that love really is all around us.
30. Carl & Ellie – UP

For anyone who says that it's not possible for any film, let alone an animated children's film, to adequately capture the complexity and rich emotional texture of real love we challenge you to watch the first ten minutes of UP without crying your eyes out. In one of the most perfect sequences in movie history we follow two people from their first childhood encounter through an entire lifetime of devotion and friendship.
There are literally no words to adequately describe how beautiful their love is. You simply have to see it for yourself…