The Struts Interview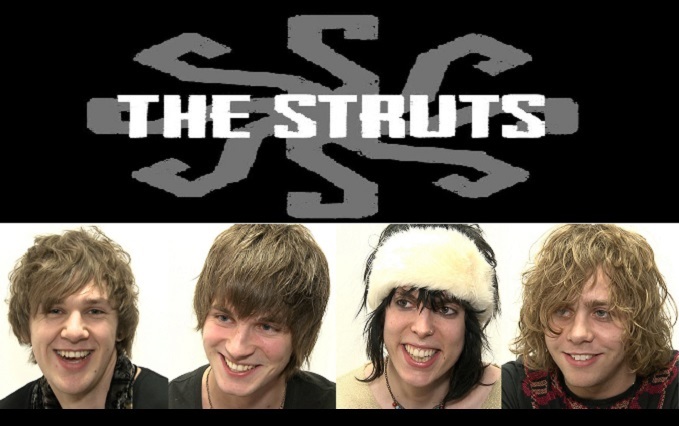 Red Carpet News sat down with cheeky Musical provocateurs The Struts for a series of memorable, melodic and mischievous chats. The derby four piece are riding high on the success of recent single Could Have Been Me. The single's catchy anthem like chorus promises very big things for their eagerly anticipated 2014 album and makes them one of the most promising musical prospects on the horizon.
Charismatic frontman Luke Spiller has a Freddie Mercury grin, the swagger of a young Jagger and a voice that lies somewhere between the two. Accompanied by deadpan guitarist Addo, impish bassist Jed and laid back drummer Gethin they are a musical force to be reckoned with and a hysterical delight to hang out with.
To start with the band each take a turn in the hot seat to answer some very intimate quickfire questions, with some very amusing results. A great way to get to know The Struts…
In easily the most sensible of our chats with the lads then tell our own Sara Hartill a bit about how they got started on the road to seemingly inevitable rock and roll stardom. The guys chat about influences, tours and of course the new album.
Finally we play Battle of the Bands with The Struts giving us their expert analysis of what would happen if artists like Miley Cyrus, Rihanna, The Rolling Stones The Wanted and Justin Bieber found themselves locked in a musical battle to the death.