The Nice Guys Review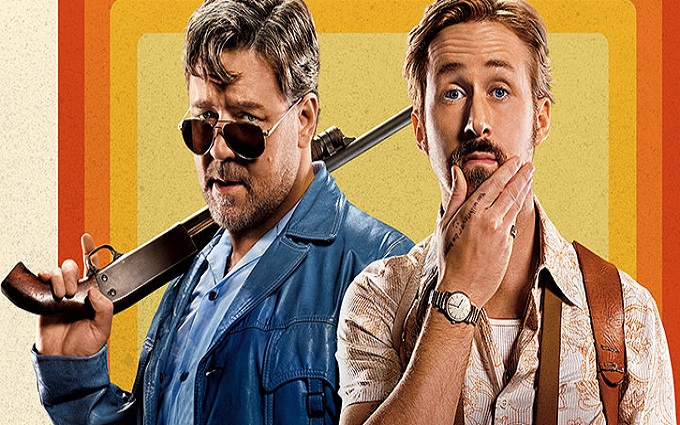 The Plot
A mismatched pair of private eyes investigate the apparent suicide of a fading porn star in 1970s Los Angeles.
The Good
Writer/director Shane Black returns to the big screen after dipping his toe into the Marvel Cinematic Universe with 2013's Iron Man 3 and brings a consistently funny script as only he knows how. Set in Los Angeles in 1977, The Nice Guys brings together Russell Crowe and Ryan Gosling as Jackson Healy and Holland March, two hapless private investigators who scour the city in search of the truth behind the death and apparent reappearance of porn star, Misty Mountains (Murielle Telio). To find out what happened, they must first find Amelia (Margaret Qualley) to help piece together the puzzle. The only problem is, Amelia doesn't want to be found.
Crowe and Gosling manage to bring a fantastically charismatic pairing to the screen in performances which basically see them moving from mistake to mistake as the bumbling investigators. Of the two it is undoubtedly Gosling who is most memorable. His drunken performance as March is a joy to watch while Crowe just looks on in disbelief. That's not to say Crowe doesn't get some laughs too. His are just more grounded than Gosling's.
The real treat however, comes from Angourie Rice who tags along this wacky story as Gosling's on-screen daughter, Holly. While the two leads are crashing through the plot creating comical chaos, Rice brings arguably the more mature performance of the trio as she tries her hand at her father's profession and manages to do a much better job of it for the most part.
The Bad
As a buddy cop comedy, The Nice Guys is excellent, but as a Shane Black film, it leaves a lot to be desired. The plot tumbles along from set to set, following the unarguably strong chemistry between the two leads, but once Rice comes into the mix she feels like the more interesting character to follow. Crowe and Gosling do a great job together but don't get enough character development to make us really care about much more than their comedy. And while Rice gets less character development, her performance brings out a much more intriguing character that feels undervalued. This is despite the fact that she is occasionally slumped into the damsel in distress role – though she manages to hold her own even in those scenes.
The story we're given takes a long time to become truly interesting as the mystery surrounding the question of whether Misty Mountains is still alive ends up being shunned aside in the second act to make way for the boisterous comedy.
The Ugly Truth
Shane Black brings plenty of laughs as is expected, but the plot feels a touch too empty in the end. While there's no denying that Russell Crowe and Ryan Gosling give two great comic performances (Gosling more so), it's Angourie Rice who leaves a bigger impact when the credits start to roll.
Review By Johnny Ellis