Mr Peabody & Sherman Review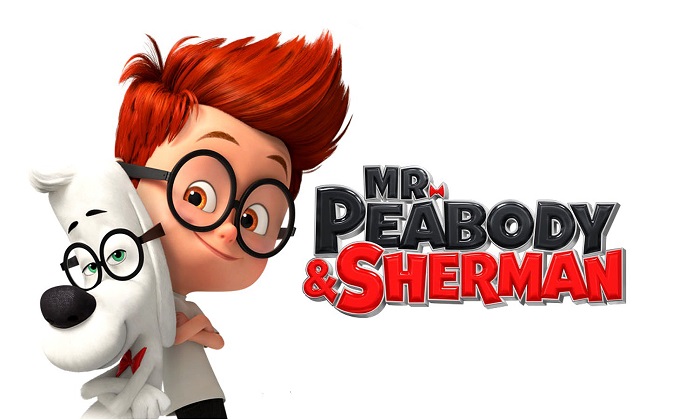 The Plot:
The world's smartest dog Mr Peabody takes his adopted human son Sherman on adventures throughout history in his time machine the WABAC. But after Sherman gets into trouble at school an ill-advised trip with his classmate Penny finds the unlikely pair trapped in a race to repair history and save the future.
The Good:
The Lion King Director Rob Minkoff struggled for nearly a decade to bring cult cartoon heroes Mr Peabody & Sherman back to life on the big screen. The character originally featured as a memorable part of The Rocky and Bullwinkle Show in the 1960s. The unorthodox duo of a genius talking dog and his adoptive son remains a clever piece of role reversal. Subverting both the classic boy and his dog relationship and throwing up obvious parallels with the evolving definition of the modern family unit.
Appropriately, 'Modern Family' star Ty Burrell provides Mr Peabody with a voice that oozes a well-judged mix of erudite confidence and sincere affection. Peabody could easily have been a smug professor stereotype but as a talking dog and doting parent he exudes a bow tie clad charm instead. In particular his calm kind hearted tone allows the film to slip in a lot of educational content without off-putting a younger audience.
Mr Peabody is instrumental in setting the comedic tone of the film, inventing as many silly puns as he does ingenious contraptions or plans. The chemistry between him and his clueless young protégé Sherman is right at the heart of the film and works effectively throughout. Relative newcomer, 10 year old Max Charles, gives Sherman endearing legitimately child-like qualities and spars well with Mr Peabody.
Though the film isn't above slapstick aimed at grabbing easy laughs from a young audience, it never forgets that beside every child watching will be an accompanying adult. For example it quickly follows jokes about Greek warriors being smelly with a decidedly more adult themed reference to Oedipus.
The historical periods and characters the story introduces are predictable but none the less; play fondly with familiar historical stereotypes and well-established clichés. It's perhaps understandable that aiming for a young audience the adventure stays conveniently away from any sensitive or remote historical eras.
The Bad:
DreamWorks has never truly equalled the photo realistic CGI magnificence of rivals Pixar and yet again delivers a style of animation which is more obviously cartoonish. Perhaps this time it is part of a deliberate visual choice to stick visually closer to the original cartoon. However it still skews towards a younger audience an may leave older kids feeling a little more self-conscious than they would be settling down to watch The Incredibles or Up.
Whilst the film is generally kind hearted, Sherman's bullying classmate Penny certainly isn't. Though she inevitably softens as the film progresses and obviously serves as a catalyst for the story, her presence does distract at times from the more interesting dynamic between Peabody and Sherman. The film perhaps also does too good a job of establishing her as an obnoxious bully early on, leaving her a little irritating for much of the film.
Although the films premise features a few unique elements, in truth the appearance of historical figures like King Tut, George Washington, Marie Antoinette and Leonardo Da Vinci is hardly a huge surprise. It certainly won't be the first time you've seen Da Vinci pop up in a children's movie as a scatter-brained Italian inventor.
Likewise, the film's final act feels a little like an obligatory blockbuster climax. The film toys with the idea of making unconventional choices and veering off into more offbeat territory, but ultimately comes back to wrapping everything up in predictably neat conclusions.
The Ugly Truth:
With Mr Peabody and Sherman, DreamWorks delivers another mostly satisfying animated effort. It's a good natured history lesson for young audiences kept entertaining by the obvious charms of a talking dog and a superb supporting voice cast.