Filth Review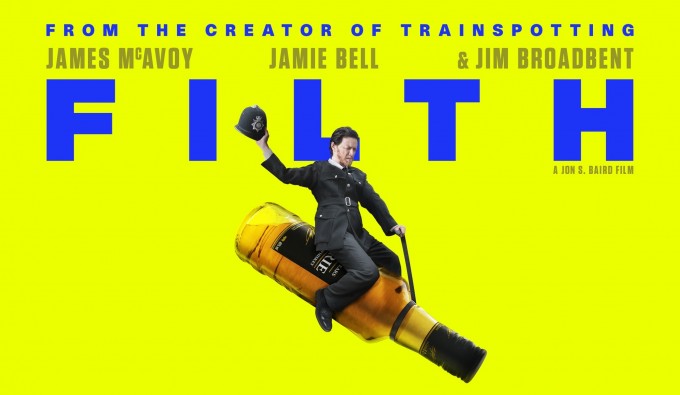 The Plot:
Bruce Robertson is an unapologetically depraved bigoted and misogynistic Edinburgh cop. Fuelled by drugs, alcohol and obvious mental health issues he ruthlessly pursues a promotion by systematically attempting to discredit and humiliate his colleagues. It's soon clear however that the ultimate goal of his vicious schemes is to win back his estranged wife and daughter.
The Good:
Trainspotting proved that Irvine Welsh's ironically rude and bold words could successfully be lifted from the page to the big screen. With Filth director Jon S. Baird follows a similar template and produces an adaptation which captures much of the tone, furious wit and vitriol of the original novel.
Leading man James McAvoy physically transforms himself completely to deliver a brutally powerful performance that's equally charismatic and repulsive. In his hands Bruce lurches convincingly from likeable schemer to despicable villain with the full force of bipolar moods swings. It's the highest compliment to McAvoy's performance that audiences will despise, enjoy and pity Bruce throughout the course of the entire film.
Around McAvoy's vicious central performance the supporting cast of Filth breathes grimy life into the world of 1990s Scotland. Eddie Marsan deserves particular praise as the nerdy accountant Bruce befriends and unrelenting bullies.
Trainspotting was heavily reliant on a note perfect soundtrack and thankfully Filth is able to rely on an equally evocative mix of memorable music. Deliberately misplaced joyful tracks help take the edge of some of the film's more harrowing moments, whilst a haunting rendition of Radiohead's iconic anthem Creep adds heightened poignancy to the film's end game.
The Bad:
Much like Irvine Welsh's seminal classic Trainspotting, Filth plunges head first into the darkness of deranged depravity and human failure. Watching our vice ridden anti-hero's increasingly horrific downward spiral will undoubtedly offend, disgust or sadden more sensitive viewers. A deceptively upbeat soundtrack and black comedy won't be enough to distract everyone from the grim realities the sordid tale truly exposes.
It you scratch beneath the thin veneer of foul mouthed comedy and lurid distractions, Filth is really a disturbingly honest look inside the deeply tormented mind of an alcoholic junkie haunted by nightmarish hallucinations. It's not an experience everyone will welcome or easily forget.
Those hoping to merely enjoy the maniacal ride with an unapologetic anti-hero will be disappointed to see Bruce left at times so pathetically pitiable and tragic. However equally there won't be nearly enough soul searching redemption for some people to overcome their initial revulsion to the character.
The Ugly Truth:
Filth is a loud lurid tale that eagerly tries to live up to all the visceral promise of its provocative title. At least in that regard, the film certainly succeeds, thanks to a relentless unashamed parade of smirking smut and sneering cynicism. James McAvoy delivers a transformative performance that adds nasty menace to his usually sweet natured repertoire. Whether good or bad, Filth is certain to provoke an intense reaction.
Red Carpet Interview with James McAvoy his co-stars, director and author Irvine Welsh below: