Comedy Stars Most Dramatic Turns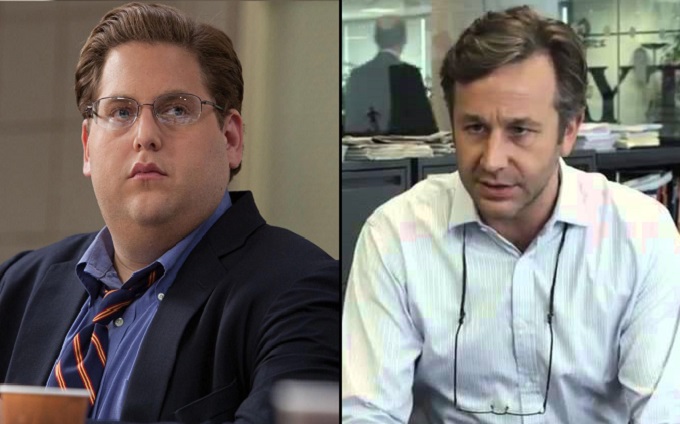 The IT Crowd funnyman Chris O'Dowd turns is a surprisingly stoic and understated dramatic performance in The Program, playing the real life Sunday Times journalist who battled to expose the Lance Armstrong drugs cheating scandal that exploded the world of professional cycling. It's not the first time a comedian has shocked audiences by playing it serious so here's a few interesting examples…
Bill Murray
Bill Murray was the absolute embodiment of the fast talking brash comedy genius of the 1980s. His wry smirk and wisecracking made him a household name and global box office superstar. From the zany antics of Caddyshack to the smug cynicism of Ghostbusters or Groundhog Day, Murray was undisputed comedy gold. However for many his finest achievement in front of the camera actually came in the unlikely form of Sofia Coppola's understated drama Lost In Translation. With art imitating life Murray played an again film star openly contemplating the meaning of his life and career in the alluring company of a similarly wistful young newlywed, played by Scarlett Johansson.
Jerry Lewis
The man best known and beloved for decades of comedy roles, both solo outings such as the perennial Nutty Professor and a long screen partnership with Dean Martin, made an attempt at a serious role with The Day The Clown Died, an experiment that went so badly wrong the film has still never seen a release. But Lewis redeemed himself nearly a decade later with his performance as the object of Robert De Niro's obsession in the brilliant The King Of Comedy. Playing a Jonny Carson-esque chat show king, Lewis brought a tired bitterness to the role that saw him stand toe-to-toe with a top of his game de Niro.
Steve Carrell
With a long career of put-upon comedy characters such as The 40-Year Old Virgin, Anchorman and, er, Date Night, Steve Carrell carved out a lucrative comedy niche on the fringes of Judd Apatow and Will Ferrell's respective 'gangs'. A little thing called The Office kept Carrell front and centre in people's minds as a comic performer while more wistful film roles in the likes of Seeking A Friend At The End Of The World opposite Keira Knightley acted as a forbear to a later assault on drama with the powerful Foxcatcher and, more recently, The Big Short.
Whoopi Goldberg
Goldberg might just peddle opinions on oestrogen-fest The View these days but time was when her comedy performances in the likes of Ghost, Jumpin' Jack Flash and Sister Act were packing in audiences around the globe. Hell, even a sperm donation comedy with Ted Danson scored bucks so it's perhaps sometimes hard to remember that Goldberg has a hefty set of dramatic talents as well, as evidenced by memorable roles in A Colour Purple, Girl, Interrupted and How Stella Got Her Groove Back.
Jim Carrey
Known the world over for his rubber face, energetic performances and for single-handedly introducing the world to Cameron Diaz, Carrey is the consummate comedic performer who also manages to find his way back to broad laugh-riots but he too has rung the changes with a number of devastatingly effective dramatic roles. He might have started carefully with a role that blurred the line between drama and comedy in The Truman Show, but Eternal Sunshine of the Spotless Mind really proved his credentials. He's not above the odd bit of dramatic horror, either, as the little-seen 23 shows…
Jonah Hill
The short, round star of a generation's worth of stoner comedy – Superbad, This Is The End, The Sitter etc – Jonah Hill is built for laughs but that hasn't stopped him making a fair amount of headway as a serious performer as well. An oft-forgotten cameo in Django Unchained and a barnstorming (albeit comedic) turn in The Wolf Of Wall Street prove the point but it's his stone-cold serious effort in Moneyball that is the real proof of the pudding and a brilliant performance to boot.
Jennifer Aniston
Aniston has had a bit of a tough run since graduating from Central Perk to the silver screen with a career peppered with largely forgettable rom-coms. But given the opportunity, Aniston can shine as brightly as she did for a generation as Rachel Green, as her performances in the criminally underrated The Good Girl show. More recently, Cake has reminded a few people of that fact so perhaps people should give her (rather than be on a) break?
Robin Williams
Arguably the high priest of mixing comedy and drama, the genius of Robin Williams at his best was at home in either camp. Sure, he made a name as one of the best stand-up comedians ever and will be forever adored for some of his family comedies (not to mention barnstorming ad-libbing in Good Morning Vietnam), but Dead Poets Society, Good Will Hunting, Awakenings and less-seen fare such as One Hour Photo and Insomnia prove that Williams at his best is hard to beat whatever the genre.
Seth Rogen
It's clear that there's a clever actor trying to get out of Seth Rogen. Less talented stars wouldn't have been able to convince audiences they're that stoned that often, but there's been precious little by way of a dramatic demonstration until this year's Steve Jobs. Sure, there's an argument that he was cast as Steve Wozniak as much for the physical resemblance as anything else but it made such a pleasant change not seeing him permanently attached to a bong that arguably no-one cared about.
Richard Pryor
Richard Pryor's personal life might have been as dramatic as hell thanks to a hefty set of addictions, but his cinematic output was largely limited to broad (and often very, very funny) comedies. Brewster's Millions and a repeated partnership with Gene Wilder are some of the highlights and whilst Superman 3 is arguably a fairly terrible film, Pryor's hapless 'villain' is a high point. But, lest we forget, he did have dramatic props that were evidenced as early as his affecting bit part in Taxi Driver (even if he did pull a gun on Paul Schrader). His cameo in David Lynch's Lost Highway is pretty hard to forget, too…
Chris O'Dowd
The Program isn't exactly O'Dowd's only foray into serious drama – he crops up in abortion drama Vera Drake, plays it largely straight in The Sapphires and impressed in Calvary – but we defy anyone not to think first of his career-making performance as Roy in The IT Crowd, his Emmy Award-winning creation Moone Boy or his breakthrough in the brilliant Bridesmaids, all of which showcase his impressive comedic chops. A sharp juxtaposition, then, to see him as whistleblower David Walsh in The Program, a man who singlehandedly brought down one of the 21st century's most undeserving heroes with blistering style.
 The Program is released to digital platforms on February 8th and on Blu-ray and DVD on February 15th