The Sweeney Review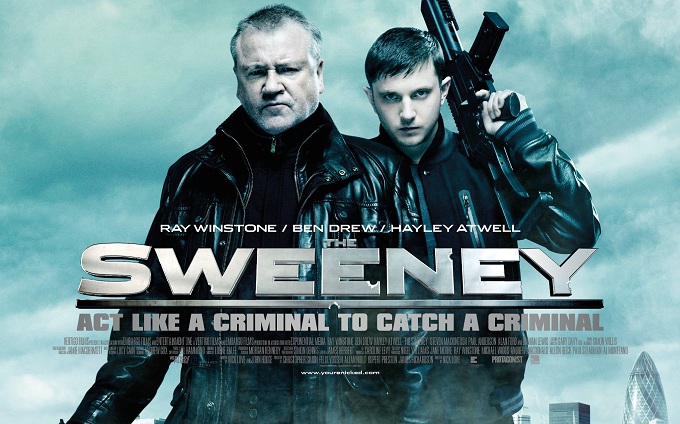 The Plot:
The hardened members of the elite police flying squad unit 'The Sweeney' do violent battle with crafty criminals on the streets of London; while trying to avoid getting shut down by internal affairs because of their aggressive no holds barred tactics.  The film drags the iconic 1970's TV series into the 21st Century and back onto the big screen with a very loud bang.
The Good:
Ray Winstone channels all his usual swaggering East End gangster charms into veteran copper Jack Regan.  He carries the lead role with a typical paunch and presence. He might be a gruff voiced stereotype, but at least he's never dull to watch. There is a certain silly pleasure to watching him slam a crook to the ground while informing them "You're nicked you slag!". If you give the film the benefit of the doubt and assume it's fully aware of the cliché, then it's simply having fun with that tough guy 'Geeza' image.
Winstone's character is a borderline unlikeable beast, but at least Hayley Atwell is around to provide a little beauty.  In addition to a pretty face, she lends the film a competent performance and a little subplot. The beautiful Captain America star is an awkward and unlikely romantic interest for a 55 year old Ray Winstone, but at least the film pokes a little fun at this. Although, Director Nick Love probably didn't intend their steamy love scenes to give the film its biggest laughs.
Ben Drew aka Plan B is rapidly establishing himself as a new breed of Renaissance man. Emerging from a successful career in urban music he has transposed that success quickly into acting and directing with debut effort ill Manors. The Sweeney now goes surprisingly far to establishing him as a potential British action star.
Ben Drew plays George Carter the flying squad's young protégé, a former teenage delinquent turned heavy handed police enforcer. There's a believable intensity and angry physicality to his performance. Though he might lack the range for period drama, on this evidence he could easily carve out a niche for himself as an action hard man.
Beyond individual performances, The Sweeney has enough exaggerated action to keep a simple plot moving. It doesn't take itself too seriously, but mercifully avoids the kind of awful camp parody that marred the unwatchable big screen re-imagining of Starsky & Hutch.
The Bad:
While the original Sweeney TV Series was a revolution in style and quality for British television, the new film feels too derivative of generic Hollywood action blockbusters.
The Sweeney does boast a glossy production value far beyond the average Brit crime caper. However, there's still something fundamentally implausible about watching police and thieves doing deadly machine gun battle on the streets of London, or giving frantic car chase down a quiet country lane. The film's violent mayhem would just feel so much more at home on Hollywood's gun-crime ridden streets of America.
Perhaps the only thing less believable than Ray Winstone's passionate affair with Hayley Atwell is watching him sprinting after bad guys or literally punching his way through walls. He commands the screen, but he's an ill-fitting action hero.
The Sweeney has energetic intentions but fails to deliver more than predictable superficial punches. It's loud, noisy and uncomplicated. If you're expecting a clever twist, a change of pace or a flash of emotional subtlety then unfortunately you'll still be left disappointed as the end credits roll. In truth you need a strong appetite for testosterone fuelled punches and cockney swagger to truly appreciate The Sweeney for the guilty pleasure it is. It's an acquired taste.
The Ugly Truth:
If you're a fan of no-nonsense coppers like Gene Hunt from Life On Mars, or Director Nick Love's past thug themed efforts, then you might enjoy all the loud bangs and macho posturing The Sweeney has to offer.  If you're looking for LA Confidential style clever crime drama then you'll certainly be considerably less impressed by it's over the top action antics.
Official Trailer below: 
Red Carpet Interviews with Ray Winstone, Ben Drew and Hayley Atwell: