A United Kingdom Review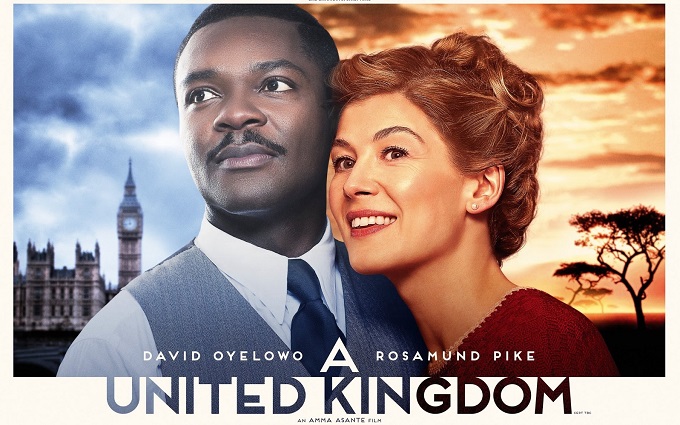 The Plot
Prince Seretse Khama of Botswana (David Oyelowo) causes an international stir when he marries a white woman from London in the late 1940s
The Good
David Oyelowo and Rosamund Pike star in this powerful romantic biopic which explores the story of a mixed race marriage that changed the course of history. After bonding over their mutual love of jazz, Seretse Kharma (Oyelowo) and Ruth Williams (Pike) soon start up a romance in 1940s London. But when Khama reveals his royal heritage and his intent to return to his homeland of Bechuanaland (now known as Botswana), with Ruth at his side, history is made.
Director Amma Asante brings another incredible story to life after 2013's Belle with some beautiful scenery of the drab and dreary streets of London juxtaposed with the bright openness of Bechuanaland, while Eye In The Sky writer Guy Hibbert's script balances a tale of love with the backdrop of a world on shrouded in racism with such ease.
It is in its two central performances however, where A United Kingdom truly showcases its effectiveness. Pike and Oyelowo bring an electric and unabashed chemistry to the screen that strengthens the plot and brings true emotion to a film which could have easily slipped into cliché.
The Bad
As balanced as Hibbert's script is, there are certain moments which, though few and far between do leave the scene with a sense of unfinished business. Thankfully the two leads are more than enough to fill up any emptiness that the script may occasionally leave.
Another problem comes in the films adversaries, here played mainly by Jack Davenport as a pompous civil servant, intent on trying to break Khama and Williams apart, as well as Tom Felton who seems to be reprising his role from Belle as slimy racist bastard. A role he plays very well it must be said. It's just a shame that these two dimensional roles are the ones put up against the powerhouse of Pike and Oyelowo.
The Ugly Truth
Oyelowo and Pike bring a beautiful chemistry to life with the help of Asante's stunning as ever directorial efforts. While the script feels the slightest bit lacking at rare moments, for the most part it tells its story with ease and balance. It's just a shame Davenport and Felton are left with not nearly as much to play with as its two main stars.
Review by Johnny Ellis