Travesties Review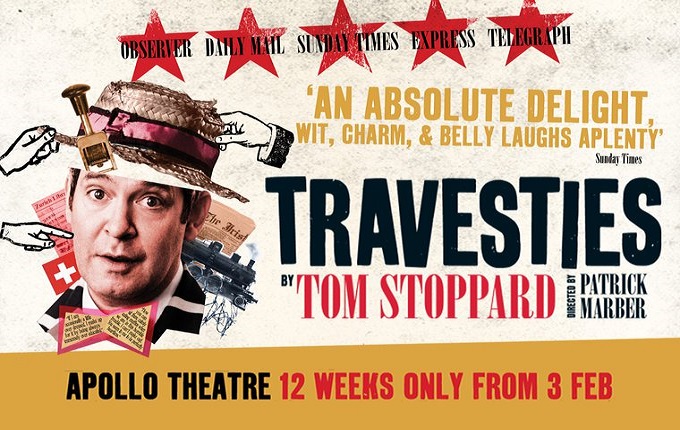 The Plot
An elderly man Henry Carr recounts comically misremembered tales of his time as a minor British Diplomat in Zurich in 1917. In the proses he accidentally fuses faded memories of his encounters with James Joyce, Tristan Tzara and Lenin with jumbled recollections of his involvement in a moderately successful production of The Importance of Being Ernest.
The Good
Returning to the West End after many years absence, much of the philosophical and political themes of Stoppard's Travesties remain oddly contemporary. Though set against the very specific historical backdrop of Switzerland in 1917 much of the play's free flowing debate about the meaning of art, love and anarchy are indisputably timeless.
In the lead role as both the befuddled older Henry Carr and the spry younger version of his recollections, British thespian Tom Hollander is perfectly magnificent.  Those that perhaps know him best from his consistently scene stealing supporting work will be even more delighted to see him hold court on stage with an effortless charm and accomplished dry wit. Opening the production with a lengthy and demanding monologue he sets a perfect tone for Stoppard's unique comedic blend of intellectualised stupidity.
Around Hollander a strong cast of gifted supporting talents inject frenetic life into each scene.  Freddie Fox is a perfect madcap foil for Hollander, playing the boundlessly anarchic founder of Dadaism Tristan Tzara. His impressively energetic performance makes sure that even those struggling to grasp the endless array of philosophical word play and early 20th century references will have much enjoy none the less.
Alongside Hollander and Fox the rest of the cast is rounded out by equally amusing performances. Peter McDonald is a fine fit for Stoppard's parody of literary icon and compulsive rhymer James Joyce. Likewise Amy Morgan and Clare Foster provide a scintillating combination of quick wits and dancing feet as the respective love interests of Carr's Oscar Wilde themed fantasies. Forbes Masson also does a great job of making Soviet state builder Lenin both playfully silly and sincerely sermonising by equal turns.
The combined talents of the cast make Stoppard's demanding script work to the very best of its abilities. Whether it's trading verbal barbs or breaking into impromptu musical numbers the production flows with ease, particular in an even livelier second act.
The Bad
The plays relentless barrage of aggressively intellectual language and complex wordplay will soon prove overwhelming for some. Tourists listening in their second language will no doubt struggle, but in truth even for native speakers Stoppard's unashamedly frantic intellectualising demands a very high degree of attention.
At least for those that are either incapable of grasping the full meaning of Stoppard's words or reluctant to expended the requisite effort to keep pace there's enough frequent physical comedy and whimsical musical interludes to keep them satisfied and at least moderately entertained.
The Ugly Truth
Travesties is a unique piece of highbrow theatre expertly brought to life by a fine ensemble cast, led by Tom Hollanders note perfect performance. Entertaining and rewarding on a number of different level it's a production which much to offer satisfying a wide range of west end crowds.
Review by Russell Nelson