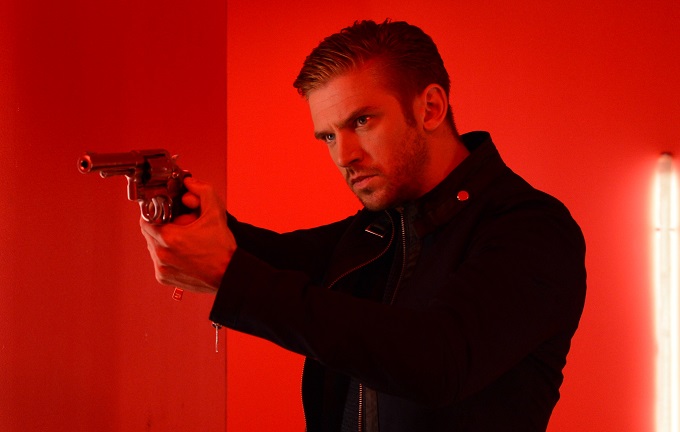 The Plot
When David (Dan Stevens – Downton Abbey) visits the Peterson family to pass on a message from their recently deceased son and his old comrade, he's almost instantly welcomed as part of the family and invited to stay a few days. But as people start dying, daughter Anna (Maika Monroe) starts to suspect that David might not be the charming young man everybody believes he is…
The Good
After the warm reception from Your Next it's no surprise that Adam Wingards latest is this years opening film for Frightfest. And quite deservedly so. The Guest has enough humour, gore and shocks to kick off the five day festival that it barely give the other films a chance.
Accompanied by a fantastically fitting electro soundtrack, Dan Stevens works his way through the film with the help of his instantly appealing approach to the role. Starting off as a pleasant young man visiting his ex partners family to give them his condolences, David really does seem like the perfect house guest. However the constant glint in his eyes tells us that this probably won't continue for too long.
As David works his way through the family gaining their trust one by one, his crazy side soon starts to come out as he tries to help each of the Petersons with the problematic people in their lives. Starting with assisting young Luke with the senior students who are bullying him before moving on to fixing Anna's boy trouble. Each mend David makes brings a worse result than the last until finally building up to the thrilling finale.
The main highlight is undoubtedly found in the films final act. Wingard uses a ridiculously over the top setting to its extent. Although it's absurd, its still a riot and rounds off the film with dazzling cinematography and a beautiful palette of colours. It's clear that he has fun with the surroundings of the horror filled setting, using jump scares and keeping that brilliant soundtrack going to give the audience as much entertainment as possible.
The Bad
Apart from the slight distraction of Brendan Meyer looking like a male doppelganger of Chloe Grace Moretz, there isn't too much to moan about with The Guest. Although it could have done with some tweaks here and there in regards to plot and characters, Stevens' performance alone is enough to distract from these minor problems. And while it may have benefitted from a less lavish finale, with perhaps a more toned down setting for the conclusion, The Guest will surely have hooked you in well before the moment comes that you'll just be having too much fun.
The Ugly Truth
If you liked Your Next you're sure to like The Guest. Adam Wingard brings his winning formula of comedic timing, jumps and carnage to the screen again while finding a previously unseen side to Dan Stevens which is sure to win him more fans. Simply put, it's a riot.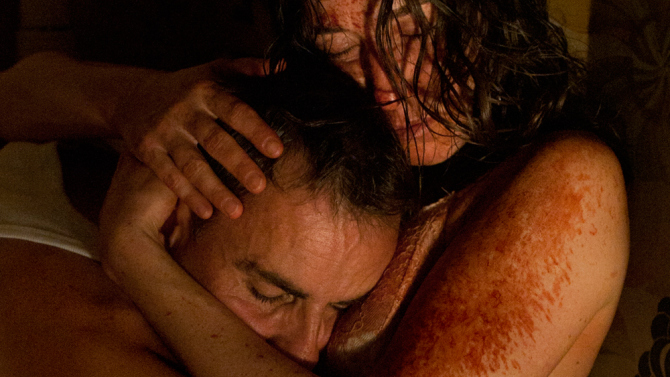 The Plot
Smooth, sophisticated hustler, Michel (Laurent Lucas) meets his match when he tries to woo single mother, Gloria (Lola Duenas) out of her money. After she offers to stay with him and help him flatter other women out of their money, Michel soon finds that his new found partner in crime may be crazier and more lethally dangerous than he ever expected.
The Good
Alleluia begins almost like a pleasant romance as Gloria is forced into a date with a Michel after they meet online. But as act one (of four) ends, things take a sudden sinister turn and Duenas' character makes an incredible transformation, quickly becoming barely recognizable as the unsure single mother she started out as. As each act progresses to the next, with Michel moving onto his next target, Gloria becomes increasingly unstable and deranged as she  struggle with having to watch the man she loves romancing other women.
Whilst Laurent Lucas is just as talented an actor as his co-star, his effortless seduction techniques are somewhat upstaged by Duenas. Together they make a great team, with the chemistry between the two displayed naturally. But when looking at the two main stars singularly, Duenas' Gloria is surely the dominant half of their on screen partnership. Her conversion from single, insecure parent to controlling, powerful killer is performed so subtly and yet so suddenly, leaving the audience suitably sunned. Thinking back to the film's opening scene will leave audiences bemused how things slipped so quickly and subtly into nightmarish horror.
Director Fabrice du Welz accompanies this beautifully, approaching the violence with a 'less is more' attitude for the most part, with emphasis on the 'more'. For while violent scenes are relatively gore free, du Welz still manages to make the experience as shocking as possible.
The Bad
A few problems with the script does bring Alleluia down a touch. Certain scenes and events just don't seem to have been thought out as clearly as they should have been. The major one being an out of the blue musical performance by Duenas as she serenades her lover. Although it manages to finish with a fantastic bit of dark humour, the scene still feels out of place and somewhat distracting as an unexpected and inexplicable sudden shift in tone.
Just as confusing is the way in which Gloria's daughter is swept out of the story in one simple scene which seems rushed to some degree. Almost as if the writer had forgotten that the young girl couldn't fit into the rest of the story at a certain point and so quickly went back and slotted in a few lines of dialogue without thinking it through.
As well as this, Lucas' character development seems rather unrealistic in regards to his reaction to Gloria's horrific transformation. This is partly why Gloria's development feels so shocking by the films end, as Michel appears to let her get away with an awful lot before he even attempts to do something about it. And when he does wake up to the fact that Gloria is essentially sabotaging each and every hustle he tries, his initial attempt at solving the problem is so incredibly feeble.
The Ugly Truth
Lola Duenas is the undisputed star of the show, with Gloria's psychotic transformation quickly proving the film's captivating main attraction, as she dramatically overpowers the film's supposed villain in every way. Whilst Alleluia is not without it's odd and uneven moments,  overall it's still an entertaining watch with some light touches of dark humour.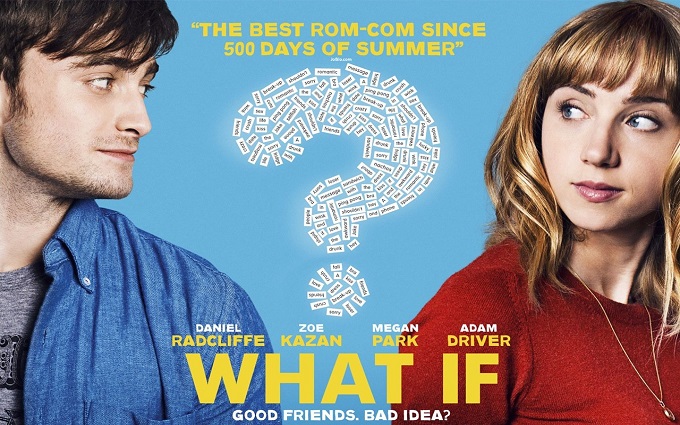 The Plot
When recently single Wallace (Daniel Radcliffe) meets Chantry (Zoe Kazan) he feels an instant connection. However, when she reveals she has a boyfriend, Wallace agrees to just be friends. But can a boy and girl really stay just friends…?
The Good
It's been 3 years since the Harry Potter franchise ended but to most fans, Daniel Radcliffe will always be the Boy Who Lived in their eyes. What if being his third film since Deathly Hallows Part 2 (after The Woman In Black and Kill Your Darlings) it seems to be quite clear that Radcliffe wants us to know that he is more than just a one hit wonder. Well more than an eight movie mega franchise hit wonder. With horror and thriller safely under his belt, Radcliffe's latest gives him the chance to show his talent in the romantic comedy genre. And he does not disappoint.
A lot of the success in this is due to the great chemistry between not only Wallace and his best friend Allan (Adam Driver), but also the Sally to Wallace's Harry, Chantry (Zoe Kazan). Driver brings the goofy side of the romantic comedy effortlessly whether by his excitement over post-coital nachos or his clearly thought out advice for Wallace. Kazan on the other hand helps bring a fantastic friendship to life as she and Radcliffe own the screen together. The element that works best in What If is easily the script. The dialogue flows throughout the film naturally, never leaving a dull moment.
Although the basic premise of What If is superficially similar to films like When Harry Met Sally or Friends With Benefits, it actually does a fine job at striving to avoid overly familiar cliches and delivers something fresh,funny and sweetly sincere.
The Bad
There's nothing particularly awful that can be said about What If,   though despite it's best efforts, ultimately it can't  entirely escape rom-com familiarity and inevitable comparisons to timeless classic When Harry Met Sally. Dealing with the dilemma of maintaining purely platonic friendships between men and women, the film reaches predictable if satisfying conclusions.
The Ugly Truth
What If is a When Harry Met Sally for the new generation of romance. With a great chemistry running between the cast and plenty of chuckles to be had, it's certainly not a bad way to spend a couple of hours. It delivers something fresh and satisfying, making it easily one of the very best recent additions to the rom-com genre.
Daniel Radcliffe in depth interview below from the What if Premiere press conference in London: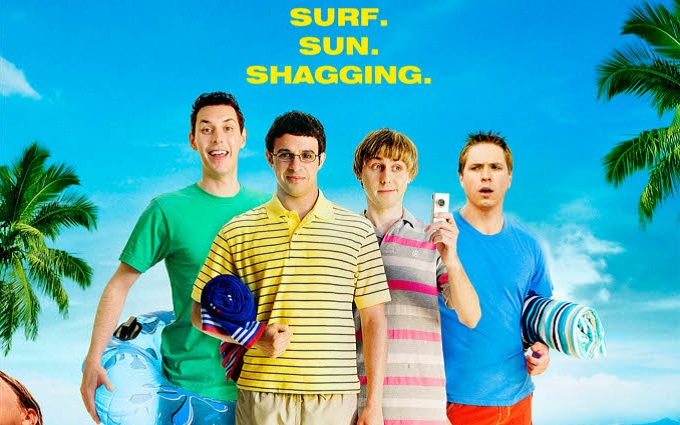 The Plot
Simon Bird, James Buckley, Joe Thomas and Blake Harrison return in the inevitable but much anticipated sequel to their 2011 big screen debut in The Inbetweeners 2. When Neil (Harrison) gets an email from Jay (Buckley) telling him about his lavish lifestyle in Australia, Will and Simon decide to tag along and surprise him for a summer holiday. Cue hilarity as the boys get into all sorts of usual bother down under.
The Good
Since the first film took over £41 million in the UK box office alone and achieved official status as the most commercially successful British comedy ever made, it was inevitable that The Inbetweeners would return to the silver screen soon enough. With the boys just 6 months older but most definitely not wiser or more experienced, The Inbetweeners 2 is certainly bigger. But is it better?
There are plenty of laughs to be had as the boys ill-advisedly venture to the land down under. The film start with a fantastically funny glimpse into the filthy fantasy world of the ever boastful and untruthful Jay. The shameless exaggerations of his sweet life as a superstar DJ  and 'Aussie clunge magnet' seems too good to be true as he talks Neil through a day in the life of his mental Australian Gap Year. As always it's a cringe-worthy treat to see the Inbetweeners most deluded member set himself and the rest of the gang up for inevitable humiliation and mostly deserved shameful suffering.
The hapless lads all remain entertainingly unevolved. Will willingly abandons common sense and his snobbish pretentious at the first sign of hope a pretty girl might actually like him.  Simon has an abusive psycho girlfriend he's too wimpy to dump. While Neil remains utterly clueless with an unfortunate knack of covering most situations with a disgusting variety of bodily fluids. There is still a certain charm in their lack of charm and a more malicious satisfaction is seeing their misguided best intentions end in utter disaster.
The film boasts some memorable set pieces in particular, with dolphin abuse, irritable bowels and ill-advised outback survival techniques among the worst of the depraved antics. It should please long term fans of the original show and entertain or disgust in equal measure.
The Bad
The Inbetweeners 2 offers fans plenty of the same humour that made the previous film such a guilty pleasure, however it veers towards being a little more cruel and dark, particularly during it's latter stages. While the first film felt vaguely euphoric as a jubilant send off for mostly likable characters, writers Damon Beesley & Iain Morris seem determined to be less kind this time round.  The plot quickly undoes any sense of progress made over the previous series and first film, pushing each of the lads toward being an even more pathetic caricature of adolescent obnoxiousness. This does makes it harder to ever laugh with them, but perhaps a little easier to laugh at them.
This sequel was understandably inevitable given the astonishing box office success of the first film. It at least serves as a gratuitous encore and a thank you to a devoted fan base.  Though record breaking box office hauls will no doubt tempt the writers and cast to return for a third time, in truth it's difficult to see exactly where they could take the characters.
The Ugly Truth
The Inbetweeners 2 could have easily been just a lazy ploy to greedily cash in on the huge success of it's predecessor, but it has enough genuine laugh out loud moments to prove that the writers did work hard on producing something fans will enjoy. A slightly less effective and downbeat  final act prevents the film flowing as well as the last, but for the most part, The Inbetweeners 2 is an enjoyable comedy which will keep fans satisfied.
Interviews below with stars  James Buckley & Blake Harrison:
The Plot
Brett Ratner and Dwayne 'The Rock' Johnson bring a new version of half-man half-God all muscle Hercules to the big screen. With his stories being spread across the land, Hercules (Johnson) is hired by Lord Cotys (John Hurt) to bring down King Eurystheus (Joseph Fiennes) with a small army of men and his loyal companions.
The Good
Brett Ratner is known mostly these days for directing the third and what most fans perceive as the worst instalment of the original X-Men Trilogy, The Last Stand. His work on Tower Heist and Movie 43 certainly didn't help people forget this. With Hercules though, he seems to be going in the right direction. Ratner could very well have the beginnings of a franchise on his hands if Hercules does well, and at parts it deserves to do well.
The casting of Dwayne Johnson as the titular hero is a fantastic decision and Johnson proves it within the opening segment. Coming face to face with a lion, Johnson gives us a reason to believe he was born to play Hercules. And his humungous muscles certainly help. The most interesting part of Ratners new take on the old tale is the way in which he manages to dissect it and turn it into something completely different in a way. Instead of simply labelling Hercules as a God, Ryan Condal and Evan Siliotopoulos' script brings an air of mystery surrounding the character. Is he a God or are his collection of heroic stories simply there to impress his fans and scare his foes?
A supporting cast of Ian McShane, Rufus Sewell, Aksel Hennie, Ingrid Bolso Berdal and Reece Ritchie turns Hercules from a one man hero into a team of renegades who band together to create the legend of Hercules and both characters and actors seem to have no problems with him being the main attraction. For while McShane's character Amphiaraus in particular has some stand out moments, it really is Johnsons film.
Plenty of action makes sure that you won't get too bored with Hercules even if his adversaries don't really stand a chance against him.
The Bad
Humanizing Hercules in a way lowers the character at points. The demi-god lie teeters a touch too much on the human side eventually, leaving the air of mystery surrounding his past to disappear slowly along with some interest in the character. The film tries to counter-act this at one point by attempting to send the message that anyone can be a hero and using Hercules as their example. Which is all well and good except for the tiny niggling fact that Dwayne Johnson has something the average cinemagoer will probably not. Put any other person in the same situations that Johnson faces throughout the film and their lack of muscles will most definitely hinder them slightly. After all Dwayne Johnson wasn't called the Rock ironically!
The Ugly Truth
Brett Ratner is definitely making eager strides to redeem himself from being simply known as the man who nearly ruined X-Men with Hercules. With a neat twist on the old tale and enough humour, action and Dwayne Johnson to keep audiences entertained, a sequel/franchise is definitely not the worst idea…