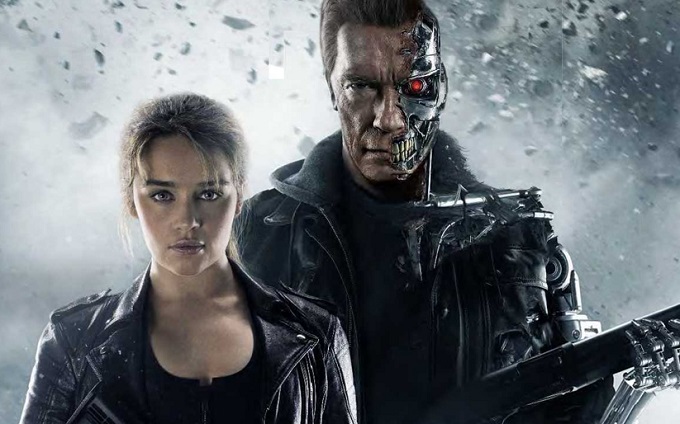 The Plot
Arnold Schwarzenneger returns to the Terminator franchise as John Connor (Jason Clarke) sends Kyle Reese (Jai Courtney) back to 1985 to save his mother, Sarah Connor (Emilia Clarke). But when Reese arrives, it appears the past has been altered and Sarah Conner is not the vulnerable victim she is meant to be thanks to her guardian, the T100 (Schwarzenneger).
The Good
The fifth and latest installment in the Terminator franchise, now over 30 years old, is undoubtedly the biggest game changer yet. With the task of bringing back fan favourite Arnold Schwarzenneger to his role, writers Laeta Kalogridis and Patrick Lussier have found a suitable loophole in the form of alternate timelines It also gives them an opportunity to bring back Sarah Connor, this time in the form of Game of Thrones star Emilia Clarke. Clarke is a worthy successor to Linda Hamilton, playing one of the most iconic heroines of the sci-fi genre and almost instantly proving she has what it takes to be just as badass.
In a plot that spans over thirty years, Terminator Genisys feels like a celebration of the franchise as it begins to head towards an ending that can finally put the ongoing battle with Skynet to rest.
The Bad
The fundamental laws of time travel are mixed up so consistently that it becomes pointless to even try to fit this latest instalment in with the rest of the franchise. Even James Cameron's original story is mercilessly slaughtered to make way for new adventures.
The X-Men franchise recently used the concept of alternate timelines to reboot itself entirely, likewise Planet of The Apes went back to a re-imagined origin story to recapture dominance of the big screen. Terminator Genisys takes the same drastic action, sacrificing decades worth of history with little respect for the original films beyond borrowing a few famous lines. Despite these occasional nods to fans, things soon turn sour as the new script mercilessly hammers its way through the iconic franchise in order to provide an excuse for further storytelling.
It's hard to say much more in regards to the story without treading into spoiler territory but let's just help/warn you by saying, wait during the credits.
While Emilia Clarke and Schwarzenneger deliver credibly strong performances for the most part, the other new faces are less impressive playing familiar characters. Jason Clarke's John Connor is completely ruined beyond all compare in a twist that, had it not been already revealed in the trailer, could have been shocking. Meanwhile Jai Courtney continues to make audiences wonder exactly why studios seem so determined to consistently cast him in major franchises.
The Ugly Truth
Terminator: Genisys could have been final nail in the coffin for the franchise but just like Skynet, feels like it is an unrelenting force which can never truly be destroyed. This exhausting experimenting with time travel will likely just leave you with a pounding headache from the horde of unanswerable questions it poses. Long term fans of the franchise will be glad to see Arnold back, but sad to see the past films so shameless butchered to make room for his long delayed return.
Review by Johnny Ellis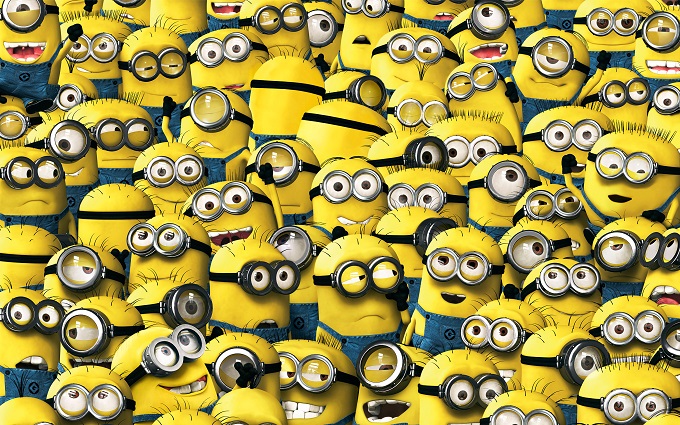 The Plot
Everyone's favourite yellow servants get their own origin story! Minions sees Stuart, Bob and Kevin recruited by super villain Scarlet Overkill (Sandra Bullock) in her plan to steal the crown jewels in 1960s London.
The Good
Ever since Despicable Me entered the hall of animation fame thanks to the popularity of master villain Gru's minions, the loveable babbling workers have won the world over and were even rewarded with a bigger role in Despicable Me 2. Now though, while we wait for the third instalment, fans are treated to even more antics in a prequel that offers just as many laughs as their previous two cinematic outings.
From the second the Universal logo rolls across the screen with the theme tune dubbed over by the minions voices, to the worthwhile post credits sequence , Minions manages to maintain the same consistency in enjoyable slapstick humor that made the previous Despicable Me films such a treat.
After an opening sequence which has almost slightly been drained of its humour thanks to it's use in the trailers, Stuart, Bob and Kevin move on to London with highlights including constant tea drinking (of course) and a guest role for Queen Elizabeth.
Minions often use the guiding hand of a narrator and some more intelligible human characters to move the plot along, in spite of the fact that the Minions are at best capable of charming child like gibberish. Though of course the real secret of the Minions near universal appeal is that their entertaining physical gestures and emotional expressions are actually capable of communicating so much to audiences of any age.
The Bad
Unfortunately, compared to Despicable Me, the storyline is not as entertaining as the minions themselves. This is  mainly due to the fact Bullock's villainess  just isn't as fun as Steve Carell's Gru. Where Gru is a villain with a soft gooey fatherhood center, Scarlet is just plain mean and lacks any redeeming likability.The lack of Gru hurts Minions, eventually making it feel less like an enjoyable standalone movie and more like an extended minions short that is just filling up the time waiting for Despicable Me 3.
The film is arguably at its best during the opening sequence showing the evolution of the minion and their need of a despicable master to serve in order to survive.Narrated by the soothing tones of Geoffrey Rush it demonstrates just effective the Minions slapstick antics can be when combined with inventive writing and clever visual gags. As the film ambitiously tries to stretch things into feature length proportions it inevitably relies more on the generic human characters surrounding the minions and loses the concise charm of the Minions short film. In truth the Minions truly work best either as background comedy relief or on their own in smaller doses.
The Ugly Truth
While it is consistently funny with some genuine highlights in it's main 1960's London storyline, Minions feels somewhat like a way for the profitable franchise to tread water while the studio continues working on the eagerly anticipated follow up to the sublime Despicable Me 2. Though of course, more Minions mayhem is always welcome…
Review by Johnny Ellis
The Plot
When his wife and children are away for the weekend, family man Evan (Keanu Reeves) is visited and promptly seduced by two young girls, Genesis (Lorenza Izzo) and Bel (Ana de Armas). But the weekend takes a turn for the worse when they return the following night to wreak havoc on his life.
The Good
Eli Roth's latest horror is perhaps his most mainstream yet. With it's strongest asset being Keanu Reeves who, fresh from his turn as ass kicking John Wick, gets to sit back on the action in a role which at times allows us to see him in a much more restrained situation. And we're not just talking about his being tied up for most of the film.
Of course, with this being an Eli Roth film, the gore is still very much around, however for the less trained stomach, Knock Knock is undoubtedly the safest option from Roth's every growing back catalog of torture porn.
The Bad
For fans of Roth's previous films however, the lack of gore is the least of it's problems. Knock Knock is essentially a film of two halves, both of which are just as bad as each other. After a cringe worthy opening scene thanks to the over-use of an incredibly awkward 'monster voice' which Reeves' Evan uses firstly to scare his children but then embarrassingly continues to use to try to seduce his wife into bed – A tactic which thankfully doesn't work – the dialogue barely picks up.
Once the wife and kids are out of the story and the femme fatale duo of Lorenza Izzo and Ana De Armas enter, the film takes a turn for the worst in an incredibly long seduction sequence which feels like dialogue has been taken from an extremely painfully written porn film. It's a sequence written so badly it makes Fifty Shades feel like Jane Austen.
The latter half thankfully picks up a bit in its dialogue, but unfortunately feels like it would be much better suited in a straight to dvd thriller. It's almost a shock to the system to know that this came from Eli Roth and is especially disheartening to know that this came after the incredible The Green Inferno – one of the highlights of last years Film4 Frightfest and a film that to this day still hasn't had a proper release in the UK, while Knock Knock is allowed to almost ruin the good name of Roth in a mere 99 minutes.
The Ugly Truth
Keanu Reeves is arguably the only good thing in this poorly written film that somehow came from the mind of a director who was at the top of his game last year with The Green Inferno. Unfortunately Reeves is unable to do much with his character thanks to the story which screams potential, leaving for an unimpressive feeling that hopefully won't completely ruin Roth's career…
Review by Johnny Ellis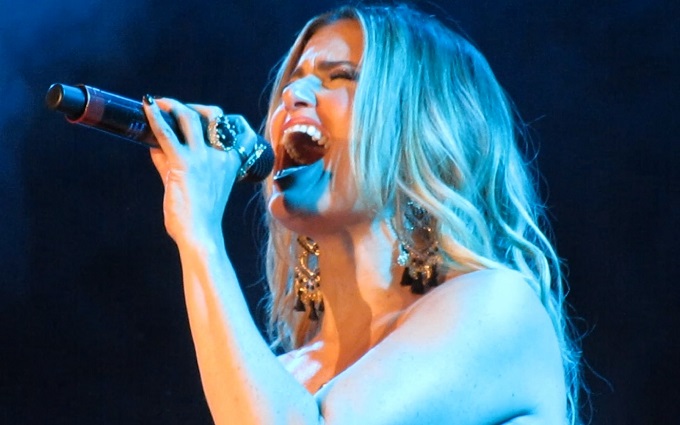 The Set List
Defying Gravity , Don't Rain on My Parade, Brave, I Stand, The Wizard and I, River, Love For Sale/Roxanne, There's No Business Like Show Business/Anything Goes/ Everything's Coming Up Roses, Still I Can't Be Still, Creep, Take Me or Leave Me, No Day But Today, Always Starting Over, Let It Go.
Encore: Child, Tomorrow.
The Good
Tony Award winning theatre icon Idina Menzel is now a record breaking global superstar, adored by generations of fans around the world as the voice of Frozen Disney princess Elsa. After Oscar glory and the unprecedented pop culture phenomenon of Let It Go, it's fitting that Menzel fulfills one of her own admitted life ambitions to play to a delighted crowd in Wembley Arena.
Menzel has a staggering vocal power which burst from the stage with every note of every ballad. There's a deep rich tone to her voice and an unashamed theatricality to her performance, honed through years of Broadway and West End productions. She's a true show stopping diva, of a caliber rarely seen.
Playing to over 10,000 people tonight in the cavernous arena, the ever undaunted Idina delivers a crowd pleasing section of familiar songs that serves almost like a musical autobiography. The set combines ionic tracks from productions like Rent and Wicked with covers that pay heartfelt homage to Menzel's own musical influences.
Opening with Defying Gravity gives audiences the instant satisfaction of hearing the definitive version of Elphaba's uplifting ballad. Though many talented performers have followed in her footsteps, nobody ever truly matches Wicked's original star Menzel. Idina speaks with fond passion about the all the productions that made her a star. It's especially poignant to hear her pay an emotional tribute to Rent creator Jonathan Larson before delivering a tear stained version of No Day But Today. These are the songs that won Menzel a devoted following before she ever became 'Disney famous', and they clearly mean just as much to her as her fans.
Menzel has a close connection to her fans and there's no better way to show that than by literally rushing off the stage to sing among and with them. During a jaunty rendition of Take Me or Leave Me, Idina races around the crowd to duet with stunned fans, before dragging some of the most talent singers back on stage with her. It's a perfect embodiment of the beautiful spirit of community and mutual love that often distinguishes theatre stars from their pop and rock star counterparts.
Menzel is fully aware she's part of a proud legacy of bold stage divas and she pays frequent homage to that with covers of classic songs by Ethel Merman and Julie Styne. More contemporary covers of acts like Radiohead, The Police and Joni Mitchell prove to show Menzel's own range as an artist and unsurpassed skill as a vocalist.
Of course for most fans, the true bucket list moment of the night is undoubtedly helping Menzel proudly blast out a belting rendition of Let It Go. It's the song which single handily made her an instant household name around the world, beloved by children and relieved parents alike. Live, she attacks the endlessly played song with joyous enthusiasm. Indeed, the true secret of the song's unique success and global appeal is that it encapsulates the spirit of bold anthemic optimism embodied in much of Menzel's work. Let It Go is a song defined by Idina Menzel, not just a song that defines her.
It's hard to imagine any encore that could possibly surpass the power ballad might of Let it Go, but closing out a set with Tomorrow from Annie is a beautiful way to leave audiences indeed.
The Bad
Younger fans may be a little traumatized to learn that when she's not letting it go as Queen Elsa, Menzel also has a habit of letting f-bombs go on stage. Menzel's between songs chatter is endearingly sassy and frequently foul mouthed. Though admittedly it's highly amusing and quite charming for the mostly adult crowd to see Menzel knowingly show off in front of fellow grownups for a change.
The fiercest critics might point out that Menzel mostly sings material written by other people or borrowed from other artists. But that would do a cruel disservice to the transformative power of her unique voice and emotional performance. For example, when Menzel delivers her heart wrenching version of Radiohead's Creep, backed by the heavenly crescendo of a big band, it's fragile and triumphant in ways which arguably eclipse the original version.
The Ugly Truth
Idina Menzel is a delightful diva with a powerhouse voice big enough to dominate any stage and enchant any audience. Working her way through a well-chosen hit list of show tunes and show stoppers she gave London an unforgettable night and a flawless dive masterclass.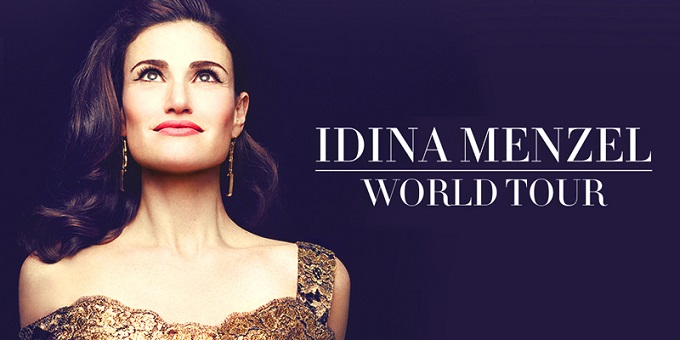 The Plot
When a young couple save an old widower from a fatal car crash, their relationship becomes intertwined with flashbacks of his own past as he reflects on his past love.
The Good
Fresh from riding bathtubs with George Clooney in Tomorrowland, Britt Robertson switches Clooney for Scott Eastwood  in the latest big screen adaptation based on the seemingly endless supply of Nicholas Sparks novels.
The Longest Ride has everything Nicholas Sparks fans know and love. From the intertwining storylines that juxtapose relationships from two different time periods, to the generic poster of the two leads looking longingly into each others eyes while casually advertising an idyllic American country life.
As Robertson's Sophia, an art student, reads countless love letters back to Ira (Alan Alda) while he recuperates from his car crash, it will come as no great surprise that Ira's relationship with his recently deceased artist wife Ruth, bears some striking similarities to her own relationship with her bull rider boyfriend, Luke (Eastwood).
Of the two interconnecting stories Ira and Ruth's is slightly more interesting than Sophia and Luke's. The chemistry between young Ira and young Ruth – played respectively by Jack Huston and Oona Chaplin – feels a bit more fleshed out, with the fact that their story follows them through to old age probably being the main reason for this.
The Bad
Sophia and Luke's story is much less believable and at times, annoying. After their very first date, Sophia decides to almost preemptively end the chance of a relationship as she prepares to move to New York for an internship, a move that would undoubtedly cause some strains in a new relationship. But this being a Nick Sparks film, the spark is there from the very beginning (if you'll pardon the pun) and of course we couldn't have the relationship end so early and sensibly.
Then there's the 'opposites attract' side to the relationship, which can be found in both Ira and Ruth and Sophia and Luke's storyline, with the girl being the artsy type but the guy not being able to understand art at all. However in Sophia and Luke's story, the difference between the two is amped up slightly by Luke's career as a professional bull rider. In a Rocky Balboa move, Luke carelessly continues a career which is slowly but surely increasing the chance of his death. While he certainly has a motive to continue the career his father had, for most of the film it's not motive enough.
The Ugly Truth
The Longest Ride is instantly recognizable as a Nick Sparks romance and has everything fans of his expect and enjoy from surely one of the most prolific names in the romance genre today. Though it has some issues with half of it's main storyline, there's still enough in there to keep you entertained.