The Plot:
Inspired by actual events, Spotlight dramatically documents the efforts of the investigative reporting team of the Boston Globe to expose epidemic levels of child abuse within the Catholic Church and the subsequent systematic cover up by high ranking church officials.
The Good:
Spotlight is a truly Oscar worthy drama built around a tragic real life story of investigative reporters uncovering a horrible truth. The film laudably handles the more sensitive aspects of its subject matter with care and compassion, avoiding the obvious dangers of delving into the most graphic events for sensational shock value. The focus of the film is neither the acts of abuse nor the vilification of those responsible. Instead the film serves as both a proud tribute to the value of a determined independent press and as a poignant examination of the devastating impact of abuse on the lives of those affected.
Spotlight has an all-star cast lead by Mark Ruffalo, Liev Schreiber, Rachel McAdams, Stanley Tucci and Michael Keaton. The collected acting efforts of this fine ensemble gives the film a subtly but earnest credibility. Guided by the direct involvement of the actual people being depicted the cast breath dramatic life into surprisingly recent events, but without resorting to sensationalism or flamboyance.
Oscar nominated Mark Rufflo and Stanley Tucci in particular deserves praise for their portrayal as the dogged reporter and forlorn lawyer fighting to expose the full scope of the scandal and suffering. The emotional urgency of Ruffalo's performance contrasted with Tucci's note perfect display of cynical patience, perfectly illustrates the motivations and deep frustrations of those involved.
The film serves as a timely reminder of the actual value of the media, at a time when people have seemingly lost as much faith in that institution as they have in the church. The film also paints a complex picture of a tragedy which destroyed lives in the most insidious ways and the important journey taken by those who ultimately brought an end to it.
The Bad:
Given the nature of the real life events being depicted the film will perhaps be especially uncomfortable viewing for those who have had their live touched either by the crime of abuse or by the comfort of religious institutions. Indeed at times the film openly acknowledges that the scandal dealt with has a specific emotional and spiritual impact for all members of the Catholic faith. The issue of distinguishing between religious convictions and the very human failings of the institutions which represents them is an unsettling conflict no matter how well the film itself deals with it.
The Ugly Truth:
Spotlight handles heavy hearted subject matter in a sensitive and powerful way, delivering a dramatic and important story which rewards serious viewing. The film is rightly a major awards contender thanks to a sophisticated script and accomplished performances by a host of familiar stars. Audiences shouldn't be intimidated by the film's subject matter and will take much from its poignant messages.
Review by Russell Nelson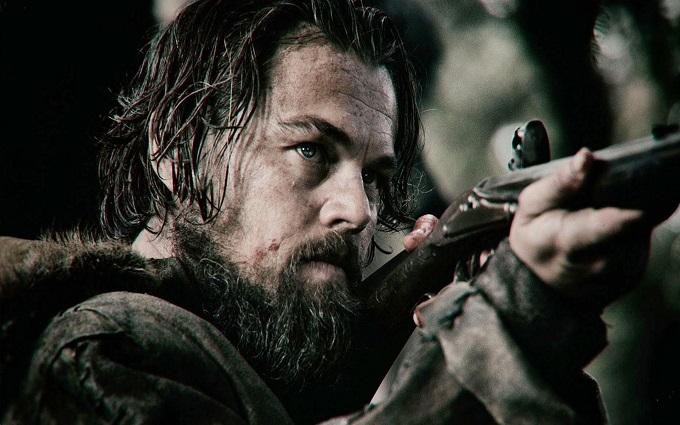 The Plot:
After a brutal bear attack a severely wounded 19th Century frontiersman Hugh Glass is betrayed by his own hunting party and left for dead in the inhospitable wilderness. He battles against seemingly impossible odds to survive and relentlessly track down those responsible across the deadly  wilds of North America.
The Good:
Directed with mesmerizing technical and artistic skill by Alejandro G. Inarritu, The Revenant is utterly deserving of it's critical praise and awards season hype. Inspired by actual events the film tells a uniquely realized tale of  determined vengeance in a landscape that is equally beautiful and terrifying. Leonardo Di Caprio impressively leads a magnificent ensemble cast featuring the considerable combined talents of Domhnall Gleeson, Will Poulter and Tom Hardy. Together they breath visceral life into a brutal world of the endless struggle between man and nature, life and death.
Di Caprio in particular looks virtually assured to achieve his long sought Oscar win for a performance of considerable physical sacrifice and actual suffering. The actor bravely endures deadly cold, disgusting raw foods, physical pain and unrelenting torments for his portrayal of Hugh Glass. Among all of his celebrated work The Revenant marks Di Caprio's most strikingly obvious attempt to cement his place in Academy history, with a deserving performance that showcases considerable human spirit triumphing over excruciating adversities.
Aside from its accomplished production values and gritty performances the film also deserves credit for its handling of the historical backdrop of violent tension between Native American tribes and ever expanding 'white' settlements. Avoiding clumsy stereotypes and oversimplifications the film does an excellent job of ensuring both sides of the conflict are depicted as equally capable of vengeful atrocities fueled by surprisingly similar justifications.
The Bad:
Squeamish audiences may find the brutal violence of this era of human history particularly hard to stomach at times. The film's notoriously excruciating bear attack is just one memorable moment of  bloody mayhem among so very many. From the film's opening scenes the threat of truly grisly violence is never far away. No doubt uncomfortable viewing for many, the film takes dramatic credibility but little pleasure from its painfully realistic depiction of human suffering.
Though the film's astonishing landscape of desolate snow drenched wilderness is beautifully captured on camera, the dialogue free isolation makes the film's already lengthy running time feel somewhat more demanding. There is an undeniable bleakness to every aspect of the story  which may leave audiences feeling more drained and emotionally exhausted than satisfied or in any way comforted.
The Ugly Truth:
The Revenant is a visually breathtaking tale of survival set against a savage backdrop of the violence of man and the daunting challenges of untamed nature. Leonardo Di Caprio is on astonishing Oscar worthy form yet again in a film deservedly praised for its undeniably determined vision. Equally beautiful and horrific the film grips audiences attention despite a lengthy run time and the long absence of dialogue.
Review by Russell Nelson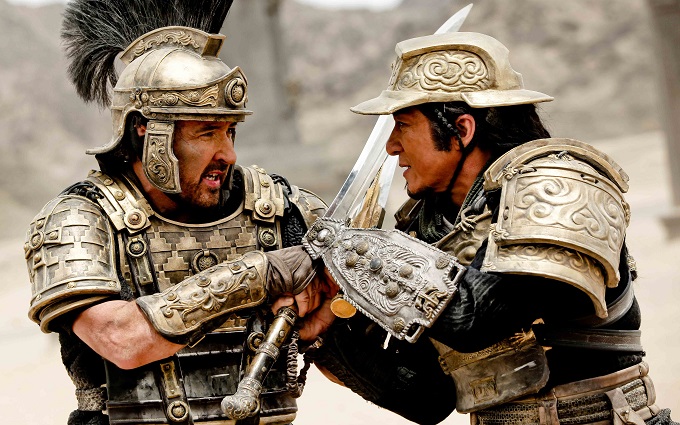 The Plot:
A band of warriors charged with keeping order amongst warring nations on the volatile silk road trading route form an unlikely historic alliance with a legion of Roman soldiers to protect ancient China from a power hungry and ruthless Roman general.
The Good
Jackie Chan is the most iconic and internationally charismatic martial arts star on earth. His presence alone ensures that Dragon Blade at least boasts some credible martial arts sequences. Likewise the presence of Adrien Brody and John Cusack give the film an instant global appeal far beyond the usual reach of typical Chinese financed productions. The novelty of watching genuinely a-list Hollywood stars line up for an unlikely culture-clash gives and extra dimension to a fairly straightforward story of historical power struggles.
As an action film Dragon Blade also offers plenty of clearly expensive sequences, with large armies rushing to battle against a backdrop of vast deserts and a towering fortress. Mixing fast paced martial arts trickery with Roman epic swordplay keeps the film energetically watchable.
The Bad
Ironically for a film which is about the unlikely and successful fusion of different cultures, at times the film struggles to reconcile its Asian setting and martial arts action with also being a Gladiator style sword and sandals epic. As an example the roman soldiers sing in Latin but speak with a muddled collection of Anglo-American accents.
Likewise, though Adrien Brody and John Cusack are both fine actors who do their very best to inject some believable passion into credible dramatic performances, it's simply difficult to ignore their unlikely casting as fierce roman warriors. Seeing Cusack so dramatically transformed from mild-mannered comedy-drama star to a sword twirling action god capable of matching the legendary martial arts might of Jackie Chan strains credibility. It's not that Cusack is actually bad, it's just hard to avoid the suspicion that the film's Chinese casting agents misunderstood exactly who the 49 year old actor was. Intending to hire Jason Statham but somehow accidentally recruiting the Must Love Dogs star instead.
The film was made with a relatively vast budget of over $65 million, making it the most expensive Chinese financed production ever made. Unfortunately while at times vast sets and literal armies of extras show evidence of that lavish production value, there are also moments when the films unconvincing CGI and production design make it look like a poor imitation to Hollywood's flawless movie magic. For example, Jackie Chan's distractingly obvious wig and overly heavy make-up constantly detracts from otherwise impressive scenes.
Chinese audiences that already readily consumed the film at the Box Office were obviously less distracted by the miscasting or familiar western stars and occasionally sub-standard production values. Unfortunately it means for an international audience the film will likely fail to amaze and be at best vaguely satisfying rather than memorably spectacular.
The Ugly Truth
For fans of Jackie Chan and martial arts epics, Dragon Blade will be a pleasing addition to his vast catalogue, made more interesting by the addition of recognisable Hollywood stars. Overall the film remains a mostly underwhelming anomaly for other less enthusiastic audiences. Fusing  the unique elements of Asian cinema with a generic Hollywood blockbuster feels more like cheap imitation than genuine innovation.
Review by Russell Nelson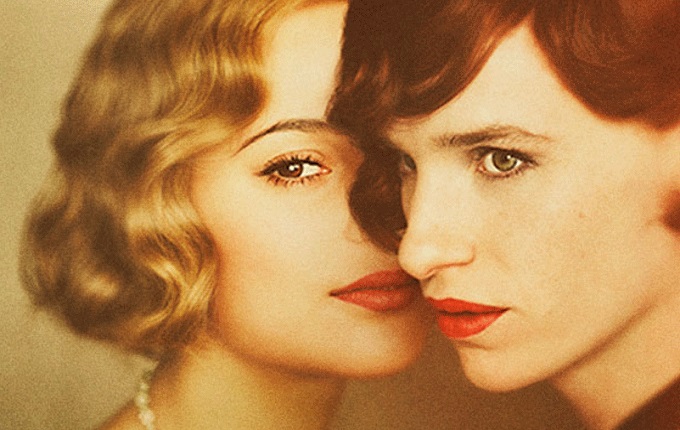 The Plot
Eddie Redmayne stars alongside Alicia Vikander in this biopic of the first transgendered woman to undergo gender reassignment surgery.
The Good
Exactly twelve months after his Oscar winning performance in The Theory of Everything, Eddie Redmayne returns with another award worthy film to add to his collection. Tom Hooper (The King's Speech) directs Lucinda Coxon's script with care as the story focuses not only on Redmayne's stunning almost double performance as both Einar Wegener and soon enough Lili Elbe, but also gives plenty of time for Alicia Vikander's supporting wife Gerda as she comes to terms with Einar's newly discovered personality.
With the transgender movement growing ever more in today's more open society, The Danish Girl feels important throughout without slipping into any particular bias. While Einar searches desperately to find an answer to the questions that come with his true self, Lili grows more and more independent from the two as the film progresses despite the social pressures to hide away from the world. Coxon's script brings some beautiful imagery to this intimate struggle with one particular scene in a dark cramped peep show standing out as a highlight.
Two equally important aspects of how the film manages to bring emotion and depth to this story that can't go unmentioned are Danny Cohen's visually stunning cinematography with an expertly blended mix of colours and tints brought to the screen, and Alexandre Desplat's always moving score.
As wel as Redmayne and Vikander's performances are that of Ben Wishaw and Matthias Schoenaerts as the respective third parties in the two love triangles that seep into the trials and tribulations of Einar's and Gerda's marriage. Each actor has their own half of the story to become the focus, with Wishaw's opening half holding slightly more romance than Schoenaerts' concluding half in which he comes across more of a friend than Wishaw's wedge between the two.
The Bad
At two hours long however, The Danish Girl soon slips into feeling a much longer. It ever so slightly feels that Hooper is being a tad self indulgent with his camerawork, occasionally staying with scenes just a few moments longer than absolutely necessary.
The Ugly Truth
Redmayne brings another Oscar worthy performance as Einar/Lili that could well see him securing his second in a row. Fortunately this is not just a Redmayne vehicle with Alicia Vikander bringing a much needed supporting performance that at times overtakes Redmaynes. The Danish Girl looks, feels and sounds important as it rightly is. Though it could have done with some trimming to avoid feeling too self indulging, it's not too long to diminish it entirely.
Review by Johnny Ellis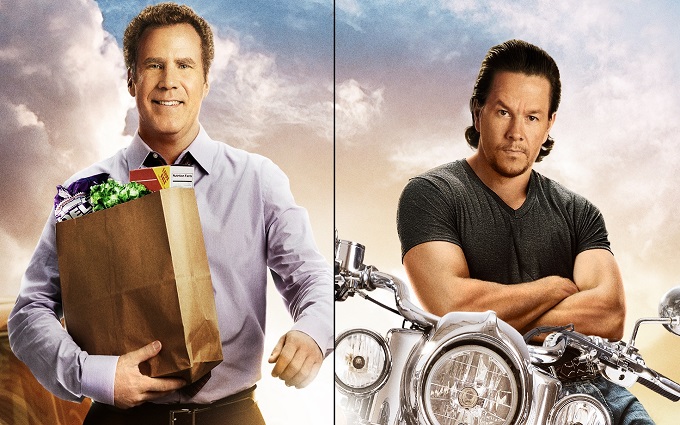 The Plot:
Mild-mannered family man Brad Whitaker (Ferrell) is forced compete for the affection of his wife and step-kids after their macho biological dad Dusty (Wahlberg) rides back into their lives and clearly determined to win his family back.
The Good:
Will Ferrell and Mark Wahlberg successfully established a comfortable comedy dynamic in The Other Guys, playing the typical odd couple routine for frequent laughs in the crowd pleasing cop comedy. Reunited in Daddy's Home the pair resume amusing hostilities as Ferrell's meek suburban dad clashes painfully with Wahlberg's bike riding macho badass. Playing easily to type the duo both clearly relish the opportunity to spar with each other again.
Freaks & Geeks star Linda Cardellini is always a welcome addition to any cast.  Most recently seen in Avengers Age of Ultron as Hawkeye's secret wife, this time she has a little more involvement in the action, playing the sensible women caught up in the increasingly ridiculous male rivalries.
Thanks to a few effective running gags, a supporting cast of familiar faces and unashamedly silly set pieces the film manages to keep its simple plot moving without losing its audience to apathy or irritation. The film never makes the mistake of taking itself too seriously at least.
The Bad:
Daddy's Home is packed with painful embarrassments. While many people will enjoy watching an abundant supply of cringe worthy awkwardness, others might find it simply excruciating. Ferrell's sensible family man is quickly reduced to a screaming buffoon and Wahlberg's cliché macho swagger soon gives way to silly insecurities.  Both stars play comfortably to type, moving a simple story towards a pretty predictable conclusion.
The Ugly Truth:
Fans of Ferrell and Wahlberg's past efforts will welcome another trademark dose of embarrassing shenanigans as Daddy's Home delivers plenty of slapstick silliness. It's easy viewing for anyone who can tolerate watching grown men act like overly competitive children, though lacking the memorable moments and catchphrases that make the pairs best work truly stand out.
Review by Russell Nelson