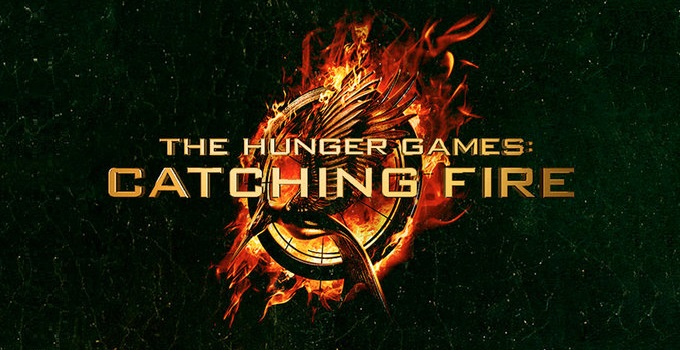 The Plot:
Katniss Everdeen survived the deadly Hunger Games, but in doing so both she and Peeta Mellark defied the all-powerful Capitol. Now on her victory tour and under the menacing scrutiny of ruthless President Snow, Katniss finds herself the reluctant figurehead for a growing spirit of rebellion in the oppressed districts of dystopian Panem. When the 'girl on fire' once again finds herself fighting for her own life and to protect those she loves, it may be just the spark needed to start a real revolution.
The Good:
The second big screen instalment of Suzanne Collins' blockbuster book series dramatically expands the scale of storytelling. Following Katniss and Peeta on their victory tour quickly establishes a wider world beyond the narrow confines of the first film's brutal Games arena and Capitol training rooms.
Fans of the book should be delighted to see the introduction of an array of new characters handled so well. Newcomer Sam Claflin is a perfectly toned and cheeky embodiment of trident wielding tribute Finnick Odair. He wields weapons and flirtatious sugar cubes with equal charm and purpose. Likewise Jena Malone is a satisfyingly snarling fit for the axe wielding and permanently furious Johanna Mason.
The wider world explored by Catching Fire is populated by accomplished character actors with credible and worthwhile screen presence. New talents like Jeffery Wright and Phillip Seymour Hoffman take their place alongside a welcome increase in screen time for Rachel McAdams, Woody Harrelson and Donald Sutherland. McAdam's flamboyant Effie Trinket proved a comedic fan favourite in the first film and this time she adds surprising heart to an already likeable character.
Since the release of the first Hunger Games film Jennifer Lawrence has become a household name, won a deserved best actress Oscar, and established her place as an undisputed superstar of her generation. In Catching Fire she easily reaffirms her abundant self-evident talents and delivers a performance equally physically and emotionally convincing. She portrays Katniss as a heroine that is both believably traumatised and battle hardened.
Katniss is neither an invincible superhero nor a hysterical damsel in distress. It's a refreshing change from the two polarised extremes which female leads are so often shoehorned into by summer blockbusters. Her stoic determination in the face of fear makes her admirably courageous. She's an inspirational bow wielding heroine who isn't ever defined or limited by any of her relationships with men.
The Bad:
It's difficult to find much fault with Catching Fire. It may take quite a long time to find its way back into the familiar life and death peril of The Games, but it's time well spent. The film may be lengthy but it deliberately builds tension and momentum during the hour plus it takes to reach the 75th annual Hunger Games. It's reassuring that the film never simply repeats what already impressed audiences in the first film. It has a structure, pace and grandeur which is entirely distinctive.
Fans unfamiliar with the book may perhaps be disappointed that the Twilight style love triangle between Katniss, Peeta and Liam Hemsworth's Gale remains a comparatively minor part of the story. Anyone hoping for a fresh fix of melodramatic angst ridden romance will need to look elsewhere. However, that is almost certainly to the ultimate credit of the franchise.
Like the first film, Catching Fire does not shy away from necessary moments of anguish and despair. Whilst those painful losses and bleak moments are a vital part of the story, no doubt more sensitive audiences may find them uncomfortably heart wrenching. Catching Fire is far less reassuringly feel good than other more safely sanitised teen franchises.
The Ugly Truth:
The Hunger Games Catching Fire is a dramatic statement of intent from a franchise that had already made such a promising transfer to the big screen. New director Francis Lawrence steers an impeccable cast towards compelling performances and flawless visual spectacle. Make sure to hurry to the cinemas to catch Catching Fire and the odds will most certainly be in your favour.
Check out full world premiere video interviews below with the cast, including Jennifer Lawrence, Liam Hemsworth, Elizabeth Banks, Jena Malone, Sam Claflin and Josh Hutcherson below: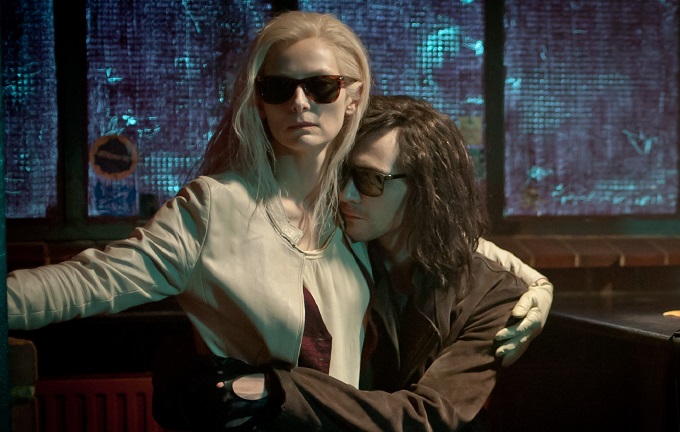 The Plot:
Adam and Eve are two centuries old vampire lovers reuniting after some time apart, in an effort to sooth reclusive musician Adam's growing disdain for mankind and despair for the future. Their blissful domestic reunion in Adam's dilapidated home and on the dark streets of Detroit is however, rudely interrupted by the arrival on Eve's sassy little sister Ava.
The Good:
Tom Hiddleston has emerged from his role as mischievous comic book villain Loki as an undisputed global superstar. His soft spoken wit and piercing stare is a magnificent fit for melancholic vampire Adam. Hiddleston gives a sensitive and subtle performance as he prowls around Adam's decaying home, brooding beneath tussled jet black hair. It's a sharp reminder that his broad range stretches well beyond fan favourite Loki.
Tilda Swinton is an actress with a naturally ethereal and other worldly quality, rarely if ever has it been put to such effective use as in this performance. Beneath a flowing mane of bleached blonde hair she is the perfect visual and emotional counterpoint to Tom Hiddleston's Adam. Eve's enthusiastic optimism instantly balances out Adam's sullen melancholy.
Swinton and Hiddleston create a remarkable chemistry together, depicting a fascinating portrait of a centuries old marriage. Eve and Adam share a convincing dynamic of casual understanding, tenderness, occasional lust and mutual obsessions. Their lethargic approach to existence seems entirely appropriate for creatures unconcerned with the pressures of human mortality.
Alongside the electrifying central paring, John Hurt and Mia Wasikowska add an extra dimension of colourful personality to the film. Wasikowska is effectively precious and irritating and Eve's immature vampire sister. Meanwhile John Hurt adds some gravel voiced gravitas to proceedings as an immortal Christopher Marlowe.
Director Jim Jarmusch has a cult following based on his flair for charismatic slow paced storytelling and distinctive visual style. Only Lovers Left Alive echoes much of his finest work like Ghost Dog and Broken Flowers. The film has a languid pace, but it's consistently thoughtful and packed with wry dark humour.
As with many of Jarmusch's  films Only Lovers Left Alive embraces the full awesome power of music with a soundtrack that enhances the scenery and characterisation in a way dialogue and visuals alone never could. It's an expertly deployed tool for setting a subtle tone for the film and uniting the radically different landscapes of Detroit and Tangiers.
Set entirely at night, for obvious reasons, the film has dark magical quality to its visual that lends an added air of gothic romance to proceedings. Even the decaying urban wasteland of an abandoned Detroit has a strange excitement about it in the dark corners of the night.
The Bad:
Those unaccustomed to Jarmusch's unhurried style of storytelling may perhaps find the film a little slow moving. Likewise those searching for Twilight style romantic melodrama or hoping for genuinely scary Vampire horror may both be left disappointed. In truth Jarmusch panders to neither stereotype and his creatures of the night are very much full and complex characters in their own right.
The Ugly Truth:
Only Lovers Left Alive is a seductive gothic romance of the highest caliber; boasting magnetic performances, black comedy and a well-chosen soundtrack. Director Jim Jarmusch successfully reclaims Vampires from the clutches of young adult fiction and restores their brooding menace and lust.
Check out our interview with star Tom Hiddleston on the red carpet at the London Premiere as part of the BFI London Film festival 2013: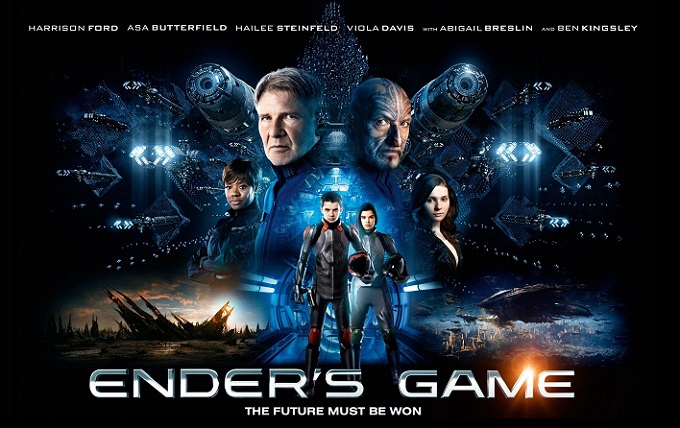 The Plot:
In the aftermath of a devastating alien attack that almost destroyed mankind, humanity places its hope in children, training them to be the next generation of ultimate warriors. Ender Wiggin is a brilliant cadet who just might prove to be the one leader capable of leading this new army into a battle to determine the future of the Earth.
The Good:
It's taken many years for Orson Scott Card's popular sci-fi novel to find its way onto the big screen, but it was definitely worth the wait. Ender's Game is a well-crafted combination of storytelling and polished special effects. Director Gavin Hood manages to give the film a distinctive futuristic look and deserves special credit for finding inventive ways to bring computer based elements of the original story to life on screen.
The film's greatest strength is undoubtedly its unique action sequences, in particular the zero gravity battle room where Ender and his fellow recruits train. Situated in a giant translucent sphere in the middle of a space station orbiting high above the Earth at the edge of space, it's simply unlike anything you've seen before. It may sound like cliché praise, but in this case it's actually true. There really is something beautiful and balletic about watching Ender lead his diminutive army in zero gravity war games. It's the equivalent of watching Harry Potter first grab hold of a broom to start playing Quidditch.
Of course, action adventures with pubescent heroes often fail to capture the imaginations of more mature audiences because their protagonists are simply too irritating. Thankfully Ender's Game boasts an impressive array of watchable young stars, led by Asa Butterfield and Hailee Steinfeld. Butterfield gives Ender a genuine spirit of ruthless cunning that commands much more respect than his lithe physique would suggest. Hailee Steinfeld also manages to give Ender a helpful training partner audiences will for once actually like not loath.
It's a refreshing relief that the film has the confidence to take itself seriously and that Ender doesn't at any time find himself unnecessarily stuck with any kind of bumbling comic relief sidekick. There are no infuriatingly pointless and painfully unfunny characters which so easily render film like this instantly unwatchable.
As for the adults, Harrison Ford seems reinvigorated in his role as Colonel Graff, the military commander determined to harden his young recruits into soldiers whatever the cost. It's a role that harnesses Ford's naturally gravel toned grit and gruff surliness well. Ford helps sets a serious tone for the film which makes it more accessible by far for grown up audiences. The background presence of award winning talents like Viola Davis and Sir Ben Kingsley also give the film a little more dramatic credibility.
The Bad:
Ender's Game has many virtues but falls short of perfection in a number of obvious ways. Some of the obvious subtext about 'child soldiers' and the true cost of war is perhaps dealt with a little heavy handily. For example, Ender's occasional flashes of self-doubt and anxiety over giving into his more violent impulses might be a necessary part of adding depth to the character but can feel a little obvious and superficial.
Likewise the film's bug like alien adversaries are pretty much a faceless generic threat. They're never developed as anything other than a swarming mass of evil spaceships. Although undoubtedly that is a deliberate decision and part of the film's commentary about the ambiguous morality of warfare, nevertheless it does rob the film of certain opportunities as well.
The film builds up some exciting early momentum but in truth it doesn't quite manage to fully deliver and falters a little at it's very final stages, perhaps leaving it just a little too late to cram in some last minute plot complexities.
The Ugly Truth:
Ender's Game avoids many of the obvious and most irritating pitfalls of a fantasy adventure built around a young boy coming to terms with his role as the 'chosen one'. The film also has enough originality and unique visuals to set it instantly apart from countless other doomed franchises. Ender's Game is worth seeing on the big screen for the zero gravity sequences and climatic space battles alone, it is also easily one of the best recent adaptations of classic science fiction.
The Plot:
Crackpot inventor Flint Lockwood has finally landed his dream job working for his scientist idol Chester V, however when he learns that his infamous food making machine is still churning out dangerous animal-food monsters he must return to his island home and shut it down with the help of his faithful friends.
The Good:
The first Cloudy with a Chance of Meatballs film proved to be a colourful fan favourite that did a fantastic job of animating a beloved children's book. This new adventure is a welcome second helping of eye candy for those left hungry for more.
The film delivers a massive portion of fun and mouth-watering visual magic. The newly populated food jungle our heroes explore is packed full of tasty tongue in cheek creations; a tribe of precocious pickles, shrimpanzees, apple pie-thons and deadly tacodiles to name but a few.  It's a wondrous world full of adorable animated sights and easy laughs. Happy faced marshmallows and a wide eyed talking strawberry are among the most endearingly adorable new characters. Even the most cynical parent will find it hard to stifle a satisfied exclamation of "awwwww".
Of course all fans' favourite characters from the first film return as well. This includes Steve the excitable monkey, Earl the macho security guard, Brent the Chicken suited mascot and perky weather girl Sam Sparks.  A capable voice cast and this eccentric array of supporting figures was a big part of the first film's recipe for wacky charm. It's what gave audiences an appetite for an unlikely sequel and it certainly makes a fairly thin plot far more fun to digest.
New vocal stars Kirsten Schaal, Terry Crews and Will Forte each do a great job alongside the returning cast of Bill Hader, Anna Faris, James Caan and Neil Patrick Harris. They lend creative character design even more quirky personality.
The Bad:
Of course not everyone will welcome outlandish Technicolor silliness and while the film undoubtedly has its own charms, it's fair to say it lacks the poignant subtext that distinguishes the work of Pixar. Likewise the Sony Pictures animation is more unashamedly cartoonish than Pixar's increasingly photo-realistic mastery. It's undoubtedly a deliberate choice but it does instantly skew the film towards capturing the interest of a much younger audience.
The Ugly Truth:
Children and adults with an appetite for whimsy will all enjoy devouring the delicious visuals of a film that embraces the pure joy of silly puns and cute critters. As a sequel the film does surprisingly well equally and perhaps at times even surpassing, the memorable charm and imaginative fun of the original.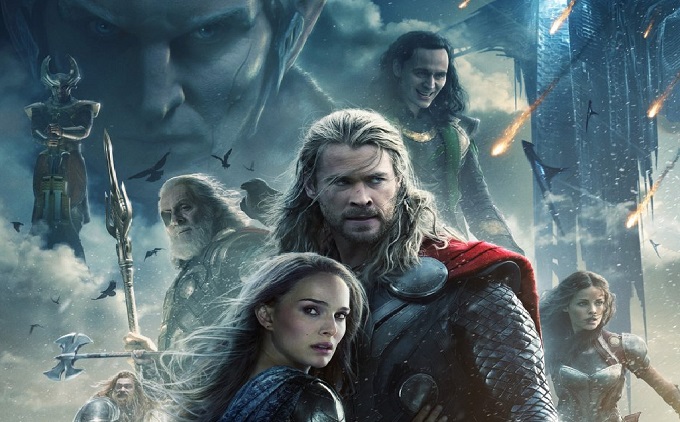 The Plot:
With Loki imprisoned on Asgard and Thor busy restoring order to the war torn nine realms, a strange discovery on earth triggers the return of a vengeful ancient race, determined to plunge the universe back into darkness. Thor must reunite with his lost love Jane Foster and even work alongside his treacherous brother Loki in order to save those he loves and the whole of existence.
The Good:
In the aftermath of The Avengers and the climactic pyrotechnics of Iron Man 3, the much anticipated Thor sequel had a lot to live up to. Thor's first solo adventure set a high standard for production value and marked a more fantastical departure for Marvel, but at times felt restricted by its small scale earthly sets. The Dark World massively expands the scope of the action, spanning continents, alien worlds and the entirety of space and time. It's bigger and undeniably better.
Despite the introduction of Game of Thrones Director Alan Taylor and the ominously suggestive title The Dark World, the most welcome surprise about this sequel is that it is actually even more knowingly witty, self-aware and outright hilarious. Those fearing a seriously sombre sequel can stop worrying. Marvel continues its impressive winning streak of balancing peril and poignant moments with well-timed laughs.
Leading man Chris Hemsworth has now developed Thor over several movies, transforming him from a cocky swaggering meathead into a thoughtful heroic warrior. Among all Marvel's beloved but often troubled heroes, it's been perhaps the most subtle but also satisfying journey. Hemsworth has a charisma that goes beyond his perfectly sculpted torso and rugged godlike features.
Tom Hiddleston as Loki has quickly amassed a shamelessly devoted fan following that in many ways even eclipses fans affection for his heroic brother Thor. It's easy to see why. Every word out of Loki's wry smile is liquid comedy gold. Almost every line seems destined to become an instantly quotable fan favourite. Loki practically steals the entire movie, once again.. surprising nobody.
Natalie Portman fans will be pleased to see Jane Foster given a real purpose and presence in this film, having spent much of the first Thor adventure simply marvelling at Hemsworth's godly physique. Likewise Stellan Skarsgard and Kat Dennings provide a lot of welcome laughs with their limited screen time. Special mention also has to go to Chris O'Dowd who turns in a delightful cameo.
The Bad:
It's hard to find any genuine flaw with The Dark World. Perhaps some fans that prefer more grounded earthly adventures may be a little less enthusiastic about the prospect of a plot built around evil space elves, quantum mechanics and mystical weapons. But in truth Marvel has earned the right by now to trust audiences to suspend disbelief enough to handle something a little more fantastical. The Dark World is competently grounded by well-developed characters and convincing comedy.
Fierce critics and mewling quims might suggest that new nemesis Malekith feels a little generic. Christopher Eccleston in truth has very little work to do beneath elaborate makeup, with a character that seemingly wants to end the universe simply because he prefers the lights off. Keeping this new threat as simple as possible does however allow more room to focus on the joyously complex relationship between bickering brothers Thor and Loki. Let's face it nobody is ever going to outshine an anti-hero like Loki.
The Ugly Truth:
Thor The Dark World lives up to every expectation anxious Marvel fans could possibly have had. It continues to develop the ever growing Marvel Universe and some of its most beloved characters. Seeing Loki as a major presence is an especially welcome joy. It's a relief that the film recognises that it's never really stronger than when the two feuding brothers share the screen.
With a flawless cast matched by dazzling special effects and a legitimately awe inspiring climactic battle Thor the Dark World is a near perfect big screen blockbuster. It's easily one of Marvel's best efforts to date and continues to set the stage for even more new adventures.
Check out the bromance packed world premiere interview with Chris Hemsworth and Tom Hiddleston below: