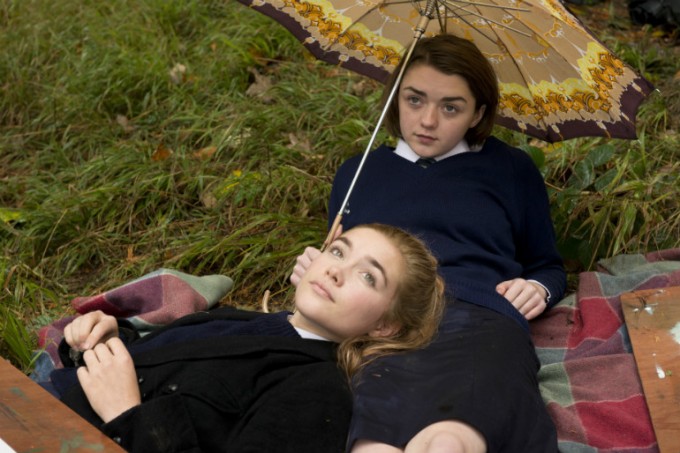 The Plot
Set in 1969, The Falling is an unconventional coming of age tale centering on two friends, Lydia (Maisie Williams) and Abbie (Florence Pugh). Despite their powerful bond, when tragedy strikes, Lydia becomes overtaken with a mysterious delirium which soon spreads to other classmates…
The Good
Much like Maisie Williams' most well known acting credit Game of Thrones, The Falling is a film about which the plot can only be slightly mentioned for fear of spoilers. Williams soon takes centre stage to drive much of the narrative as she comes to terms with an event that occurs around the one third mark. The resulting film is a beautifully shot piece accompanied by varied but ever so fitting scores and songs from the era. With gorgeous cinematography from Agnès Godard that adds to the artistic beauty already brought to the screen by Williams and director Carol Morley.
The film benefits from solid supporting cast work from Maxine Peake as Lydia's antisocial mother , Joe Cole (Peaky Blinders) as Lydia's magic obsessed brother and Greta Scacchi as one of the schoolteachers. They collectively bring just as much to the screen as Williams does, albeit more sparingly.
But it's Williams who is undeniably the main attraction in The Falling. The story while hard to interpret at parts is held together by Williams, proving even more than she already has in Game of Thrones that she is certainly an actress to take notice of. With films like this under her belt already at this age she seems to know what she wants and will no doubt become a familiar face as the years pss.
The Bad
For Game of Thrones fans who are excited to see their favourite actress in her first leading role, it really has to be stressed that The Falling is not an easy watch. It needs full attention and even then it may not give you the answers you want. It is a story that comes with many obvious questions. If you stick with it you'll find that the story brings it own rewards, if not easy answers. There are some satisfying conclusions to be found, at least for those willing to look hard enough. At 102 minutes long it doesn't seem too much to commit to.
The Ugly Truth
The Falling is a beautiful piece of cinema which will enthrall you and make you contemplate it's story long after the credits have rolled. Maisie Williams proves she has more to give in what will most certainly be a long career. It may be a bit too art house for some but if you give it time, it will grow on you.
Check out our red carpet  interview with Maisie Williams at the film's world premiere at the BFI London Film Festival 2014 below: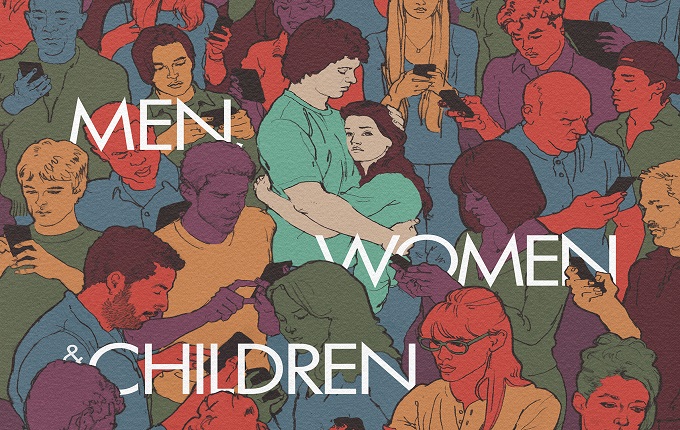 The Plot
Emma Thompson narrates Jason Reitman's latest comedy drama, which delves into impact of technology among a whole host of characters young and old. Various interwoven stories explore how the advent of ever present social media has forever changed notions of privacy, intimacy and identity.
The Good
Opening with a shot of a satellite floating in the atmosphere above us, accompanied by the soothing tone of Emma Thompson's voice, Men, Women and Children almost seems like a documentary. But it's not long till we're brought back down to earth as director Jason Reitman (Juno, Up In The Air) studies various character driven stories all focusing on the dangers of the internet. Given the constant debate about whether social media is really helping or hindering communication and recent celebrity photo leaks, it's a timely and provocative theme.
The main issue he tends to focus on is that of sex and pornography. Whether it's Adam Sandler and Rosemarie DeWitt as a couple who turn to dating sites and escort services, or Donna Clint (Judy Greer) and her daughter's 'acting website', Men, Women and Children certainly has some interesting story lines which will make you question how pervasive the internet has become in our lives.
The most interesting segment of Reitmans collection of stories however, is that of the young teens played by Ansel Elgort (The Fault In Our Stars) and Kaitlyn Dever (Short Term 12). Elgort plays Tim Mooney, a former member of his schools football team who is abused through texts after letting the team down when he quits to shut himself away in an online game. Unlike Tim who is left to his own devices by his dad as he whittles away time online, Dever's character, Brandy, is instead tracked, traced and generally trapped by her over-protective mother (played spectacularly by Jennifer Garner) who trusts her daughter so little that she installs a device to literally record every keystroke Brandy makes on her computer.
These stories force audience in a very immediate way to evaluate our own decisions about the prominence of technology in our lives and how the internet may be adversely affecting children and their parents. It's easy to connect with each of these characters because the dilemmas and decisions they face will feel relevant ad familiar to our own lives.
The Bad
With plenty of stories to delve into, it's such a shame that the narrative structure is overall the weakest part of Men Women and Children. Reitman has already done plenty to prove that he has a knack for writing smart humor that is cleverly underplayed with Juno and Up In The Air, but his latest effort doesn't quite capture the same magic. In particular it would be easy for audiences to mistake Adam Sandler's muted performance for boredom.
The film's opening scene sets up Emma Thompson as the well chosen narrative voice for the film, tying together various stories from a detached vantage point, visually manifested as a satellite drifting ever further from earth and out into space. Though deployed often during the first half of the film, her voice becomes a diminished and infrequent presence as the film progresses, leaving the various story lines to struggle on under their own dramatic weight.
The film is undeniably ambitious in trying to tackle such substantial emotional and technological themes, but this perhaps proves overly ambitious for its 116 minute run time.
The Ugly Truth
While it doesn't always match the exceedingly high standards set by his previous films, Jason Reitman's latest is an interesting attempt to provide a commentary on the excessive  use of internet in our daily lives. Though the film could perhaps be more concise, accomplished performances and important ideas ensure audience will be compelled to think about exactly how much of our lives is spent looking at computer screens.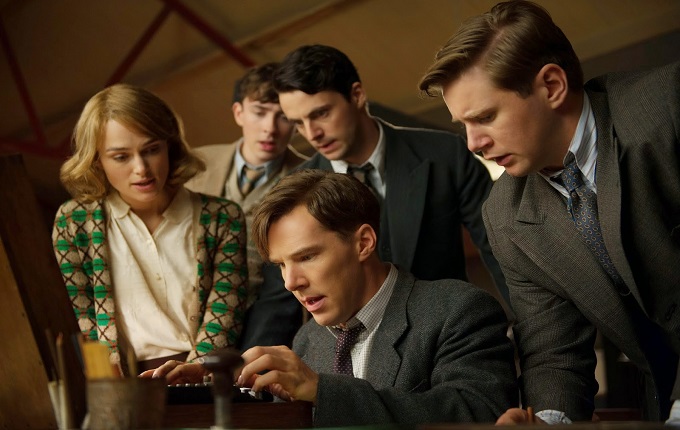 The Plot
The Imitation Game is a poignant biopic of Alan Turing, the real life British maths genius who is widely credited with turning the tide of World War II by leading a team of mathematicians and code breakers in their efforts to crack the German Enigma code. The film explores both Turing's pivotal role in the birth of computer science and the tragic personal demons he wrestled with.
The Good
Benedict Cumberbatch is an actor best known and internationally adored for playing a heroic but socially awkward genius on BBC's Sherlock. It's a role which the sharp witted and cheekboned British star is uniquely well equipped for. Playing Alan Turing, another socially awkward British genius and unlikely hero could easily be dismissed as comfortable typecasting. However what's most truly impressive about Cumberbatch's flawless portrayal is all the ways in which it isn't simply Sherlock doing maths.
Cumberbatch paints a passionate complete portrait of a brilliant and utterly unique man. Though imbued with much of the same brashly intelligent charm and soft voiced gravitas that makes his portrayal of Sherlock so compelling, it is immediately distinguished by more fragile and tragic undertones.
Keira Knightley also thrives in a role where her clipped upper class accent is an asset not a distracting handicap. Knightley succeeds in delivering a useful counterpart for Turing as a romantic and mental companion. Combined with a deft performance from Cumberbatch, the pair creates a relationship which is immediately awkward and intimate in equal measure.
Though Cumberbatch will rightly grab the accolades and awards, in truth The Imitation Game is one of very best ensemble casts to grace the screens in recent years. Every cog in the machinery of this film fits its place perfectly and delivers compelling results. Charles Dance as a stern Navy Commander, Matthew Goode as a caddish maths boffin and Mark Strong as a sly MI6 agent are just a handful of example of the kind of sublime casting perfection the film achieves.
A thoughtful and well-paced script manages to balance telling a story about one man's extraordinary if often troubled life, against the grand backdrop of war and inhuman global destruction. Though moments of triumph are consistently tinged with sadness, overall he film is an uplifting experience that conveys just how much technological and social advancement has been made since the miraculous events it depicts.
The Imitation Game isn't just a story about the birth of computers, wars and government code breaking secrets. It is an immersive emotional biopic of a complicated but undeniably important man. Someone who gave the world precisely what it needed just when it needed it the most.
The Bad
Those familiar with the real life details of Alan Turing's fate will no doubt have an entirely different perspective to younger or uninformed audiences. It may be that if you are armed with such knowledge it may be difficult to ignore it throughout. However the film subtly plays with time and narrative structure to ensure that the story thrives regardless of whether or not audiences are already aware of how things end.
The Ugly Truth
The Imitation Game serves as a fitting tribute to an almost forgotten hero. It's a well-crafted historical biopic that shrewdly juxtaposes the grand theatre of world war with the intimate struggles and relationships of some of the least likely war heroes. Benedict Cumberbatch in particular delivers a performance that should almost certainly provide the answer to the question And the Oscar for Best Actor goes to…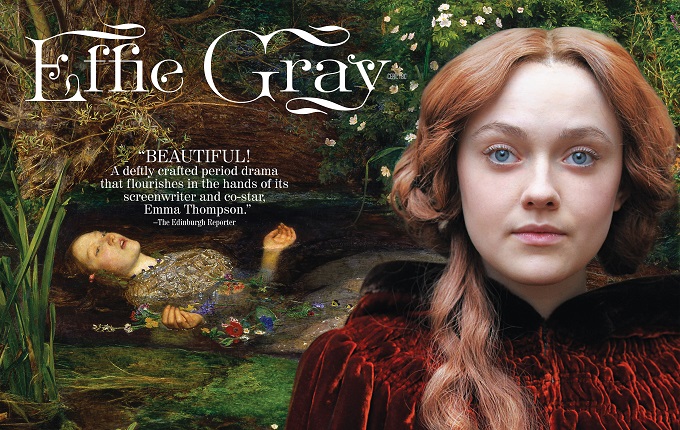 The Plot
Inspired by real life historical events, the film delves into the infamous marriage between celebrated Victorian Art critic John Ruskin and his teenage bride Euphemia Gray. Exploring the torments of a famously troubled union at a time when women were perhaps more vulnerable to cruel oppression.
The Good
Dakota Fanning is a rare commodity, as a celebrated child actress who has successfully transferred that precocious success into credible mature stardom. The beautiful young actress does fine work as titular heroine Effie Gray, handling a British accent and balancing despair with stoic determination. She thankfully also avoids portraying Effie as either a self-pitying victim or hysterical.
Emma Thompson in addition to providing the film's screenplay, generously also gifts the film with a charming cameo as a kind hearted matriarch of high society. It's an indescribable relief to see her character take a sympathetic motherly interest in Effie's increasingly desperate plight.
As much as the film is an open hearted lament to the historical oppressions of women in Victorian society, it may find some resonance with an audience currently considering how women are still widely objectified, trivialized and controlled by cruel and vindictive forces.
The Bad
Effie Gray delivers such an accurate portrayal of the crushing emotional pressures of a loveless and oppressive marriage that it's often hard to find any trace of redeeming hope or optimism. Those expecting some kind of achingly romantic period drama will no doubt feel dismayed by the utter lack of romance.
It's only really bearable to watch people suffer if there's ultimately a rewarding sense of meaning or purpose.  Unfortunately Effie's dire circumstances lack the necessary explanation or dramatic significance to justify joining her on that slow and painful journey. Perhaps if the film had taken the time to establish the motivations behind the mismatched couple's unlikely marriage it would have given some context for the cruelty she subsequently endures.
In the film's efforts to be subtle it seems to miss out crucial emotional details. It's simply unclear why Ruskin marries his pretty teenage bride only to immediately begin shunning her physically and emotionally. His apparent disdain is never truly confronted. This was perhaps purposefully intended to preserve a sense of mystery or ambiguity, but feels more confusing and subsequently disinteresting.
Likewise, Tom Sturridge has little opportunity to generate any truly convincing sparks of romance with Effie, as young and comparatively kind painter Everett Millais. Aside from being a clearly superior match to the disdain of her sullen husband, there's not much to identify the young pair as star crossed lovers.
The Ugly Truth
Effie Gray is a sincerely made period tale that paints a tragically glum picture of the painful frustration of being trapped in a claustrophobic and increasingly hate fuelled marriage. Dakota Fanning and Emma Thompson's script do their best to ensure Effie is a sympathetic figure, but largely fails to reward supportive audiences with enough joy and understanding.  Only those with an eager appetite for corsets and consternation are likely to be truly satisfied.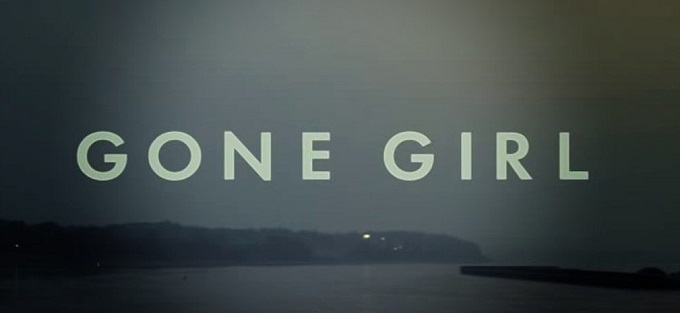 The Plot
When a beautiful young woman Amy Dunne suddenly disappears under suspicious circumstances her seemingly distraught husband soon finds himself at the centre of intense scrutiny from the press, public and police. As facts twist and become both more and less clear even audiences are gripped by the question, did Nick Dunne murder his wife?
The Good
Fresh from the recent achievements of The Social Network and House of Cards, Director David Fincher adapts Gillian Flynn's bestselling page turner into a gripping piece of typically dark and captivating cinema. Much like his efforts adapting The Girl With The Dragon Tattoo, Fincher combines his unique visual style and clever casting with celebrated source material.
Zodiac, Seven and Dragon Tattoo all proved that Fincher is definitively capable of detailed crime procedurals, but much like the Social Network was about more than just the birth of Facebook, Gone Girl is not simply about a missing person's investigation. Gone Girl casts a cynical eye over mass media and its increasingly pervasive influence on public perceptions. It's a darkly comedic theme that affords the film most of its wickedly sharp one liners.
Everything you've heard about how good Rosamund Pike is in Gone Girl, is true. The British actress finally freed from the tiresome task of mid-tier rom coms unleashes a performance so surprising and memorable that it completely redefines her career. Don't be fooled by the trailer, she isn't just a piece of evidence to be found, her character evolves in complexity as the film's twisted plot slowly unravels itself.
Ben Affleck  will inevitably be once again easily forgotten come awards season, but his performance as the by turns bemused, likeable and suspiciously smug husband remains an integral component in Gone Girl's success. Trading subtly on audiences real life love/hate attitudes toward Affleck himself, it is difficult to imagine any other actor in the role.
Fincher completes his cast with familiar faces like Neil Patrick Harris and Tyler Perry in unfamiliar roles, alongside impressive newcomers. The overall result of a well-crafted script and an impressive ensemble of acting talent is a film that demands to be watched.
The Bad
Though David Fincher has already won an army of fans and critical acclaim, his films continue to fixate on dark themes of murder, sexual violence and psychosis. Unsurprisingly this isn't always appealing for a blockbuster audience in search of light hearted escapism. The Girl With The Dragon Tattoo was a faithful interpretation of a compelling crime thriller, but it failed to connect with a wider audience at the box office. Gone Girl is likely to escape that fate, due to word of mouth and a particularly unmissable performance from Rosamund Pike.
The Ugly Truth
Gone Girl treads an impressive line between conventional thriller and black comedy, no doubt leaving fans of the original book and the uninitiated both equally shell shocked and impressed. The film skilfully plays with audience expectations in classic film noir tradition, making it one of the most memorable crime thrillers in recent years. Rosamund Pike also puts one bloody hand on an Oscar with a transformative performance