Warning: This review may contain spoilers
The Plot
A group of lost causes band together in a plot to retrieve the plans for the Empire's ultimate weapon, the Death Star.
The Good
Director Gareth Edwards joins the Star Wars saga in this, the first Star Wars Story set between the main episodes (unless you count the infamous Holiday Special), in this case between the prequel and original trilogy, telling the story behind the plans for the Death Star.
Opening with an interesting though perhaps not necessarily planned alternative take on the opening crawl, synonymous with the saga, Rogue One instantly sets itself up as a film both completely removed from the usual formula yet still honouring its roots. Felicity Jones heads the cast as Jyn Erso, daughter of Galen Erso (Mads Mikkelson) chief engineer of the Death Star, who is recruited by the rebellion in an effort to find her father for information.
What sets Rogue One aside from its brother saga is undoubtedly its action sequences. Edwards manages to bring harrowing war sequences to life both on the ground and in the air with real gravitas. It's a refreshingly realistic take on sci-fi war that instantly apes any attempts previously made in the series so far.
The Bad
With Rogue One chronicling the timeline leading right up to A New Hope, it's inevitable that some familiar faces will return to the screen. The main face of course being everybody's favourite Sith Lord, Darth Vader. His return to the big screen is quite simply triumphant, albeit only in the latter half. His one scene preceding the already much discussed fight sequence does dampen things slightly thanks to an awkwardly placed pun which just feels out of place and out of character.
The other main returning face is that of Peter Cushing's General Tarkin. Just as with Vader, Tarkin is a vital role that would make Rogue One feel extremely lacking if it wasn't included. And in the few scenes he turns up it's clear that the production team have put every effort into rendering the likeness of Cushing. Unfortunately all this work feels ultimately pointless. While the effort is admirable the simple truth is that it still looks obviously fake. Due in large part to the fact that any Star Wars fan would know as soon as Cushing appears that it can't be. What's especially disappointing is the fact that this could have been so easily averted by either recasting the role or keeping the appearances minimalistic, perhaps covering his face in shadow which would have been just as effective if not more so. Instead Tarkin begins to stick out like a sore thumb the more he is used.
The third and last issue of returning faces comes from the two faces who are the constant s throughout the entire franchise and ironically aren't technically faces. R2-D2 and C3PO make the briefest of cameos in what feels like a very shoehorned in scene that serves just to keep the record going. It's a shame that they don't make one final appearance at the very end to make the appearance feel warranted.
The Ugly Truth
Rogue One manages to successfully stand apart from the Star Wars Saga while still able to keep it's connections. While the attempts to do this through returning characters doesn't tend to work particularly well, Gareth Edwards' fantastically realistic action sequences and Felicity Jones' Jyn Erso are more than enough to bring you back into A Long Time Ago in a Galaxy Far Far Away.
Review by Johnny Ellis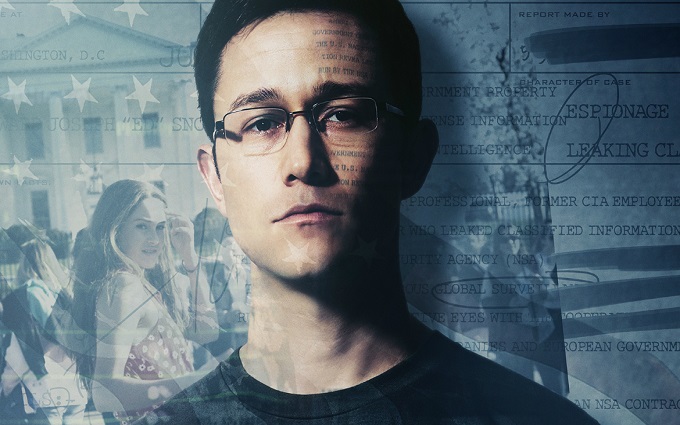 The Plot
The NSA's illegal surveillance techniques are leaked to the public by one of the agency's employees, Edward Snowden (Joseph Gordon-Levitt), in the form of thousands of classified documents distributed to the press.
The Good
Director Oliver Stone brings the story of Edward Snowden to life in this dramatic retelling of actual events. Set between 2004 and 2013, Snowden goes through its titular subjects career from his early days as a patriotic army cadet, through to his work with the NSA and ultimately his whistle blowing which made him a household name around the world. At 2 hours and 14 minutes, Snowden surprisingly feels much shorter. This is thanks mainly to the screenplay, co-written by Stone and Kieran Fitzgerald (The Homesman) which manages to balance the importance of the story with the personal side of Snowden while explaining technical jargon with ease.
Meanwhile, Gordon-Levitt embodies the character perfectly in both looks and emotion. As we see Snowden become increasingly paranoid about the morality behind the going-ons at the NSA, Gordon-Levitt manages to bring a thoroughly believable piece of acting across all boards.
Co-starring with Gordon-Levitt as the journalists and documentary maker respectively, are Zachary Quinto, Tom Wilkinson and Melissa Leo who manage to bring as much as their characters can to the film. Nicholas Cage and Rhys Ifans also join as the faces of the NSA, the former a bitter man who gives the alternative viewpoint for how Snowden's life could have turned, and perhaps Cages best performance in recent years simply due to the fact that he doesn't have enough screentime to really screw it up. Ifans conversely plays the scenery chewing high-level intelligence operative Corbin O'Brian who serves his role as shady paranoia building character effortlessly.
However, with the film obviously revolving around Snowden himself, the real standout co-star is Shailene Woodley as Snowden's girlfriend, Lindsay Mills. Woodley proves herself yet again to be an actress of particular note no matter what she does (even, Divergent…) and brings some true chemistry alongside Gordon Levitt.
The Bad
Those hoping to find a deeper more thought provoking storyline may feel a tad sidelined with this biopic which, as its title suggests, leans much more heavily upon Snowden himself than the real issues at hand. While Fitzgerald and Stone's script does indeed manage to balance the two it is perhaps inevitable that it feels like a documentary, like 2014's Citezenfour would perhaps offer more in the truth and technicalities of the hacking scandal which Snowden does of course still delve into, albeit in a much more popcorn friendly scene involving a Rubik's cube.
The Ugly Truth
Oliver Stone presents a technically faultless biopic which explores the character of Snowden while also managing to explain the importance of the events surrounding him with ease. Those looking for more information would best be suited for Citezenfour.
Review by Johnny Ellis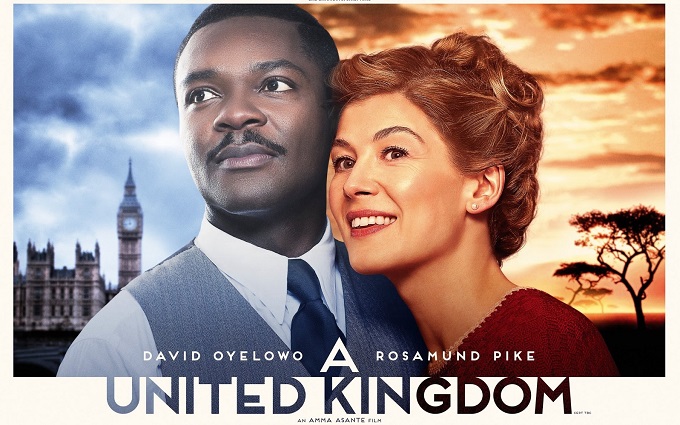 The Plot
Prince Seretse Khama of Botswana (David Oyelowo) causes an international stir when he marries a white woman from London in the late 1940s
The Good
David Oyelowo and Rosamund Pike star in this powerful romantic biopic which explores the story of a mixed race marriage that changed the course of history. After bonding over their mutual love of jazz, Seretse Kharma (Oyelowo) and Ruth Williams (Pike) soon start up a romance in 1940s London. But when Khama reveals his royal heritage and his intent to return to his homeland of Bechuanaland (now known as Botswana), with Ruth at his side, history is made.
Director Amma Asante brings another incredible story to life after 2013's Belle with some beautiful scenery of the drab and dreary streets of London juxtaposed with the bright openness of Bechuanaland, while Eye In The Sky writer Guy Hibbert's script balances a tale of love with the backdrop of a world on shrouded in racism with such ease.
It is in its two central performances however, where A United Kingdom truly showcases its effectiveness. Pike and Oyelowo bring an electric and unabashed chemistry to the screen that strengthens the plot and brings true emotion to a film which could have easily slipped into cliché.
The Bad
As balanced as Hibbert's script is, there are certain moments which, though few and far between do leave the scene with a sense of unfinished business. Thankfully the two leads are more than enough to fill up any emptiness that the script may occasionally leave.
Another problem comes in the films adversaries, here played mainly by Jack Davenport as a pompous civil servant, intent on trying to break Khama and Williams apart, as well as Tom Felton who seems to be reprising his role from Belle as slimy racist bastard. A role he plays very well it must be said. It's just a shame that these two dimensional roles are the ones put up against the powerhouse of Pike and Oyelowo.
The Ugly Truth
Oyelowo and Pike bring a beautiful chemistry to life with the help of Asante's stunning as ever directorial efforts. While the script feels the slightest bit lacking at rare moments, for the most part it tells its story with ease and balance. It's just a shame Davenport and Felton are left with not nearly as much to play with as its two main stars.
Review by Johnny Ellis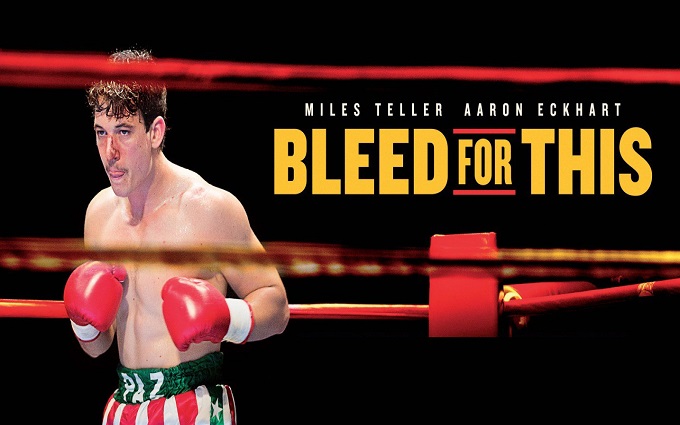 The Plot
The true story of World Champion Boxer Vinny Panzienza (Miles Teller) who, made startling comeback after a near fatal car crash leaves doctors telling him he is unlikely to walk again.
The Good
After becoming a household name from last years Whiplash (and then losing all credibility with Fant4stic…) Miles Teller dons the boxing gloves for arguably the Raging Bull of his career. What follows is undoubtedly Teller's most powerful performance to date. As the hauntingly damaged Vinny, Teller brings humour and tragedy to the story helped along the way by Aaron Eckhart who looks almost unrecognisable in his role as trainer Kevin Rooney, not least due to the bald look he manages to pull off.
First appearing in leopard print underwear as he is weighed in for a lightweight match, Teller's Vinny 'The Pazmanian Devil' Pazienza comes off as a cocky but loveable young boxer who, as Eckhart's Kevin Rooney notes later in the film, has a lot of heart but wears it on his chin.
Writer Ben Younger (who also directs) manages to bring a truly inspirational story to life. Even if you know the story, the film still manages to shock and lift you at times making you even forget you're watching a film.
The Bad
If you were to compare Bleed for This to the long list of boxing classics such as Rocky or Raging Bull, which we mentioned earlier, you'd be hard pushed to put it on the same pedestal. While it works its magic at the time, with the pivotal boxing scenes particularly powerfully presented with a lack of music making the punches that much more impactful, the effect it leaves behind unfortunately doesn't last long enough to put Bleed for this in amongst the classics.
The Ugly Truth
Ben Younger writes and directs a truly inspirational story with Teller and Eckhart giving some fantastic performances. Yet, while the film works wonders when it's playing on the screen, the experience never really leaves the cinema.
Review by Johnny Ellis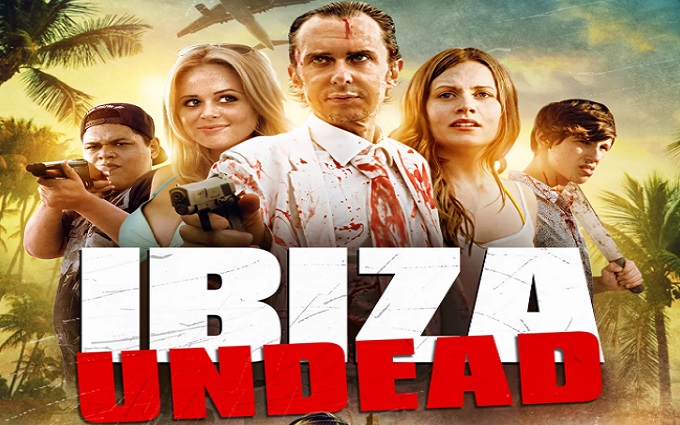 The Plot
A group of young people head to Ibiza for the holiday of a lifetime – all the sun, sea and sex they can handle. If only there wasn't a zombie outbreak getting in the way.
The Good
Set in a world in which zombies are a national epidemic in Britain, though more of an annoyance than an actual threat at this point, Ibiza Undead throws a couple of fun ideas at the premise as our three central characters escape to a place where zombies have not taken over and instead have been utilised as part of the island's entertainment for tourists.
Hints of a zombie app for humans to use to survive as well as the use of zombies as attractions for strip clubs are nice touches, but the main brunt of the films fun comes from its gore. With any zombie movie you expect some entertaining kills and here, ibiza Undead does not disappoint. Highlights include the inventive use of a glow stick and an umbrella, as well as a hilariously dark moment which sees a plan to stop someone from turning into a zombie.
The Bad
All this however is not enough to make you forget about the underwhelming outcome of the film. The clunky and wooden dialogue that is scattered throughout the script is just the tip of an iceberg which also contains poor acting and missed opportunities. When we're first introduced to the world of the film, we're given a cheaply made scene with two gas masked security guards guarding an airport which looks just devastatingly fake. And while the idea of Britain under a zombie epidemic is set up, it's done so poorly with little exploration into it. Granted, the film swiftly moves to Ibiza for the entire film, but it's still a shame to see such an interesting take on british teenagers living in this world nonplussed, being thrown aside to make way for a generic zombie film.
If the dialogue wasn't bad enough, whats worse still is the scenes themselves which linger far too long and oftentimes don't flow together as well as they could. There are moments scattered throughout the film which feel like the camera has just been left on or that the editor has yet to fine tune it.
The Ugly Truth
Ibiza Undead introduces an interesting take on a zombie infested world wherein the survivors just aren't impressed by it. Unfortunately it drops any attempt to explore this further and instead throws in wooden dialogue and lingering scenes. The only real highlights are the kills.
Review by Johnny Ellis