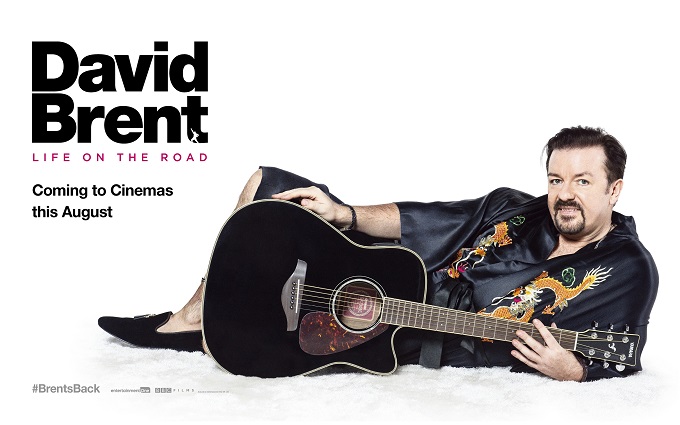 The Plot
A camera crew catches up with David Brent (Ricky Gervais), the former star of The Office, as he now fancies himself a rockstar on the road.
The Good
Ricky Gervais' most infamous creation returns to our screens and is bigger and better than ever in a new mockumentary that follows everyone's favourite manager as he attempts to make it big in the music industry. It's been thirteen years since The Office left our television screens but David Brent is still the same hilariously cringy character we know and love. Now working as a sales rep, Brent decides to use all his savings including his pension to take his band, Forgone Conclusion on the road for a tour.
As usual, Gervais' writing is spot on with a constant stream of laughs from the very beginning. Part of this genius is in the songs which Brent performs himself with hilariously factual lyrics such as 'Slough'  ('equidistant 'tween London and Reading') and Native American' ('We're more like west eurasians crossed with Siberians'). Each song drips with Brent's trademark awkwardness.
Where the film works best however, is in its heartbreakingly funny scenes. Brent was always a character who was just devastatingly funny and it's no different here. Whether he's being kicked off his own tour bus to follow behind alone in his car, or having to pay his band to hang out for a post-gig drink, Gervais manages to tread the line of humour and empathy perfectly.
It's not all about Brent though. Doc Brown gives a wonderful performance as Dom, Brents long-suffering rapper for the band who is brought on stage to accentuate certain songs thanks to his ethnic background. Not only is Brown a fantastic rapper, he also gets plenty of chances to showcase his acting skills as he puts up with Brent.
The Bad
As fun as it is however, Life On The Road does hit some bumps along the way especially towards its final third. Gervais' directing style tries to stay true to its mockumentary origins but often slips into certain shots that just don't fit the aesthetic. There's also at least one slight glimmer of Gervais projecting a touch of Derek, his last TV character which, if you manage to spot it, can take you out of the film for a brief moment.
The Ugly Truth
Gervais brings some genuinely heartwarming moments and sidesplittingly hilarious ones to David Brent's big screen outing. While there are issues with the films overall style, the substance is often more than enough to make you forget about it pretty quickly. Frankly though, it's worth the price of admission for the soundtrack alone.
Review by Johnny Ellis
The Plot
When her little brother, Martin (Gabriel Bateman) experiences the same events that once tested her sanity, Rebecca (Teresa Palmer) works to unlock the truth behind the terror, which brings her face to face with an entity that has an attachment to their mother, Sophie (Maria Bello).
The Good
Based on the short film of the same name, Lights Out expands the terrifying idea of an entity which can only be seen in the shadows when the lights are out and brings with it an often touching plot which explores themes of depression. David F Sandberg gives a technically brilliant piece of filmmaking in this, his feature length debut which uses its lighting in an impressive and terrifying way. Whenever the lights are off, you will undoubtedly find yourself searching, Where's Wally style for any ominous shadow that could potentially be lurking in the background.
Perhaps the best use of this comes in Rebecca's room which is has a flashing neon Tattoo parlor sign constantly flicking on and off bathing the room in blood red between brilliantly effective cuts of the shadowy adversary scratching on the floor menacingly. The plot, which centres around Rebecca and Martin as the latter starts to experience a spine-tingling home environment trapped alone with his mother and her apparent friend lurking in the shadows, is heightened by the wonderful performances from the two leads who have a truly believable chemistry as brother and sister. The idea of Martin's problems at home echoing that of Rebecca's childhood is put to work in a brilliantly effective flashback showing a young Rebecca's experience. With Martin not having yet given up on his mother and determined to help her unlike Rebecca who has not kept in contact since moving out is a juxtaposition that works well and advances and adapts as the story moves forwards in a realistic way.
The Bad
It's a shame then, to see that the film relies far too heavily on jump scares in order to amp up the horror. This wouldn't be much of a problem were it not for the jarring use of music in order to make the jumps bigger. Fortunately the method appears to die down a bit in it's latter half but the damage is already done. It's especially disappointing because the concept works incredibly well and could have been just as effective, if not more so without the soundtrack added in.
The Ugly Truth
A brilliant concept and interesting storyline, with some effective use of the theme of depression is lessened ever so slightly by it's adamant use of jump scares in such a typical way. Lights Out is still effective throughout but tends to work best through its use of lighting rather than its soundtrack.
Review by Johnny Ellis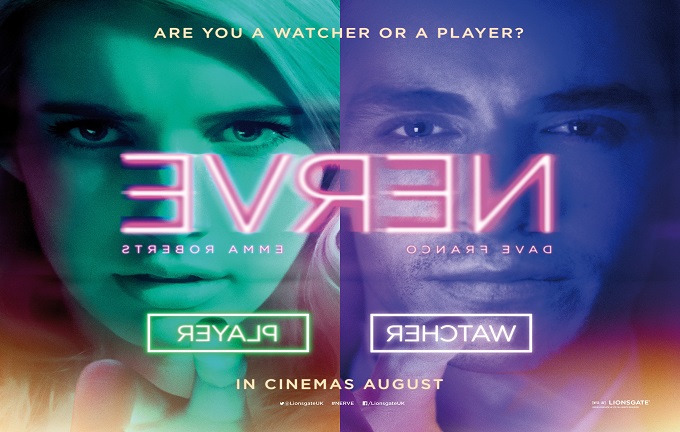 The Plot
A high school senior finds herself immersed in an online game of truth or dare where her every move starts to become manipulated by an anonymous community of 'watchers'
The Good
Emma Roberts stars in this engaging thriller which adds an interesting twist to the world of social networking with Nerve, an app which allows people to live stream dares which are matched to fit their online profiles from anonymous 'watchers'. So for example, if you're afraid of heights, your dare will be attributed to get the best reactions. Jessica Sharzer's script does a wonderful job of making the premise feel realistic which adds to the ironically unnerving sense of the film. As Vee (Roberts) decides to finally step outside her comfort zone after a humiliating experience with a crush, she joins nerve as a 'player' where she is dared to kiss a stranger. Things soon escalate as Vee and the stranger, Ian (Franco) are banded together by the 'watchers' and given dares which start becoming more and more dangerous.
Franco and Roberts are a perfect match as they roam the city, gaining more and more followers both virtually and in reality in the form of anonymous people lit up only by their cell phones. Their chemistry is really what makes the film work, not feeling forced at all, while the story feeds such a simple idea but one that feels minutes away from happening in real life. Twists and turns come along the way as the elusive Ian is slowly revealed to have ulterior motives.
The Bad
As a general concept, Nerve works particularly well. However there is at least one storyline which feels a touch forced especially towards its conclusion. As Vee continues to complete dares, she receives rewards from the watchers in the form of bank transfers which gradually get larger and larger dependant on how tricky the dare is. With this comes Juliette Lewis as Vee's mother, who becomes more and more confused with the sudden activity in their joint bank account. It works well to begin with but when she becomes more involved with the storyline it just feels out of place. Had she just been outside of the main story for the entirety it could have been a nice addition.
On the subject of the films ending, there does seem to be the sense of a tacked on cliffhanger which feels clearly like it's there simply to have an option for a sequel should the film succeed. However with the way in which the final act plays out it would perhaps not be the wisest of choices.
The Ugly Truth
Emma Roberts and Dave Franco have a great chemistry and prove they are more than capable of carrying a movie on their own. This is undoubtedly also due in part to the genuinely realistic and intriguing concept. There are a couple of issues with the overall ending, particularly Juliette Lewis' part. For the most part however, Nerve is a fantastic ride!
Review by Johnny Ellis
The Plot
Two hard-partying brothers place an online ad to find the perfect dates for their sister's Hawaiian wedding. Hoping for a wild getaway, the boys instead find themselves out-hustled by an uncontrollable duo.
The Good
Zac Efron and Adam Devine star in this hapless comedy as the titular Stangle brothers, Mike (Devine) and Dave (Efron) as they try to make it through one family gathering without riling each other up and causing chaos. The setup is quick and simple, as they go in search of two nice girls to take as dates. Instead they are tricked by basically their female equivalents in Alice (Anna Kendrick) and Tatiana (Aubrey Plaza) who take up the opportunity for an all expenses paid trip to Hawaii with Tatiana posing as a school teacher ('it's all about repetition. You'd be surprised how dumb the kids are' she says) and Alice trying to pass as a hedge fund manager who 'hedge's funds' as she so succinctly explains it.
What follows is a by the books gross out comedy with a fair few laughs along the way thanks to some fun set pieces including a very relaxing massage session for bride-to-be Jeanie (Sugar Lyn Beard) and a painful ATV tour of Jurassic Park's set which turns her into 'a burn victim barbie' as Mike puts it.
The Bad
Unfortunately the gags soon start to slow towards the third act as it leans towards the all too familiar sequence that often comes with comedies like this and, if thought about too much wouldn't make a lot of sense here. If you're not a fan of gross-out comedy you might not find much to laugh at here either. Though it's not the worst attempt at the type of comedy (think Farrelly Brothers-lite), it does still have some unsavoury jokes scattered throughout which won't appeal to everyone's sense of humour.
The Ugly Truth
The four main cast members work well together and there are still enough laughs to warrant a trip to the cinema, however the rom-com tropes are the same as always and the humour may not be to everyone's taste, but with Zac Efron and Anna Kendrick, it's still worth a watch.
Review by Johnny Ellis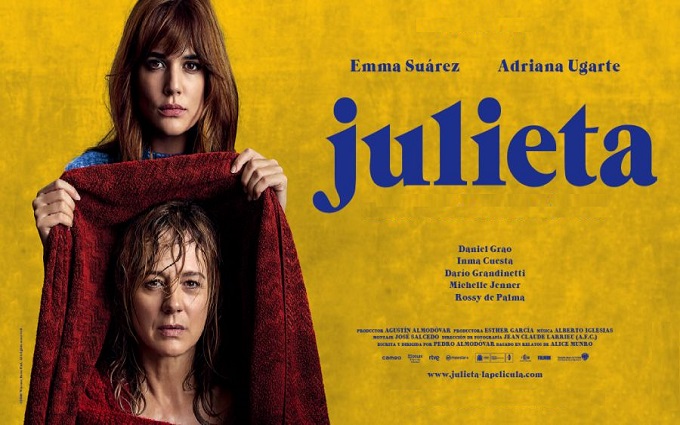 The Plot
After a chance encounter a woman is forced to confront the painful truths about her past and her mysteriously troubled family life.
The Good
Iconic director Pedro Almodovar has a unique flare for delivering slow burning dramas infused with compelling quantities of sexual and psychological intrigue. In Julieta he grips audience's attention firmly thanks to an enchantingly ominous soundtrack and subtly brilliant lead turns from Emma Suarez and Adriana Ugarte.
Julieta features many of the key themes that typically dominate Almodovar's work; most notably family dysfunction, sexual betrayal, debilitating madness and identity crisis. His subtle and stylish approach manages to introduce all these elements without straying too far into melodramatics. As with much of his work, Julieta is built around a convincingly credible emotional core that is strong enough to support a series of odd coincidences and  a deceptively  languid pace of storytelling.
Taking dual responsibility for the lead role of Julieta, Emma Suarez and Adriana Ugarte do a magnificent job of portraying both the youthful and older versions of the same character. Both actresses manage to imbue the character with the same emotional and physical qualities, providing an unbroken chain of continuity as the narrative winds back and forth between present day and the dramatic events of Julieta's past.
While the film offers a superficially simple tale of family tragedies,  Almodovars direction and fine acting elevate proceedings considerably. They combine to inject enough flashes of humour and hints of danger to make the film's central mystery more sustainably compelling. Ultimately Almodovar's greatest strength as a filmmaker is that it is often difficult for audiences to predict precisely where his slowly evolving stories will ultimately lead.
The Bad
Those familiar with Almodovar's trademark style will enjoy the film's slow meditative pace. However a less initiated audience may find themselves waiting for plot twists or frantic action that never quite arrives. Those unappreciative of the film's graceful cinematography or subtle inherent symbolism might easily find themselves dismissing the film as merely an art house equivalent of generic paperback romance novels. Anyone uninspired by the director's previous efforts will find little here to substantially change their enthusiasm.
The Ugly Truth
Fans of Almodovar's steadily growing body of critically lauded work will be delighted to have yet another cinematic effort to enjoy. Meanwhile those unfamiliar with the director's past work will likewise find much to grip their attention in a thoroughly well-made cathartic drama dominated by strong central performances.
Review by Russell Nelson