Peter Rabbit Review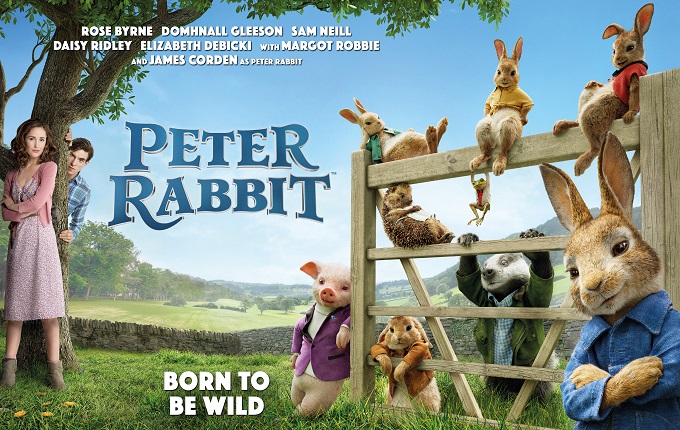 The Plot
Peter Rabbit and his family of mischievous bunnies are determined to reclaim their vegetable patch from the evil McGregor family. But just when their daring tricks seem to have finally won their land back for good, a new McGregor arrives to spoil their fun.
The Good
Beatrix Potter's animal creations are timeless childhood favourites that have spanned generations. Despite utilising the latest CGI effects this big screen adventure perfectly captures all of the whimsical beauty of Potter's ironically illustrated tales. Perfectly clad in tiny jackets, pinafore aprons and dresses the animal inhabitants of Potter's tales have retained every inch of their famous charm. The film's bucolic English countryside setting likewise provides a perfect backdrop for a world quintessentially British and timeless.
James Corden continues his unstoppable meteoric rise by providing a sensationally well matched performance as titular hero Peter Rabbit. The actor turned talk show host manages to imbue Peter with just the right mix of naughty recklessness and genuine heart. Surrounding his star turn is a simply amazing supporting cast, with each familiar beloved character brought to life with note perfect vocal performances.
Special praise in particular goes to the all-star trio of Margot Robbie, Elizabeth Debicki and Daisy Ridley as the bickering bunny siblings Flopsy, Mopsy and Cotton-Tail. It's hard to imagine anything more relentlessly amusing and charming than this winning combination. Margot Robbie deserves special praise for doubling up with narrator duties in a flawless English accent. Daisy Ridley also goes a long way to proving her comic timing and establishing a character range wider than 'too perfect' Jedi heroes.
The film's 'human' stars Domhnall Gleeson and Rose Byrne are both on magnificent form as the occasionally mean spirited Thomas McGregor and the Bunny family's faithful friend Bea. Gleeson does a great job of adapting the high strung Mr McGregor into a nasty villain and a romantic hero as the story requires. Rose Byrne likewise effortlessly bubbles throughout with the kind of sweet natured charisma only truly found in the very best children's stores.
As is seemingly standard for modern revivals of beloved children's characters, this new version of Peter Rabbit incorporates a soundtrack of instantly familiar pop songs. While this might initially seem like a potentially jarring juxtaposition with Potter's well defined world, in truth it actually works out wonderfully. Each song used is thankfully well chosen and integrated into the film in surprisingly effective ways.
Director and co-writer Will Gluck combines each well-chosen element of his cast, soundtrack and animation with a script that captures the true spirit of Peter Rabbit. The film manages to fuse every aspect of Potter's iconic heroes with an irrepressibly funny and sincere script. Packed with genuinely amusing slapstick comedy, memorable one liners and gentle moral lessons this is a rare gift of a film.
The Bad
Judged within the context of a children's film there is simply no flaw worth mentioning. This adaptation of Peter Rabbit simply could not be any better.
The Ugly Truth
A truly magnificent combination of modern animation, brilliant voice acting and joyously fun writing breathe new life into Beatrix Potter's utterly beloved characters. Peter Rabbit is a perfect piece of cinema magic that will leave children and adults alike equally delighted.
Review by Russell Nelson