Orange Is The New Black Season One Review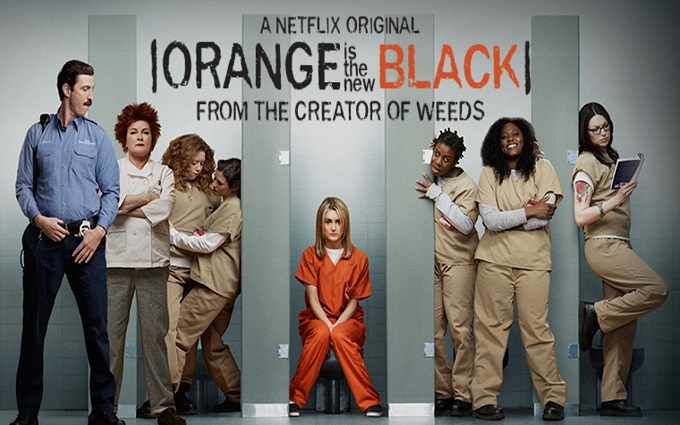 As Neflix releases the Third series of hit prison drama Orange Is The New Black, we recap the highs and lows of the first season. Check out our other posts for the season two  review and our verdict on the latest episodes.
The Plot
Happily engaged Piper Chapman (Taylor Schilling) is sent to Litchfield prison when her drug trafficking days with ex Alex Vause (Laura Prepon) resurface. And if that wasn't enough to hinder her future with husband-to-be Larry (Jason Biggs), she just so happens to be sharing her new home with not only Alex, but a whole host of inmates…
The Good
With almost thirteen hours of storyline to cover, the chances of mentioning each of Season One's many many highlights are slim. Starting off with Piper's instant slip up as she criticises Red's (Kate Mulgrew) cooking in front of her before finding out she's just criticised the chef, in front of the chef. Cue a future of tampon mcmuffins for breakfast lunch and dinner util, after 3 burning mouthfuls of chewed up chill later, Piper's mistake is corrected and Red's back problem sorted along with it.
Next up comes Crazy Eyes (Uzo Aduba). Piper's new unwelcome prison wife brings about issues galore when one simple act of sharing headphones on movie night turns into a chocolate and vanilla swir-irl. But just like Romeo and Juliette's story, Piper and Crazy Eyes' romance ends badly, although we're pretty sure Julliette wouldn't have openly peed in Romeo's bedroom…
All this and we haven't even properly met Alex, though she has been a prominent backdrop throughout. It's not until a heart to heart between the two with Alex stuck in a giant washing machine, that everything becomes water under the bridge and they unite to smite a common enemy.
That common enemy? That'd be Pennsatucky (Taryn Manning) a bible bashing redneck who doesn't like lesbians one bit. After locking Alex in the aforementioned washing machine, Pennsatucky creates a target on her back. A target that is hit in the form of becoming briefly under the assumption that her hands are healin' hands that can cure her fellow inmates of anything, from a sore knee to even that dreaded lesbian feeling that is surely a disease of some kind, right? But when some troublemaking youngsters arrive to see what their future could be like, Pennsatucky discovers that those healin' hands of hers don't quite the same effect on wheelchair disabilities and so off to psych she goes.
Unfortunately, Piper can't get to the end of the season without missing her sworn enemy and doing the 'right thing' by confessing, allowing Pennsatucky to return with the hopes of baptising Piper. But try as she might, Piper eventually cracks, leading Pennsatucky to come to the logical conclusion that she must kill her. All this comes to an incredibly teasing finale in a snow covered post christmas show fight outside where none but Officer Healy (Michael Harney) can see. Unfortunately for Piper, Healy turns a blind eye, leaving her to let the rage overcome her as we see Pennsatucky get knocked to the ground, and into it. How it ends, we don't know just yet, thanks to the evil of the cut to black.
It's the flashback's in season one that are the big highlights however. As we are introduced to Red before we find out about her Russian mafia past, or Miss Claudette (Michelle Hurst) and her irritating need for cleanliness before learning about the clean up that got her into Litchfield in the first place.
All this and we haven't even mentioned Pornstache. Or the chicken. But was there even a chicken in the first place? THAT'S the real question…
The Bad
Though Orange Is The New Black is consistently good, there are certain story lines which are perhaps not as high a standard as the main one. Particularly Larry's predicament throughout the entire season. As he tries to get used to life without Piper we're apparently supposed to feel sorry for him, but when he comes up with ideas such as broadcasting all of Litchfield's crazy characters out over the radio for everyone to hear, it starts to become difficult to feel any sympathy at all.
Also, though Daya's (Dascha Polanco) pregnancy storyline is interesting, it feels like one that is slow moving with the timeline of Season One. Perhaps by the end of season three it might start to gain a bit more momentum…
The Ugly Truth
Orange Is The New Black season one is a strong start, with a main storyline that ends tantalisingly enough to make you want to just refresh Netflix for a year as you wait for season two to arrive. Each character brings their own unique storyline alongside it however, with flashback's galore that make the experience even more entertaining.