New Worlds Jamie Dornan Q&A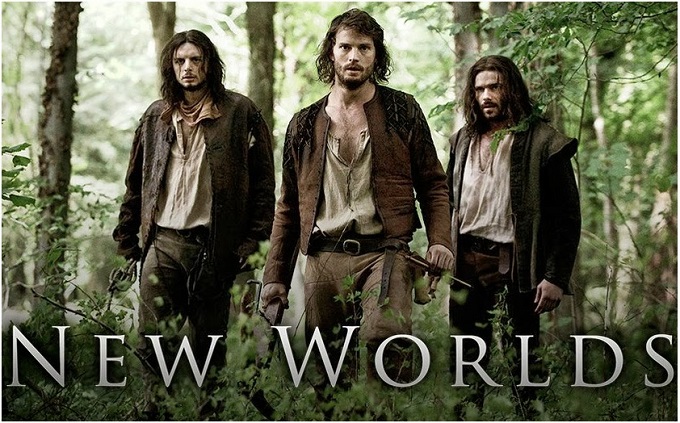 In mini-series The Devil's Whore, Martine Brant and Peter Flannery charted the bloody progress of the English Civil War, in the much anticipated sequel New Worlds they pick up that account 20 years after the end of the war with violent tensions brewing in both England and dangerous new territories of Massachusetts.
Red Carpet News were treated to a very special screening of the first episode of the new series and enjoyed a Q&A afterwards with the exciting young cast that includes new Fifty Shades of Grey leading man Jamie Dornan, Alice Englert, Joe Dempsie and Freya Mavor. The cast talked about making the action packed series and how its themes might just inspire young audiences to engage with both history and modern day politics.
Jamie Dornan plays a rugged woodland outlaw Abe Goff and here's what he had to say during the Q&A.
Q.  New Worlds has a lot of different themes and subtexts, what does your character specifically represent and bring to the series?
I think my character Abe Goff represents a need for change.  That fight for change in the sense of injustice that things can't precede with Charles Stewart on the throne ruling in a tyrannical way. I think Abe show shows frustration through aggression and violence. He's quick to use his fists because talking and papers get you nowhere fast really. He sort of comes to his senses after a while. But it's that need for change as a necessity that he represents.
Q. is Kidnapping Freya's character on her birthday the best of worst present you could have given her?
Best! I mean what girl doesn't want to be swept off her feet on her birthday. It's like being at a crap birthday party and someone comes up to you and says I know a great party up the road.
Q. It's an action packed series what was particular aspect of production like?
I personally loved running around with a gun. It's a good side of it and it's essential to tell this particular story because it was a fairly brutal time. It's all part of I but the training was fast and efficient. Freya couldn't even manage to pull the trigger on the weapons at first! She said her hand's weren't designed for this sort of thing.
Q. How did you feel about your hairstyle?
Oh jesus… Mine was actually my real hair for the most part. It was my own curly mop on top and then we added a sort of 80's rock thing around the back and side to give that 17th century feel. I was happy enough. But thankfully I didn't have to do the full periwig, although we did try them on and had a picture taken in them for the makeup truck. God forbid they get released!
Q. Do you think people will see parallels between the events in the show and what is happening in the world today?
Political unrest and civil unrest is a constant in any society. Obviously we handle it differently now. We don't run around shooting people we disagree with. In some very basic sense I don't think it's anything more than that. We have things that don't make us happy about the way the country is run. Everyone in this room would have a grievance about how this country is run. This was the same in the 17th century, so on a very obvious level that's what we're talking about.
Q. Your co-star Joe says he thinks your character could be compared to a modern day Russell Brand, do you agree?
I'm slightly more camp than Russell Brand, I don't actually think I thought about Russell Brand much. I liked his writing, mostly sports stuff…. why am I talking about this. Though it was a clever reference by Joe, well maybe not That clever. There's maybe five of six people I probably would have thought of before I got to Brand.
Q. The show is great fun to watch was it as much fun to make given some of the serious subject matter?
Joe was very serious. We had a ball, it was a good crack. It's funny though because Alice and I never had any scenes together, we just hang out on photo-shoots and things and pretend that we're really close. Sometimes you don't luck out with cast, without naming names, sometimes you just end up with people who aren't really on your wavelength and don't approach the game the same way, then you're stuck with those people for 3 or 4 months. But we did get genuinely lucky on this. Charles Martin our director is good fun and set the tone. Obviously we're getting the work done but you're allowed to have fun at work. I'd just stop doing this if I didn't find this fun. Of course the nature of this story I that we're fighting for our lives and there's a lot at stake, it's a very important subject, but we're still running around the woods with our mates having a good crack.
Q. Do you think the show will make a younger audience want to engage in politics more?
It's funny because I think you hope that people are going to see the parallels between what was happening then and what's happening now. That was obviously a massive reason for the director and writer wanting to make this drama. But then some people don't look into that. I have friends who watch television just for the visuals, the lovely costumes and nice music. A lot of people don't look beyond that I'm afraid to say. That's a problem.
Q. Congratulation on your IFTA nomination for The Fall is that kind of success particular satisfying for you?
Thanks. It's nice to be recognized in that way. I presented an IFTA last year and I was terrified. I capitulated on stage and had a shocker.  But I said I wouldn't go back unless I was nominated so I'm especially pleased about that. But life is good at the moment!
Q. Has the project been much of a history lesson for you?
Obviously this part of History wasn't on the curriculum in school in Northern Ireland. So I wasn't aware of any of it really.
Q. How did you research this period of history?
Joe and I watched all of the Sex and the City box set twice. The box set belonged to Joe and I thought that really helped with this…
Q. How easy is it to integrate a love story in among all the political themes and action? Jamie do you naturally smolder or was that a concerted effort?
I'm trying to smoulder now… hold on. (grins and laughs)  But you know, love is very essential to tell a story.  It's very important to everyone and everyone relates to it, it's a truly global thing. It's something that usually we've all been involved in. So I just think it's always an essential part of any story. It highlights even more the difference between the character's worlds. It's that classic star-crossed lover situation that some guy wrote about once. It was very necessary to tell the story.

Love distracts these characters as well, making them maybe not as focused. It's like when your mate starts dating someone and all of a sudden you don't see him as much and you start to hate him. It's similar to that.
Q. Did you like you costumes and did you keep any of it?
We did so much running and basically Abe sprints everywhere. But the shoes have no sole at all and no support. They're made of sheep skin or some kind of skin. So of course I didn't steal any of that. I did want to take a crossbow that I wanted to take but the armorer was very fussy about it so I didn't get to take that.
 Be sure to check out the rest of our Q&A posts to see what the rest of the cast had to say as well.