Mr Peabody & Sherman Ty Burrell Interview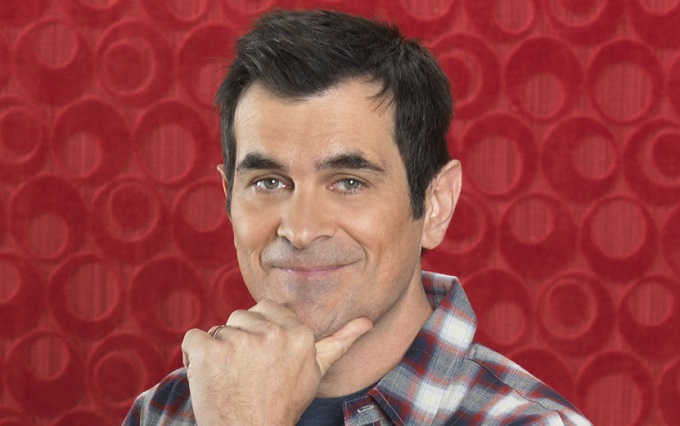 Mr. Peabody and Sherman is an an all-new comedy adventure for the whole family.  Emmy Award winner Ty Burrell (Modern Family) voices Mr. Peabody, the world's smartest person who happens to be a dog. When his "pet" boy Sherman, voiced by Max Charles (The Amazing Spider-Man), uses their time traveling WABAC machine without permission, events in history spiral out of control to disastrous and comical results. It's up to this most unexpected of father-son teams to somehow put things back on track before the space-time continuum is irreparably destroyed.
Here's what leading man Ty Burrell had to say at a London Q&A:
Were you a fan of the original cartoons?
Well I knew of it peripherally. Considering I'm now about a hundred years old, I as actually a bit too young or it when first came out. But my older brother was about seven years older than me and he absolutely loved it. I remember him laughing hysterically watching it, which had a huge imprint on me. So when the project came across my desk I was very excited to be part of something which especially in the US as part of Rocky and Bullwinkle, was iconic.

More specifically, the originals are only about 5-6 minutes long. So I was so curious about how they were going to make it feature length. Reading the script which Rob and Alex had worked so long and hard on was the big seller for me. It was the fact they fleshed out the relationship between the characters in a way that you can't get into in just 5-6 minute snippits. I find it very touching the fact that they're able to flesh out this father and son relationship.
Mr Peabody seems to be a big fan of bad puns?
Yes, it's clearly the one thing that Mr Peabody doesn't do well!
Are the any aspect of Mr Peabody that you feel were modelled on yourself?
Yes they gave him these Frankenstein eyebrows like mine!
Mr Peabody is a dog, is there much dog in your performance?
Well I am sort of a talking dog in real life so there is that. That dog stuff is usually at the end of every recording session. It falls into the category of grunts and sound effects. So it's like, okay he's going to be lifting a rock into a truck and you go "Huuurgh!". For like ten minutes! There are a few elements in there where Peabody shows his dog side. For the rest of the time I suppose the inherent irony is that Peabody is so far from being a dog. Probably my day job, the character I play on Modern Family is much closer to an actual dog. So very little forethought.
Are there any aspect of your Modern Family character that made it into Mr Peabody?
No it really is like they couldn't be any further apart. Mr Peabody is so rational; he really is the embodiment of rationality, whereas Phil is the embodiment of irrationality. Just no introspect at all in Phil, or very little forethought. But it is really fun to play somebody so different. Playing somebody so perfect is also so fun and so much of a stretch for me because I'm so far from being perfect.
You're working with your Modern Family co-star Ariel, was it weird having her play someone else's kid for a change?
She's just so talented. She does a lot of voice work so it didn't surprise me she was cast at all.  What's interesting about this process is that we didn't actually ever work together making this. What's hilarious is that we would talk about this on set for Modern Family, that's where we discussed this project. But it wasn't weird at all because she's so amazing and talent like all those young actors on the show.
Mr Peabody's voice seems very close to the voice used in the original cartoons, as that something you intentionally worked towards in your performance?
I don't know how many people have seen the original but Bill Scott is really an iconic voice actor and responsible for so many voices you may recognise. I wanted to pay homage to him, but by the same token because this is a feature length film it's different from the shorts which were sort of flippant in a way. The cartoons were inherently flippant, but we were really trying to develop his relationship between Peabody and his son. While trying to pay respect to the original sound of Mr Peabody we were ultimately trying to come to a voice that could be also warm and a parent. Like a real person, but a dog. That was the balance; it took time to get his voice to a place which was very erudite, clearly a very educated character, but still has a little bit more sensitivity to it. It was a process.
Did you get a chance to work with the young actor voicing Sherman?
Yes we actually did a session together, which is quite uncommon on these types of projects. We had at least one experience where we could at least get a feel of each other. He's such a talented young man/boy. It was really cool to be there with him. The stuff we went over was primarily the stuff at the end of the film so I won't give anything away. However, he is very good and it was great to get a feel for who he was and his energy.
You do a lot of family friendly material but you've also played some horrible characters too, which is more fun for you?
I'm a real b*stard in my life so it's a blast. It's weird because it was my sole source of income for so long, going from smarmy asshole to smarmy asshole. That sounded terrible! It is fun because you're saying all this stuff you could never say in real life but I have to say it's a lot easier to get out of bed in the morning and go to work playing someone who's well intended. I have to say I still occasionally play a bad guy or do more complicated grown up material, but it is really fun to day in day out play somebody who is really trying to do their best.