Klitschko Brothers KO David Haye & Dereck Chisora Fight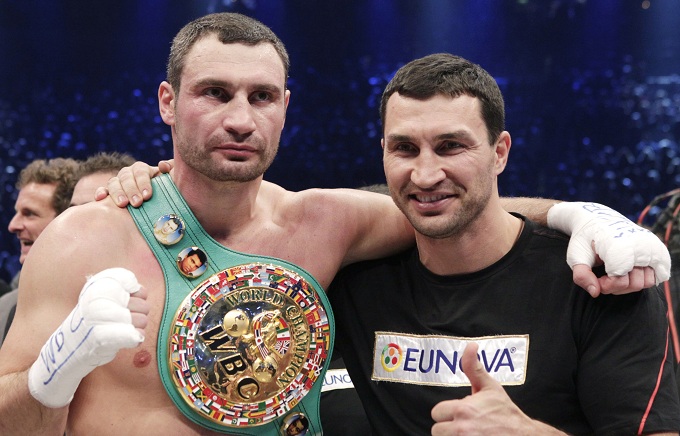 The Klitschko Brothers walked the red carpet tonight to launch their documentary film Klitschko, following their extraordinary life stories in and outside the ring. The heavyweight champion brothers gave their reaction to the recent news that David Haye and Dereck Chisora will now officially fight in London, following the disgraceful scenes of brawling between the two British Boxing stars at a German press conference flowing Chisora's loss to Vitali Klitschko.
Here's what Vitali Klitschko had to say launching their attack on the controversial fight:
"They're calling this the greatest fight in history but to be honest the two losers are fighting each other. David Haye lost his fight last fight against Wladimir and Dereck Chisora lost his last fight against me. You know what it's about sport but there's also a moral aspect to this fight as well. My brother can add to that."
Brother Wladimir Klitschko emphatically added:
"What kind of message are we sending with this fight to the young people?  What does it say about the more you're a freak, as Chisora behaved himself at his last fight, slapping and spitting at Vitali on the world stage?"
Here's what the heavyweight champion had to add about the impact of this fight on the legacy of great boxers who have battled to legitimise the sport.
"A lot of boxers throughout history like Muhammed Ali, Rocky Marciano & Joe Louis have been polishing the sport and making it as glamorous as possible. But now we're getting this as a thank you! I think something is wrong here and it's definitely from my side not acceptable. I'm not saying Dereck Chisora doesn't deserve a second chance, but not the way it has been done here.  Both fighters have no licence!"
Speaking about the controversial move by Haye and Chisora to apply for licences in Luxembourg to get around the ban imposed upon them by British Boxing regulatory bodies, Wladimir Klitschko offered this opinion:
"If we're on British soil and British Boxing Board of Control are the ones who give the licence and the guys are going to fight here in Great Britain in London. Getting the licence from Luxembourg means they should have to fight in Luxembourg I guess."
The David Haye vs Dereck Chisora fight is set for Upton Park on July 14th.
WATCH THE KLITSCHKO BROTHERS VIDEO INTERVIEW BELOW: