Just Jim Dale Review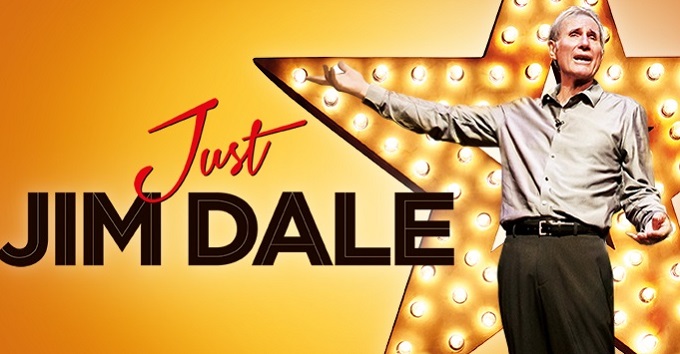 The Plot
Carry On comedian, musician and Harry Potter narrator Jim Dale sings, jokes and dances audiences through his lengthy and surprisingly varied career in showbiz for two hours of good natured fun.
The Good
Jim Dale is best known to generations of fans as a slapstick Carry On star; an Oscar nominated composer and for providing a voice to the adored Harry Potter audio books. In his energetic one man show the spritely grey haired comic reveals with pride and passion about how he owes all of that success to a childhood obsession with music hall.
Walking audiences playfully back through time, Dale is an irrepressibly likeable figure and a consummate professional entertainer. He's quick to follow every mention of success or fame with a self-deprecating jibe, always careful to ensure that his anecdote packed musical set never feels like bragging or a display of shameless ego. Most of the big laughs he consistently generates are very much at his own expense. Embarrassing childhood photos, humiliating audition experiences and misguided musical ventures are among the hilarious pieces of personal shame that Dale generously shares with crowds in the quest for well-earned giggles.
Although older audiences will appreciate the references to past generations of stars and a nearly forgotten style of music hall theatre, Dale is enthusiastic and quick witted enough to hold equal appeal to far younger crowds. Cringe worthy songs and physical pratfalls have a universal and timeless appeal.
In particular Dale's wildly entertaining second act complete with a couple of hysterical Carry On memories and a shameless re-enactment of a disaster in the recording booth for Harry Potter breezes by with laughter ringing wildly throughout the Vaudeville theatre.
The Bad
It's impossible to find a flaw in Dale's irrepressible comedy charm. Though of course it's only fair to say that those old enough to affectionately remember his Carry On star turns and musical heyday will perhaps laugh a little harder and longer at some of his stories and old school song and dance routines. It's an affectionate throwback to a golden age of all round entertainers, even if some people will be perhaps more enthusiastic about turning back the clock than others.
Though Carry On fans will be especially delighted to see Dale in action, ironically they may wish he dwelt a little longer on his 11 film stint with the British comedy staple.  Eager to play to a mixed crowd of fans from his varied career Dale only allows himself a handful of Carry On memories, though we suspect he could easily have packed an entire show full of them.
The Ugly Truth
Just Jim Dale is a true testament to what one man can do armed with quick wits, comedy timing and a clever piano accompaniment. It's a special treat for those that fondly remember Carry On Classics and a generation of entertainers who truly could sing, dance, act and above all keep audiences laughing in the isles. The show runs till 20th June at the Vaudeville Theatre.
Review by Russell Nelson