Bleed For This Review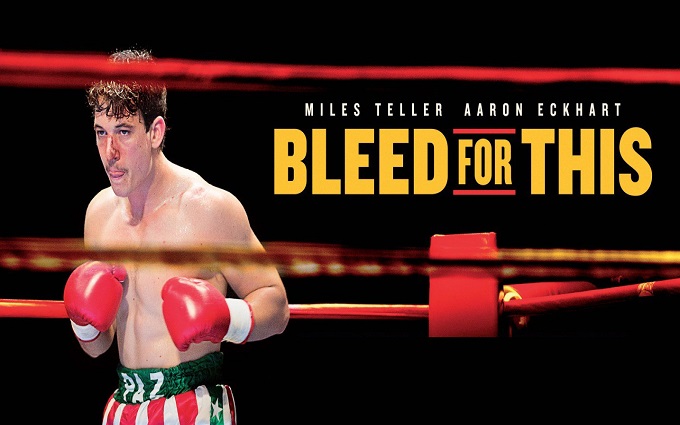 The Plot
The true story of World Champion Boxer Vinny Panzienza (Miles Teller) who, made startling comeback after a near fatal car crash leaves doctors telling him he is unlikely to walk again.
The Good
After becoming a household name from last years Whiplash (and then losing all credibility with Fant4stic…) Miles Teller dons the boxing gloves for arguably the Raging Bull of his career. What follows is undoubtedly Teller's most powerful performance to date. As the hauntingly damaged Vinny, Teller brings humour and tragedy to the story helped along the way by Aaron Eckhart who looks almost unrecognisable in his role as trainer Kevin Rooney, not least due to the bald look he manages to pull off.
First appearing in leopard print underwear as he is weighed in for a lightweight match, Teller's Vinny 'The Pazmanian Devil' Pazienza comes off as a cocky but loveable young boxer who, as Eckhart's Kevin Rooney notes later in the film, has a lot of heart but wears it on his chin.
Writer Ben Younger (who also directs) manages to bring a truly inspirational story to life. Even if you know the story, the film still manages to shock and lift you at times making you even forget you're watching a film.
The Bad
If you were to compare Bleed for This to the long list of boxing classics such as Rocky or Raging Bull, which we mentioned earlier, you'd be hard pushed to put it on the same pedestal. While it works its magic at the time, with the pivotal boxing scenes particularly powerfully presented with a lack of music making the punches that much more impactful, the effect it leaves behind unfortunately doesn't last long enough to put Bleed for this in amongst the classics.
The Ugly Truth
Ben Younger writes and directs a truly inspirational story with Teller and Eckhart giving some fantastic performances. Yet, while the film works wonders when it's playing on the screen, the experience never really leaves the cinema.
Review by Johnny Ellis