Preacher Episode One Review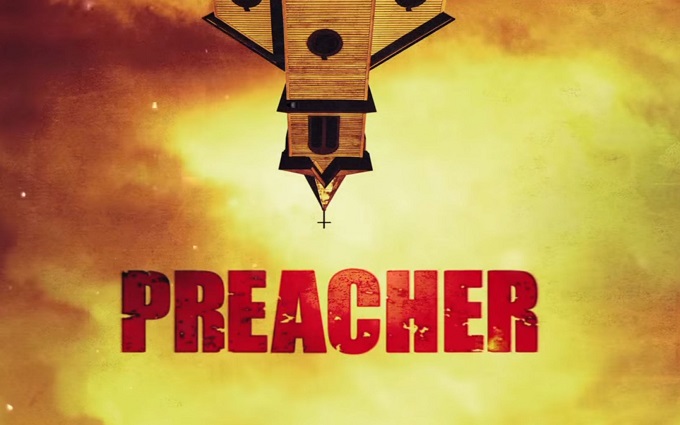 The Plot
As an invisible force works its way through religious leaders, preacher Jesse Custer (Dominic Cooper) contemplates leaving his church.
The Good
Opening with some grainy footage of an object moving through Outer Space before swiftly moving down to a bloody scene in an African church, Preacher quickly establishes it's tone with dark humour and over the top gratuitous violence. In this opening episode, creators Seth Rogen, Evan Goldberg and Sam Catlin (The former two who also co-direct this episode) manage to set up the world of this comic book adaptation spectacularly. Managing to roam easily from Russia to Africa and back to the main setting of Texas  and managing to kill off Tom Cruise along the way while also introducing a host of fantastically cast characters ranging from Dominic Cooper's down on his luck preacher, to Joseph Gilgun's fantastically funny Cassidy and Ruth Negga's intriguing and dynamic Tulip.
As these three lead characters are slowly brought together in readiness for the 10 episode season, information is thread throughout, enough to give us a taste of whats to come but not too much to give us everything in one fell sweep. A flashback of Jesse's father is peppered through the hour in one small but curious scene that promises a rich back story to the character which readers of the comic book are no doubt familiar with but newcomers to the story will no doubt be interested in.
As well as a strong trio of lead roles, and some great supporting roles, the choice of music in this opening episode alone promises that by the end of the season we'll no doubt have a wonderful playlist built up by the season's end. Kicking things off with Willie Nelson's 'Time of The Preacher', and adding in Carly Simon's 'You're So Vain' and Johnny Cash's 'The Beast In Me' for good measure.
But we can't review this outstanding opening episode without talking about the frankly phenomenal fight scenes. Whether it's a mid air altercation in a plane, an intense and confined struggle through a car which crashes through a corn field or just a typical bar room brawl, the fight sequences are an impressive feat which manage to present each character as strong as the other. Time will tell if we get to see them join together but if these three scenes are anything to go by, the team up would be mind-blowing!
The Bad
At this point it feels almost impossibly to truly criticise any elements of a show which is clearly setting up a rich and intriguing world. While perhaps the few small moments outside of the three main characters, mainly in Africa, feel like they could have been expanded on a touch more, it seems clear that the majority of the action won't be taking place there anyway.
The Ugly Truth
As a pilot episode, Preacher manages to set up an interesting world and introduce a host of characters in an impressive way which progresses at just the right pace. Bringing plenty of humour (Joseph Gilgun's character is surely going to bring a fair few highlights) as well as plenty of gore and teasing us with the beginnings of a story which we've only just dipped our toes into.
Review By Johnny Ellis