Dallas Buyers Club Review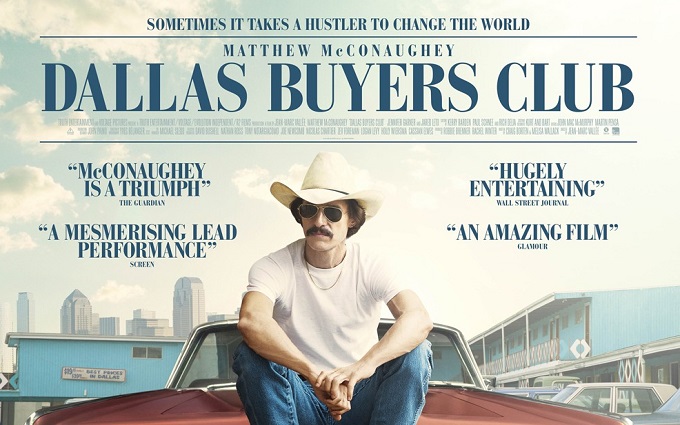 The Plot:
Matthew McConaughey delivers an award worthy performance in the inspiring true story of Ron Woodroof, an AIDS sufferer who desperately tries to help not only himself but others in his situation by obtaining 'unapproved' lifesaving medication, by any means possible.
The Good:
Much has already been said about Dallas Buyers Club over in America where the film has already been released to so much critical praise that it's hard to decide where to begin. Having already nabbed two Golden Globes for both Actor and Supporting Actor, as well as six Academy Award nominations, it's easy to see why. McConaughey brings his best performance yet to the screen as troubled AIDS sufferer Woodroof, finding the perfect balance of mixed emotions. What's more, he seems to do it with such ease.
As Woodroof is given thirty days to live by the doctors and denied treatment in the form of the new supposed miracle drug, AZT, which is being trialled, he sets out to acquire it any way he can. A plan which works well for a while before bringing him back to square one. Thus prompting him to set out to Mexico to get better treatment. After experiencing the positive affects his new drugs give, Woodroof then begins a business supplying a better medicine to other AIDS sufferers at a better price with his partner in crime, Rayon, played by the superb Jared Leto.
It is hard to believe that McConaughey can be outshone in this. That is until Leto is introduced. The character of Rayon is so unlike anything Leto has ever done, both in physical appearance and characteristics. He immerses himself in his character so much he even donned the makeup and dress before he was confirmed to play the attention-grabbing transsexual. For Rayon is indeed attention-grabbing. Holding up each scene he appears in just as much as McConaughay that it's often hard to decide who deserves more praise.
The Bad:
Although McConaughey and Leto are the shining stars in this thought provoking drama (and deservedly so), this does leave the supporting cast, mainly Jennifer Garner, to be left struggling in their shadow. This is a shame as Garner proves just as worthy of attention if only she'd had more to do. Her scenes although few compared to that of her two co stars are just as powerful. As is the story of her character, a doctor struggling to accept the terms of her job in having to deny people like Woodroof they medication they so desperately need. For a drama that is nearly two hours long it would have done some good to increase her role by a few more scenes.
The Ugly Truth:
With a powerful story which touches upon many different important subjects, Dallas Buyers Club undeniably deserves all the attention it can get. Even with the slight dismissal of Jennifer Garner's character, the film still manages to send a clear message.
Dallas Buyers Club is released in cinemas Nationwide on 7th February. Check out our red carpet video interviews below form the film's London Premiere: