Miss You Already Review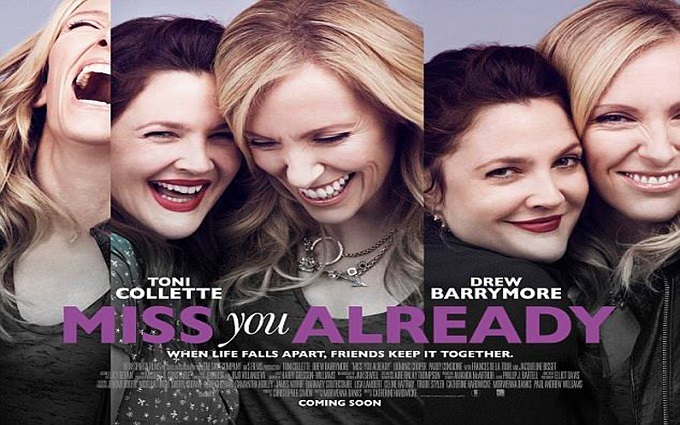 The Plot
Life-long friends Jess and Milly find their relationship pushed to the limits as one battles cancer and the other struggles to start a family of her own.
The Good
Director Catherine Hardwicke and writer Morwenna Banks deliver a poignant and bittersweet exploration of friendship, love and loss. Largely avoiding saccharine clichés the film in particular deserves considerable credit for offering audiences an utterly sincere depiction of the unimaginable reality of facing up to a life threatening illness.
Toni Collette delivers arguably the performance of her career as Milly, a free spirited and high flying over achiever suddenly faced with a devastating diagnosis. Having a gorgeous husband, wonderful children, beautiful home and a successful job only gives her more to loose and little comfort. What's most commendable is that neither Collette nor the script ever resorts to making Milly just a tragic and flawless victim. She faces her illness with fear and selfishness just as much as bravery and courage.
Collette subtly depicts the full gambit of emotional highs and lows as Milly's disease dramatically transforms her appearance, friendships and marriage. Milly's existing charms and less likeable flaws are both amplified by these changes. It's a realistic exploration of how illness truly affects a complete person and the lives of those around them.
Speaking of which, while Collette deserves extensive praise for her portrayal, Drew Barrymore deserves equal commendation for her role Milly's life-long partner in crime Jess. While Milly battles through treatment, Jess struggles to balance the exhausting impact of supporting someone at the expense of her own responsibilities and desires.
The consistently underrated Barrymore uses her innate charms and knack for stoic vulnerability to make Jess's journey just as compelling and significant as Milly's.
Though the film has a solid supporting cast and owes much to a solidly written script, without the chemistry and skill of its two leads it's unlikely the film would have been anywhere near as effective and moving.
The Bad
Though Miss You Already is sincerely emotional it may prove difficult viewing for some because of this. In particular the film may be especially difficult for anyone who has had their own lives or those closest to them touched by terminal illness. Though the film does have moments of comedy and joy, they remain largely bittersweet. This won't be for everyone's taste and those looking for the easy laughs and uplifting effect of a standard comedy drama may be best placed to look elsewhere for their feel-good fix.
It's also worth noting that the film feels a little long, mostly as it goes 15-20 minutes beyond a seemingly natural and satisfying end point to deliver a more drawn out and complete conclusion.
The Ugly Truth
Miss You Already is a moving story that tackles potentially somber subject matter in a delicate and poignant fashion. Propelled by brilliant performances by its two leads it grabs audience's attention and heartstrings from start to finish.
Review by Russell Nelson