Destination Star Trek Europe Celebrates 50 Years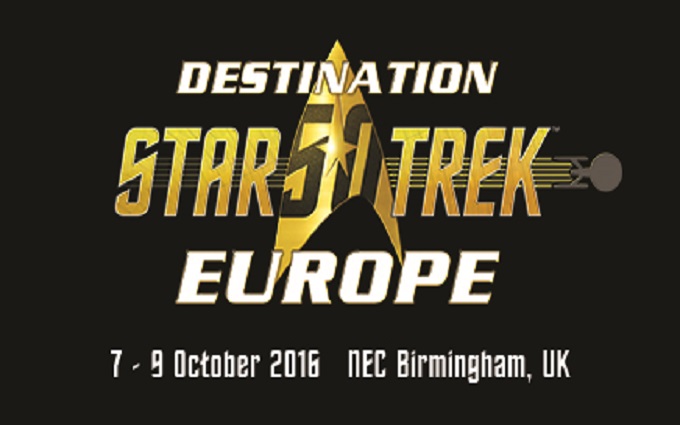 Destination Star Trek Europe, the premier Star Trek fan event in Europe, will once again open its doors to thousands of Star Trek enthusiasts from across the universe for  a three-day celebration of Star Trek's 50th Anniversary. Set for October 7-9 at the National Exhibition Centre (NEC) in Birmingham, England, Destination Star Trek Europe will pay tribute to the characters and stories that have inspired generations of fans, joining a year of celebrations in honour of this milestone year for the franchise.
Destination Star Trek Europe, under license by CBS Consumer Products, will offer fans the opportunity to meet cast and crew, explore interactive exhibits, learn about Star Trek'simpact on science, space and technology, and enjoy parties fit for a golden anniversary.
The legendary William Shatner (Captain Kirk), will headline the event and be joined byChristopher Lloyd (Commander Kruge), Walter Koenig (Chekov), Jonathan Frakes(William Riker), Marina Sirtis (Deanna Troi), Alexander Siddig (Dr. Julian Bashir), Terry Farrell (Jadzia Dax) and Nicole de Boer (Ezri Dax). Additional guests will be revealed in the coming months.
In addition to autographs, photos and panels, fans will be able to take command of the bridge on the U.S.S. Enterprise NCC-1701 or NCC-1701-D, investigate a Borg hive, take charge of a Klingon bird-of-prey, explore a shuttlecraft, and see original props and costumes in the Destination Star Trek Museum.
Tickets are now available at www.DestinationStarTrek.com
Event organizer, Mark Woollard has said:
"For five decades, Star Trek has influenced the world around us through its voyages to the Final Frontier. Destination Star Trek Europe will honour the series' impact and celebrate its legions of fans that are inspired to boldly go where no one has gone before."
Star Trek celebrates its 50th anniversary in 2016. Born from the mind of Gene Roddenberry, the original Star Trek series debuted on September 8, 1966 and aired for three seasons — a short run that belied the influence it would have for generations. Launching the careers of William Shatner and Leonard Nimoy, the series also broke new ground in storytelling and cultural mores providing a progressive look at topics including race relations, global politics, the environment, and more. It spawned five more television series and 13 feature films spanning the course of half a century. 
Beyond its impact on the entertainment landscape, Star Trek has also inspired some of the greatest minds steering the direction of our modern world and sparking the biggest technological advancements of our time such as the cell phone, universal translator, smart watch, tablet, sonogram, and countless other inventions. Those who cite Star Trek as an influence on their lives include Stephen Hawking, Neil DeGrasse Tyson, Elon Musk, and countless others.
Destination Star Trek Europe is organised by Massive Events, in association with Showmasters and Media 10.
Check out video interviews with the Star Trek cast from previous Showmasters events below: