Borg McEnroe Review TIFF 2017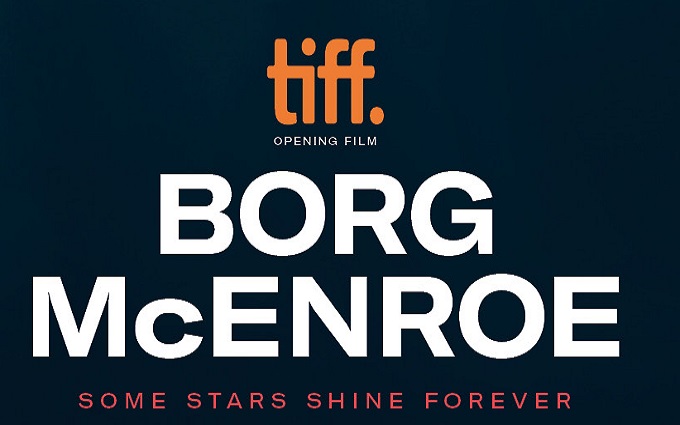 The Plot
Chasing a historic fifth Wimbledon title tennis superstar Bjorn Borg is set on a seemingly inevitable collision course with rising star and notorious bad boy John McEnroe. The pair's contrasting styles of machine like cool and fiery tempered fury capture the imagination of the world, while off court they both battled similar demons of perfectionism and anxiety.
The Good
Borg McEnroe is a film which takes one of sport's most iconic rivalries and turns it into a finely crafted examination of two seemingly polar opposite champions. The film follows each of these familiar figures throughout their early lives, offsetting their most famous Wimbledon encounter with the shared pain and passions that brought them both inextricably to the same court.
Shia Labeouf is a near perfect fit for John McEnroe, the infamously flamboyant and often furious tennis superstar. Labeouf is an actor with a raw talent that lends itself well to the role, but it's also fair to say that his own off screen reputation for eccentric outbursts lends a tangible extra dimension to his performance. It's hard to imagine another actor more implicitly suited to the role of a gifted talent that is to some extent eclipsed by notoriety, whether deserved or not. However despite drawing some inevitable parallels, Labeouf's performance is brilliant on its own merits. His McEnroe is by turns explosively competitive and vulnerably fragile, drawing an effective portrait of both McEnroe's infamous on court persona and the real man behind it.
Sverrir Gudnason does a remarkable job of embodying Bjorn Borg, an awesome and deeply enigmatic sporting great. Much like Labeouf his performance is by turns fuelled by convincing ferocity, self-doubt and stoic determination. Gudnason also works especially well alongside Stellan Skarsgard, exploring the complex emotional relationship between the young superstar and his coaching father figure Lennart Bergelin. Skarsgard on typically fine form gives voice to much of what the film has to say about the true burdens inflicted by ambitious sporting greatness.
Gudnason and Labeouf deserve special praise in particular for their physical feats in recreating the astonishing match play when they do inevitably meet on court. Every move and moment of each piece of tennis action in the film feels utterly real and never anything less than a genuine brutal sporting battle.
Even those audiences that don't quite feel enthusiastic about tennis encounters in real life will find that with the added layers of drama and tension, seeing this particular match up brought to life on screen is a captivating experience.
The Bad
It's rare to find a film without fault, but Borg McEnroe could not easily be improved upon. Obviously for some audiences highly familiar with tennis history the film's closing scenes might have a little less tension, but overall the film does an excellent job of keeping the focus on the inner struggles of two great players, rather than merely recreating one classic on court encounter.
The Ugly Truth
Borg McEnroe is a worthy opening film for this year's TIFF, easily surpassing sports genre clichés to deliver a finely balanced portrait of two iconic champions. Both leads deserve mighty praise for performances that do justice to the greatness of the tennis titans they portray. Avid tennis fans and the uninitiated alike will both mighty enjoy this captivating biopic.
Review by Russell Nelson