Orange Is The New Black Season 4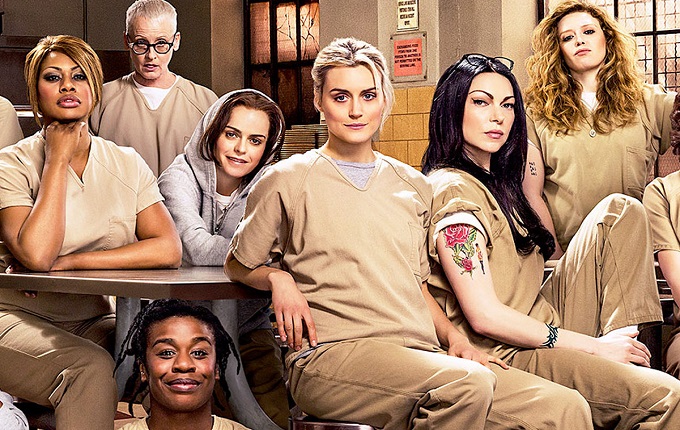 The Plot
Litchfield prison introduces an influx of new inmates while Piper (Taylor Schilling) continues her new used panties business and tries to climb up the ladder as the prison's new kingpin. Meanwhile, Alex (Laura Prepon) deals with becoming an accessary to murder with her new accomplice Lolly (Lori Petty) as she tries desperately to keep the body hidden…
The Good
While the majority of season three was a lacklustre event, it's finale seemed to be setting up for a darker setting for season four with Piper breaking bad in her newly found used panty business and Alex's prediction of a potential hit man sent after her by Kubra now confirmed. Season four opens by answering the year long question of whether Alex survives her attack in the greenhouse instantly while managing to bring Lolly's character further into the storyline.
In the broader plot, we return to the rest of the inmates right where we left them, in a moment of freedom as they escape through the empty fence into the lake beyond. With the majority of the regular CO's having abandoned their post in protest of their contracts – though thankfully Luscheck (Matt Peters) is still around – a new group of CO's is brought in, the highlight undoubtedly being Brad William Henke's big brute, Piscatella. But, though Piscatella towers over the inmates menacingly, he is nowhere near as terrifying as CO Humphrey (Michael Torpey) who gives one of the most spine-tingling moments in the season at the end of episode 9, Turn Table Turn as he turns Maritza's 'would you rather eat ten dead flies or a baby mouse' dilemma into a shocking reality.
There's plenty to love in this fourth season, the majority of which comes in it's latter half after some six episodes or so of set-up episodes upon which we'll delve into later, but it feels as though Orange Is The New Black is starting to find its feet again. It's in the final seven episodes where the tone is swiftly changed and the show becomes much darker than it already has been. One of the most impressive moments comes at the end of episode 7, It Sounded Nicer In My Head when Piper finally realises she has fallen in too deep into the 'trust no bitch' persona she was determined to set out, after her newly found friendship with a group of nazi-sympathising inmates results in a shockingly brutal branding from the latina's. The scene is an utter pain to watch, managing to bring Piper's character back to the forefront after slipping into the background for much of season three.
Episode seven is already a highlight with it's focus on Lolly's back story as we find out more about her pre prison days as a news reporter turned conspiracy theorising schizophrenic but it's this shocking conclusion that really gives the season it's first need for the next episode straight away.
In addition to this we also get to finally see the heartbreaking origin of Suzanne 'Crazy Eyes' Warren (Uzo Aduba) in episode 11, People Persons. This marks our second Suzanne centred episode after season two's Hugs Can Be Deceiving and if you thought that was the best they could do with one of the show's most interesting characters, People Persons manages to top it with ease. As if it wash't heartbreaking enough to see her romance with Kukudio (Emily Althaus) come to an all-too-short end, we now have to deal with knowing about her tragic reason for landing in Litchfield in a scene that perfectly manages to show us all we need to know without the undoubtedly gory details.
The Bad
While it's the second half of the season which holds the more interesting storylines, this inevitably means that there are six tough hours to get through before it becomes worth the binge-watching. That's not to say there aren't some highlights in these episodes, but there are definitely more disparaging moments that make the first six episodes a slow watch. Moments like Suzanne and Morello's hunt for a phantom shower pooper in episode 5, We'll Always Have Baltomore or the Healy (Michael Harney) centred episode 4 Doctor Psycho which see's flashbacks of him sporting the most ghastly soul patch. We also get a relationship between Poussey (Samira Wiley) and Soso (Kimiko Glenn) which feels like it's dropped in out of nowhere and takes a while to settle in nicely to the show.
One of the most disappointing parts of season four however, is the use of new celebrity cook inmate, Judy King (Blair Brown), who is shunned away into her own private cell with Yoga Jones (Constance Shulman) as her cellmate. For the majority of the season, Brown feels like a huge waste of an otherwise interesting character. While there are some nice upbeat moments in her plot like Taystee and co's determination to make some money off of her through sending photo's to magazine's, Judy King would have made a great adversary to Red as she begins her own cookery class. Unfortunately this idea barely even comes into fruition which is even more frustrating.
Thankfully the one niggling plot thread of the dismembered CO/hit man body laying out in the garden is eventually brought into the fore front, but the amount of episodes it takes to finally have this setup payed off feels a touch too long. While it does fit nicely with where the final act of the season takes us, it probably could have worked neater had it been addressed a bit earlier in the season.
The Ugly Truth
With this season's finale amping up what is sure to be a game-changing turn for season 5, with the death of Poussey acting as a major plot thread for the upcoming mayhem that is soon to follow, season four of Orange Is The New Black feels like it is straightening itself up, especially in it's second half. It's not in the same field as it's strong opening two seasons, but season four is definitely a step up from last season.
Review by Johnny Ellis