Shia LaBeouf Walks Out On Press Conference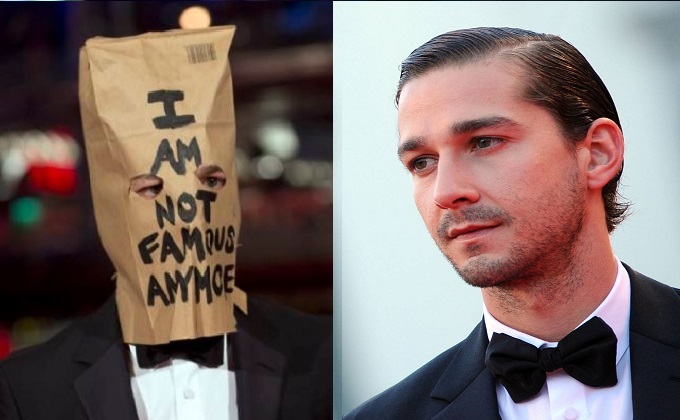 Shia LaBeouf continued his increasingly erratic recent behavior whilst promoting new film Nymphomaniac at the Berlin Film Festival. The troubled Transformers star walked out of an official press conference after only 10 minutes, having quoted enigmatic french footballer Eric Cantona.
Cantona famously remarked "When the seagulls follow the trawler, it is because they think sardines will be thrown into the sea" be fore making a sensationally abrupt departure from a 1995 press conference following his conviction for assaulting a fan with a kung fu kick.
LaBoeuf later made an appearance on the red carpet for the film's festival premiere, wearing a paper bag over his head which had "I am not famous any more" written on it.
LaBooeuf has recently taking to making similar statements on Twitter, suggesting he would retire from all public life and no longer considers himself a famous person. LaBoeufs  cryptic and increasingly irrational statements seem largely to have been triggered by an embarrassing public feud with comic book creator Daniel Clowes.
LaBeouf recently released a short film and promoted feature length ideas that were widely identified as having been extensively plagiarized from Clowes award winning graphic novels. LaBoeuf's initial public apology over the incident was then strangely revealed to have itself been seemingly copied from someone else's previous online apology. LaBoeuf then hired a skywriter to write 'I am sorry Daniel Clowes' in the skies above LA.
When that stunt only served to draw further criticism and stern letters from Clowes legal team, LaBouef hired a second skywriting team at a reported cost of $25,000 to wrtie "#stopcreating", publicizing his Twitter hashtag campaign.LaBoeuf now seems to have adopted the role of persecuted victim, insisting that those publicly chastising him are stifling his artistic integrity and creative freedom.
Ironically Nymphomaniac director Lars Von Trier himself caused controversy at his last press conference appearance in 2011 which resulted in him being banned from the Cannes Film Festival after making comments about Hitler and his own Nazi ancestry.  Attending a photocall in Berlin the director mocked the incident by wearing a t-shirt decorated with the official Cannes logo and the words 'persona non grata' .