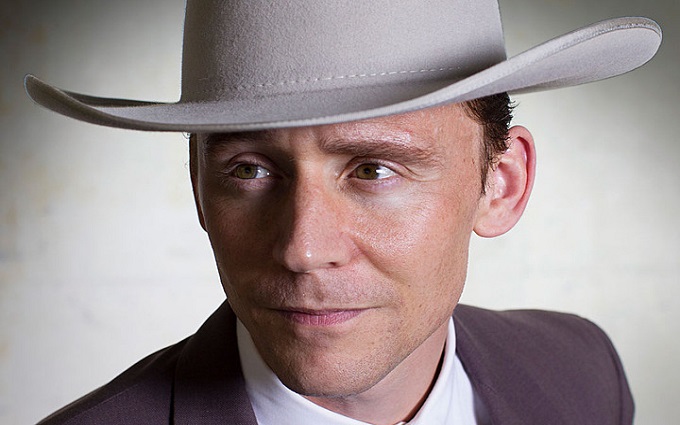 The Plot
Tom Hiddleston stars in this biopic of country-western singer Hank Williams, chronicling his rise to fame and its tragic effect on his health and personal life.
The Good
Opening with a documentary style talking head from Bradley Whitford's Fred Rose, co-writer and producer to the films main subject about whom he is waxing lyrical, I Saw The Light quickly moves on to a lone Tom Hiddleston, bathed in a spotlight performing a cappella. The aim of the scene is clear. Tom Hiddleston will be singing in this film, here is what he sounds like. Any doubts of Hiddleston's musical talent are swiftly destroyed with this incredibly powerful and moving performance. And all this before we've even been formally introduced to the man!
The biggest praise for Marc Abraham's biopic of country legend Hank Williams must go to Hiddleston. Completely and utterly owning the part and doing so with an incredibly compelling voice, Hiddleston is a joy to watch on screen and gives his very best performance. During the decade or so of Hank's life that we're taken through, performances are blissfully peppered throughout.
The Bad
Though Hiddleston's opening scene does achieve it's aim of taking the question of his performance away almost instantly, the story that follows it feels lost. As we are taken through Hank's increasingly strained relationship with his wife Audrey (played by a somewhat forgettable Elizabeth Olsen)  and his emaciating health battles, a lack of emotion in it's storytelling is abundantly clear. In every scene it feels like the camera has just missed out on the inciting incident and is instead following the, frankly dull, aftermath.
The supporting cast, including the aforementioned Olsen and Whitford as well as Maddie Hasson as one of Hank's young mistresses and 24 alumni Cherry Jones as his mother Lillie all feel disappointingly underused and ultimately inferior to Hiddleston. Looking at their back catalogue it's clear to see it's not the actors themselves who are the problem, but rather the absence of any interesting plot lines for their characters.
The Ugly Truth
Ultimately I Saw The Light becomes a wasted opportunity. A musical biopic that tries to go down the traditional route much akin to Walk The Line or Ray in some respects, but opens too late in Hank Williams' life to truly give any emotional depth to the character. The only light to see in the film is that of Tom Hiddleston's dazzling  acting and vocal performances transcend the empty story.
Review by Johnny Ellis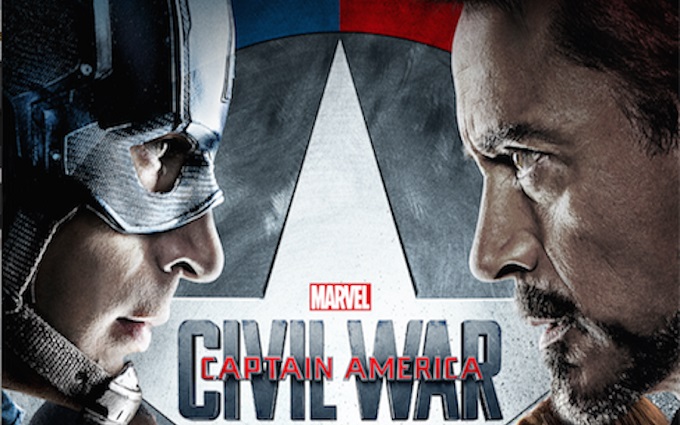 The Plot
Captain America (Chris Evans) and Iron Man (Robert Downey Jr) come head to head when a fatal accident forces the Avengers to register with the United Nations in an effort to make the heroes take responsibility for the destruction they leave behind.
The Good
A month after DC kick started it's cinematic universe by pitting Batman and Superman against each other, Marvel have followed suit in the form of Civil War. And instead of just two heroes battling each other, Captain America and Iron Man each get their own team behind them, made up of familiar faces: Black Widow (Scarlett Johannson) War Machine (Don Cheadle) and Vision (Paul Bettany) on team Iron Man, Bucky (Sebastian Stan) Falcon (Anthony Mackie), Hawkeye (Jeremy Renner) Scarlet Witch (Elizabeth Olsen) and Ant-Man (Paul Rudd) on team Cap.
Unlike last months big superhero mash up, Batman V Superman, Civil War feels more acceptable thanks to Marvel taking it's time to get to this point after 2 phases and 12 films which have fleshed out the characters enough to warrant their reasons for in Captain America's case apposing the registration act or in Iron Man's case, welcoming it.
Directors Anthony and Joe Russo don't seem fazed at all with this assortment of heroes and manage to balance out the fight sequences perfectly thanks to Christopher Markus and Stephen McFeely's script, even managing to introduce two new heroes into the mix with Black Panther (Chadwick Boseman) and a newly rebooted Spider-Man (Tom Holland) making their first MCU appearances before they make their stand-alone debuts next year. Both characters are introduced with just enough information to give some great moments in Civil War while teasing the next chapter in their own stories.
One of the most impressive feats of Civil War is the wonderful mix of both light-hearted fun with dark and serious undertones which after the tonal mess of Batman V Superman is a blessing. Thanks mainly to Ant-Man and Spider-Man's brilliant humour and quips during the intense fight sequences. After two previous incarnations under the wing of Sony, it feels so good to have Spider-Man back with Marvel finally.
The Bad
Unfortunately there does seem to be a lack of bravery when it comes to the fight sequences. Though shot wonderfully, at no point does any character truly feel in peril. Partly due to the fact that the actors remaining contracts are well known which alleviates any real surprises. And while the titular war between the two teams is the main event, it does seem to somewhat sideline Daniel Brühl who brings an incredibly interesting villain, Zemo. He is peppered through the film but doesn't really get too much to do compared to others which is a shame.
The Ugly Truth
Captain America: Civil War is a great achievement from a studio now in it's third phase of it's cinematic universe. Taking it's time to get to this storyline gives it more depth than it's DC counterpart and manages to balance out the big lineup of superheroes while introducing a couple of new ones in the mix. It's just a shame that nothing truly shocking happens.
Review by Johnny Ellis
The Plot 
When fierce tiger Shere Khan (Idris Elba) forces him to leave the jungle, man-cub Mowgli (Neel Sethi) embarks on a journey of self discovery with the aid of panther Bagheera (Ben Kingsley) and free spirited bear, Baloo (Bill Murray)
The Good
Director Jon Favreau brings this live action reboot of the classic Rudyard Kipling novel to life with the help of just one actor surrounded by an incredible feat of special effects and a host of brilliantly cast voice actors. This update of the Disney animated classic sits firmly on the fence between live action and animation in the modern sense thanks to a beautifully transformed green screen that instantly makes you forget that this is all artificial.
The Jungle Book offers a much darker version of the much loved cartoon thanks in part to the voice talents of Idris Elba's terrifying tiger, Shere Khan and Scarlett Johansson's mystifying snake, Kaa. Bill Murray meanwhile manages to bring some much needed lightness to the story as the laid back Baloo, a role in which Murray was born to play and does so spectacularly. We also get the likes of Lupita Nyong'o and Giancarlo Esposito as Raksha and Akela respectively, and Christopher Walken as King Louie (a much more realistic Gigantopithecus as apposed to the animation's jazzy orang-utan).
The Bad
Neel Sethi could not have had a more difficult task for his first feature length role. Most of the film rests on his performance which for the most part is fine but occasionally feels quite wooden. However he no doubt had to act with ultimately nothing thanks to everything else in the film consisting of green screen.
Of course, Disney couldn't bring back the Jungle Book without the songs. This starts off well, with Bill Murray's version of The Bare Necessities not undermining the original and giving it a more natural realistic feel. Christopher Walken's I Wanna Be Like You likewise doesn't completely copy the jazzy touch of the animation's version but feels a bit more forced.
It's surprising too, to learn that this is only rated PG. It feels at times to tip ever so slightly towards the 12A range so if you are thinking about taking young ones, perhaps it would be best to check the BBFC's insight. Christopher Walken's chase sequence is among the few that do bring the aforementioned terror to the screen. Though perhaps terror is too strong a word…
The Ugly Truth
Favreau gives us a beautifully rendered jungle with an incredible line-up of voice talents that make this a worthy update. Though Neel Sethi does a good job as the sole live action actor, he can occasionally slip up, no doubt due to the immense amount of green screen he's given. And while it can dip into darker territories every so often, it's an incredible piece of work.
Review by Johnny Ellis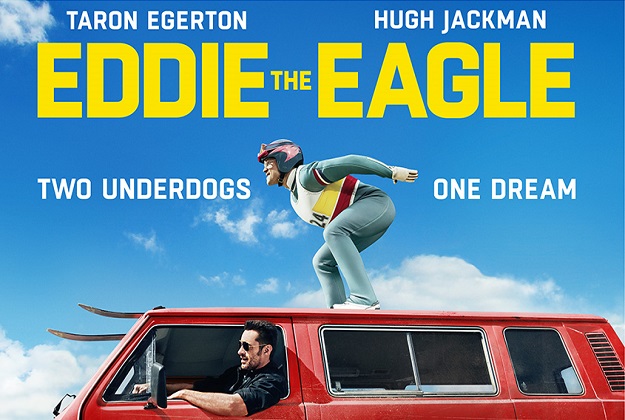 The Plot
Inspired by real life sporting events, a determined young British athlete Eddie Edwards sets out to compete in the 1988 winter Olympics in the most dangerous event of Ski jumping. Sacrificing everything he faces ridicule and overcomes the opposition of fellow athletes on his quest to fulfil his implausible but inspiring Olympic dream
The Good
Eddie the Eagle Edwards is a memorable and much beloved sporting icon who has come to symbolise the true Olympic spirit. Easily deserving of big screen celebration this film will remind older audiences of his death defying feats and introduce new generations to them.
Eddie was a likeable and utterly unique young man, remembered as much for his oversized glasses, jutting chin and constant happy grin as for his unprecedented sporting feats. Rising British star Taron Egerton transforms himself convincingly to capture the charming mannerisms and instantly recognisable physical presence of the ski jumping eccentric. Egerton's emotionally sincere performance ensures that the film also never runs any danger of inadvertently turning Edwards into a figure of ridicule. In less capable hands it would have been very easy to merely turn Eddie into a clueless slapstick buffoon.
Thankfully star Egerton and director Dexter Fletcher treat Edwards with respect, looking beyond his affectionate 'Eagle' nickname and famously enthusiastic antics to explore what drove him to literally risk life and limb in pursuit of participating in the Olympics. Though the film takes considerable artistic licence with Eddie's actual journey it remains a fair reflection of who he was and what he achieved against considerable odds on the world's biggest sporting stage.
Hugh Jackman works very well with Egerton, playing the Eddie's invented coach, a disgraced former champion grudgingly won over by Eddie's irrepressible determination and sporting enthusiasm. His character allows the film to more neatly adhere to the satisfying sporting movie clichés. It may be pure fiction but the reluctant coaching figure allows audiences to enjoy flamboyant training montages and allows the film to more easily articulate the emotions and motivations behind Eddie's Olympic dream.
Making Eddie's coach a macho former champion who squandered his natural athleticism provides a slightly heavy handed but convenient contrast to Eddie's unassuming physique but unfaltering spirit.
Overall the film's soundtrack and costumes also have considerable fun with the 1980s backdrop. Garishly coloured winter sports attire combines with a well-chosen selection of late 80's pop classics to give audiences a real flavour of time. Director Dexter Fletcher and legendary stunt coordinator Vic Armstrong also deserve considerable credit for capturing the perilous adventures of ski jumping. It allows audiences to fully comprehend just how terrifying Eddie's achievements actually were.
The Bad
Those familiar with Eddie's extraordinary real life story will quickly notice some very significant changes to the big screen version of events. Most obviously the film invents a flamboyant and reluctant coach for the eccentric British sportsman. Serving as a convenient plot device, Jackman's character gives Eddie someone to talk to and provides an easy source of comedy, tension and emotional subplots. In reality Eddie's journey to Olympic fame was far more solitary, arguably making it even more astonishing and impressive. While most audiences will forgive the film some artistic licence in exchange for amusing training montages, sporting purists may be a little disappointed at the need to make a truly unique story at least superficially more conventional.
The Ugly Truth
The film perfectly captures the joyous spirit of Eddie The Eagle's memorable sporting achievements, even if it injects a fair amount of cliché big screen fiction into an already incredible true story.
Review by Russell Nelson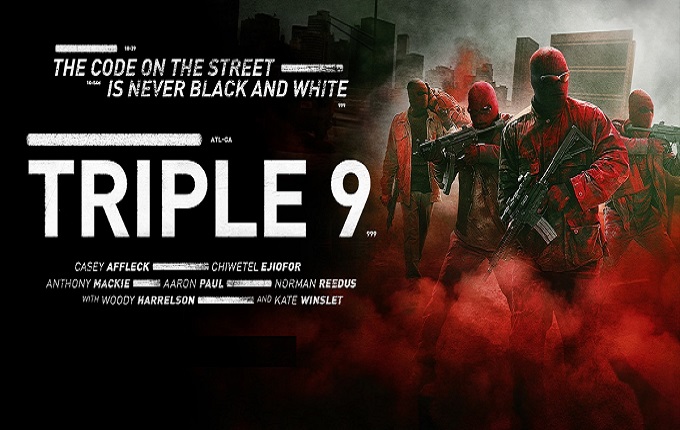 The Plot
A gang of criminals and corrupt cops find themselves resorting to increasingly desperate measures to meet the demands of a scheming mob mistress. With increasingly limited options, planning their biggest heist yet might mean they have to cross the ultimate line and kill one of their own..
The Good
Director John Hillcoat has a celebrated pedigree for bleak and distinctly violent drama. His work in adapting The Road and box office hit Lawless demonstrated a knack for balancing stark brutality with emotive storytelling. In Triple 9 he has assembled a host of talented and very familiar faces to bring a world of ruthless corruption to life. The film's dirty visual flare matches the mood of the subject matter well. Likewise the film succeeds in injecting tangible senses of urgency into its frequent action sequences.
It's hard to fault a cast that includes Chiwetel Ejiofor, Kate Winslet, Casey Affleck, Aaron Paul, Norman Reedus, Anthony Mackie, Clifton Collins Jr and Woody Harrelson. The film even throws some casual eye candy from Gal Gadot and Teresa Palmer at audiences. The cast all deliver committed and earnest performances that make the very best of the by the numbers action thriller material.
Chiwetel Ejiofor deserves particular credit for playing viciously against type, likewise recent BAFTA winner Kate Winselt for lending her award winning class to a decidedly trashy mobster role. Woody Harrelson and character actor Clifton Collins Jr add some typical flamboyance to proceedings while a convincingly heroic Casey Affleck gives audiences at least one good guy to root for.
Indeed Affleck's success at establishing himself as an honest cop and likeable young family man is key to the film maintaining tension when his life quickly comes under threat from the corruption that surrounds him. The film at least tries to offer some depth and motivation for each character in its ensemble cast but Affleck's rookie cop is at the centre of almost everything.
The Bad
Despite an impressive cast and acclaimed director Triple 9 struggles at times to distinguish itself from the rest of the increasingly saturated genre of heist thrillers and 'dirty' cop action flicks. It's particularly hard to avoid obvious comparisons to films like Training Day and The Town. This film combines many elements of both those contemporary classic, largely treading across overly familiar ground no matter how competently it struts.
The film's mostly bleak narrative and frequent bouts of violence won't appeal to everyone of course. Audiences seeking the uncomplicated escapism of a blockbuster action film won't welcome the effort to inject serious melodrama into satisfying mayhem. Likewise those mistakenly anticipating the latest thoughtful Kate Winselt dramatics won't appreciate having a shotgun frequently brandished in their face by gang members & crooked cops.
The Ugly Truth
Triple 9 is a violent crime drama elevated from countless similar films mostly by an impressively assembled all-star cast. Though far from feel good the film remains at least compelling from its opening moments till its final shot.
Review by Russell Nelson