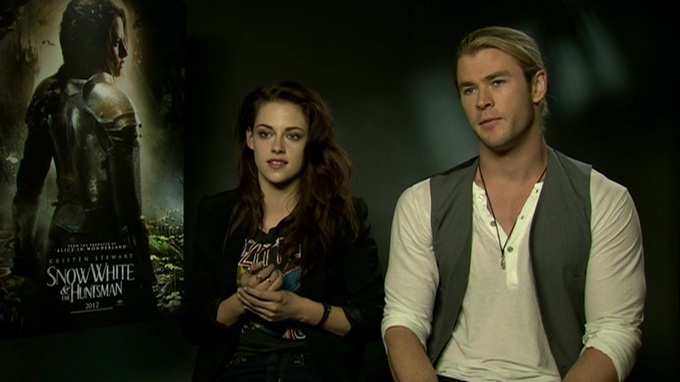 We're here with Snow White and her Huntsman…
Kristen – I said that on set all the time, I was always saying where is MY Huntsman, where is he?
Q. What are you most excited for the audience to see from this film?
Chris – I mean what I was excited about when I read it was how different it was to the fairy tale we knew. Across the board people have said to me that they didn't expect it was also for a male audience. Even I assumed it was a fairy tale for kids or girls, but it's not it's for everyone because of how epic and visually stunning it is, with such great characters, story and heart. It's just a big beautiful film.
Kristen – Yeah it's so fundamentally stunning. The whole reasons I wanted to do the movie was because I wanted to be a part of that whole. I wanted to be one of those people. I wanted to help them. I know it sounds totally lame!
Chris – It's true you can't help but come along for the ride with each character that comes in. It's like all of society coming together to take on the Evil Queen.
Q. Whether it's Charlize being scary or the dwarves being funny each character brings something different to the film don't they?
Kristen – Finding balance is important. Like for anyone who thinks we're doing this dark twisted tale, it really is quite classical as well. In terms of what you think it's going to be, the enchantment of it all is like so beautiful. When it gets light, when there's levity it's like so unbelievably beautiful.
Chris – I think more than ever films are combining so many different themes. With this one it's not just an action film or a fairy tale it's all those things coming together with that perfect set of balance.
Kristen – Life is never a genre. Like right now were not in a fairy tale…
Chris – But it's somewhat tragic at the same time
Q. The film is so action packed, was there a scene that you found the most difficult?
Chris – Anything with a horse is pretty difficult!
Kristen – I'm so happy to hear everyone agreeing about that!
Chris – Especially my horse that seemed to want to go in the opposite direction in battle. I was like Dude and he was just like neeeh. I love how people say to you "By The way Horses can smell fear". I'm like don't tell me that I was relaxed before that!
Kristen – It's true, it's so true! That's why I can't ride. It might look like I can do it but it is just fear literally. Whatever is going on with my face in those scenes I take no credit for whatsoever!
Q. Is there something that helps you face your fear in those moments?
Chris – Sure I think you just get caught up in the moment. There's a hundred horses riding in one direction, then you just jump off and things are on fire. It's like, this feels like a battle sequence. After each take they would say and one more and I was like No we've all survived this one.
Kristen – I'm at war with men by the way it' like the craziest experience in the world!
Chris – Yeah Kristen came on set being all tiny and we thought she was going to get squashed by all the horses or us in this big battle. Then Kristen comes out of it unscathed every take. Me and Sam were on the ground getting dragged by horses and hit by swords.
Kristen – I got lucky in that sequence but I destroyed myself in others!
Q. Can you describe a typical day on set for Snow White and the Huntsman?
Kristen – We were normally really cold and of course wet and muddy!
Chris – Yeah, but more than ever I felt like I was living this story. Normally you're like I can go home now or back to the warm trailer. This was like Chris can you role in the mud to match the continuity and can you stay like that all day? Don't wipe it off, don't get dry. All of us suffered through it for four months, but it pays off in the finished film obviously. There's no acting involved, you are genuinely uncomfortable
Kristen – All you want to do is get as close to the real experience as you can. You read a script and it does something to you. The reason you do the movie is because it did something to you. You're like why did it feel like that? It makes you want to get as close as you can to that experience. It needed to put us in a place where we never felt silly. And we're literally doing Snow White and the Huntsman; it's a fairy tale with trolls and all that. But we all genuinely believed in it so much. Genuine discomfort, fear and freezing cold people!
Chris – Yeah it might have been the first time I stated to want to get away from the experience. Thinking I hate this acting thing!
Q. Do the amazing sets help you get into character?
Chris – It's much better when 90% of your imagination hasn't been taken up just creating what's going on the green screen. You're really there. If anything you get on those set and in those environments and it's almost like you don't want to get in the way. I ook impressive with a  dramatic cathedral behind me.
Kristen – Yeah Chris just stand's there Huntsmaning out!
Q. Kristen what was the most challenging and interesting thing about your character?
Kristen – I think that before she finds her voice there is a survival instinct there which is quite interesting to watch in that package because you know she's quite small and she is a princess and all of that. But the interesting part is the humanising traits that we essentially all know her to be. She's good, selfless and compassionate. But all of those things exist more easily in the real world we live in. It's easier to root for someone you don't feel is like a superhero. I can't just have snow white's effect on people. It was nice to ply someone who's like an action star but still also such a lady. We're not doing a girl power movie where we're suddenly making her really tough. She's strong because she's steady she's not strong because she's got brawn. I had to stop myself from wanting to learn the choreography and take guys out. I think to keep her someone you wanted to believe in was what I was most concerned with.
Chris – I like the fact she wasn't doing backflips off the castle wall and juggling different sword and things. You'd be wondering like where did all that training come from? She's just like biting and scratching instead.
Kristen – It's like with the Troll I just smile at him and it's like you stop being silly, you get out of here right now you've been bad!
Q. Do you have a favourite scene either to film or to watch?
Kristen – I love the first escape, when Snow White breaks out of the castle and getting to the dark forest.
Chris – I love watching Kristen slide down through the tunnel. That whole sequence is pretty epic all of a sudden it's like now we're off. Prior to that we're sort of setting things up an thyen that'ss like the break out of prison.
Kristen – Yeah it like totally kick-starts the movie, it's like alright… this is the world we live in now. It really is relentless from there it never stops.
Q. You never really know what the dark forest is going to throw at you next, what makes it so creepy?
Chris – Obviously we were in there doing our thing, then later on they kind of transform some trees and add the spirits and all the monsters. It's like wow, where did that all come from.
Kristen – How cool does the snake thing look now! The snake thing is so awesome. I'm sitting there amongst nothing. That actually made me feel stupid. It did feel a little stupid sitting there gasping "Oh no it's all around me!".  Then Chris comes up with his axe and chops this branch and it falls in a perfect half.
Q. Kristen has this film given you a taste for action now, would you like to do more action roles?
Kristen – Yeah I would like to do more of it, although it's hard. The reason Chris is like… well just look at him… he's made for it!
Chris – Kristen is actually going to take on Thor next ! I'm going to hand her the hammer
Kristen – Yeah Mrs Thor.
Q. Kristen what do you enjoy most about the action?
Kristen - I really love to physically push myself, I think it's so much cooler to watch people overcome thing sand face fears. I also have brothers and I grew up just loving running. Anytime I can move forward, if I get to run in a movie I feel so good. I don't know why. Although yeah… I probably couldn't do Thor.
Chris and Kristen stop to compare biceps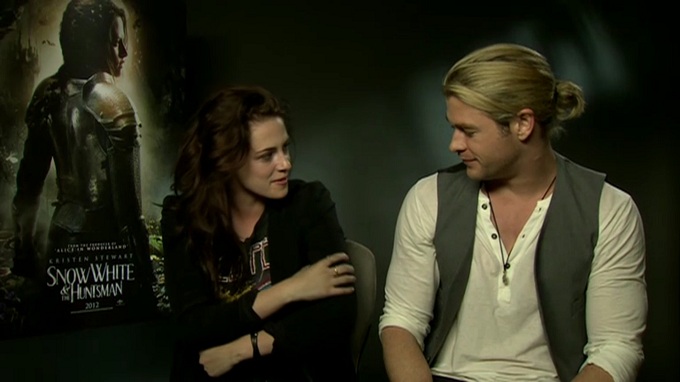 Chris – Kristen's muscles are like little stones, they're very sharp as well, her arms are like blades.
Kristen – I've lost my muscles dude, when we were working together I was so impressive. Now they're gone.
Q. Do you think they're could be a sequel to this film?
Chris – Yeah sure there could be a sequel. It's left open for that. Though what I liked about it was that it's left open ended not as some sort of cheesy hook that says, hey come back and see it. A lot of the film is left open to interpretation and possibilities. For a sequel it's just that you'd need a villain who is as powerful and dangerous as Charlize's character and it's like where do you go from her! What I loved so much was that it was a villain who you can't help but understand and empathise with in some ways. Yes what she's doing is horrific and you don't agree with that, but she had some traumatic experience and it's like no wonder she feels this way about men and society.
Kristen – A sequel would have to stand on its own. What's awesome about the way this whole production has gone is that it does feel like it's being done for the right reasons. We can't wait to find where destiny leaves you.  What I'm really stoked about is that destiny can lead you to a certain point, but then it becomes about how does everything that you thought was so perfect fall apart around you. It's like okay now we're actually individuals, before we were at war and moving too fast to really consider ourselves as people. So once she actually has to contend with ruling a kingdom. Destiny helped her save the people but it's like is she the one to lead them. Can you deal with the fact that you are completely stunted emotionally? Like there's no development, she's been a prisoner for ten years. But I think a sequel could be awesome.
Chris – I think Snow White needs to go off to high school and have her debutant ball.  She missed out on a lot because she was locked up. She also needs to get a driver's licence or maybe get better at riding her horse. I mean I'm not going to write the script and it's not going to happen but that was just my idea.
Q. Kristen as a California girl how was it to live in the UK for so long?
Kristen – Cold and wet definitely but I really love it here. I do love LA, I was born in Los Angeles and I do truly love California, I think it's beautiful but it is pretty isolated. I love living in London because you live in your city things are going on all around you all the time. I've never lived in a city for this long. I've done trips but most of the time you go make movies in the middle of nowhere so this was amazing to have an apartment right in the middle of London.
Q. Congrats both of you on your accents how did you perfect them?
Chris - I had a great dialect coach and I listened to a bunch of films and things. There were a couple of Scottish guys on set so I kept going to them to say stuff and they'd be like no not like that! I'd try it again and they'd say yeah do it like that. I had a nice solid reference for it.
Kristen – I had a great coach too. It did help a little to be here in the UK but it's so not modem, it's what's called Received Pronunciation.  It's a little bit more fully formed and so perfect for the character. I could never have hoped to ply the character sounding like this (slips into valley girl speak) "So like dude what do you think we should do now? "
Chris – (slips into surfer boy mode) "Dude That Queen is like SO… totally evil!"
Kristen – "I know like…. Listen to me brothers…. Follow me. Like seriously come on dude!"
Q. What's your favourite British Food?
Chris – I like meat pies and things. Although that's like an Australian thing, you do meat pies as well but we do them better.
Q. Which other fairy tale character would you like to play?
Chris – Cinderella… I'd like to play Cinderella!
Kristen – I'd like to play Mowgli. Chris can be my Baloo.
Chris – That is awesome! Man that would be so sick! I'd be the bear.  I love it in the cartoon where Baloo and his friend cry at the end , then they skip off into the sunset together. (starts singing bear necessities)
Kristen – I am so on by the way, if you are!
Q. Last question, if you hadn't become actors what would you be doing?
Kristen – I've grown up loving movies. My parents are both in the business  and if I couldn't act I'd still want to be making movies that's it for me. But if I wasn't allowed that answer,  I'd just do the normal thing and go to school and figure it out like everyone else
Chris – Well the reason I started doing this was because I had a different idea every week. It's was like, hey I want to be a professional surfer, and then I wanted to be a fire-fighter, a lawyer, then a doctor. Every week people were like so Chris what are you doing now? It was like oh you want to get to the Olympics now, that's cool for this week. Good luck ! In reality I'd probably attempt to do lots of other things and fail and then find myself right back here pretending to do things.
Thanks so much and congratulations on the film, we look forward to SWATH Part 2.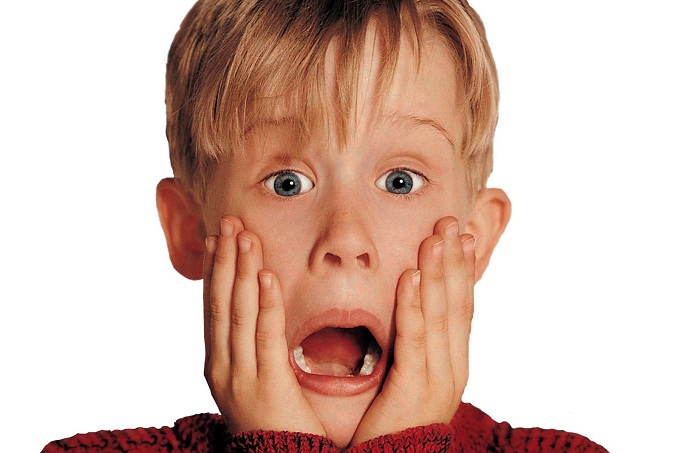 An accomplished performance from a seasoned performer is impressive, but there's something effortless and magical about a young star that just seems to innately know how to work the camera and tug on audience heartstrings. Child stars are those lucky talents who hit the big time before they hit puberty. For the rare few it's the start of a long glittering career that will last a lifetime, though for many it's just a few years of big screen glory until adolescence takes its ugly toll. Here's our list of some of the est and most infamous child stars….
Hayley Joel Osment
Hayley Joel Osment is a quintessential example of what it truly means to be a child star.  He started acting at the age of four after being spotted in a shopping mall audition for a Pizza Hutt commercial. Within months he'd had roles on TV and then landed a brief but memorable part as Forrest Gump's son in the Tom Hanks heart-warming Oscar vehicle.
However it was his haunted performance in M Night Shamylan's spine tingling horror film The Sixth Sense that made Osment a household name and gained him an extraordinary Best Supporting Actor Oscar nomination when he was still only 11 years old. Although Michael Caine took home the award, even he was full of memorable praise for the pre-pubescent sensation "Once I learned of your nomination and saw your performance I knew for sure that you'd win!"
Hayley Joel Osment then joined fellow academy honourees Kevin Spacey & Helen Hunt in Pay It Forward, before taking on the lead role in Steven Spielberg's A.I. The young star relied heavily on the eerie composure typically associated with child stars to portray a young robot.
Osment also lent his voice to animated films like The Jungle Book 2 and Brother Bear; as well as the Kingdom Hearts video game series.
Unfortunately once Hayley started looking suspiciously mature, starring roles rapidly began to dry up. Flops like Second-hand Lions seemed to confirm that audiences were much less interested in awkward looking teens than angelic faced kids that hang around with ghosts.
Where is he now?
After hitting rock bottom with a drunk driving car crash and court order AA meetings Hayley is set to make his big screen return in new indie comedy Sassy Pants out later this year.  With a few other roles lined up afterwards, only time will tell if he can rise to superstardom for a second time or simply remain yet another cautionary tale.
Jodie Foster
Like many child stars Jodie Foster started acting in TV commercials when she was just 3 years old. Few could have guessed that the toddler in the Coppertone sunblock commercial would prove to be one of the most prolific and gifted actresses of her generation.
She made her TV acting debut at five and quickly featured in a host of popular television series. In 1976 she moved onto the big screen with starring roles in Disney body swap comedy Freaky Friday and playing precocious lounge singer Tallulah in Alan Parker's eccentric gangster musical Bugsy Malone.
But it was her astonishing performance as child prostitute Iris alongside Robert De Niro in Martin Scorsese's gritty classic Taxi Driver that earned her an Oscar nomination at the tender age of 12. Her incredible on screen presence won her many fans, unfortunately including John Hinckley, who tried to assassinate then President Ronald Regan in a failed attempt to impress her.
Having graduated from Yale in 1985 Jodie returned to acting as an adult with an Oscar winning performance in The Accused in 1988. Just a few years later came the role that would define her adult career, winning her second Best Actress Academy Award for playing FBI agent Clarice Starling in Silence of The Lambs.
Films like Contact, Panic Room, Inside Man and The Brave One have followed as she continues to enjoy comfortable box office success and bask in critical acclaim.
Having spent her entire life on screen, Jodie Foster has had one of the most substantial careers in Hollywood and is frequently hailed as a perfect example of how to handle the difficult process of converting child stardom into an adult career.
Where is she now?
Jodie has sought to establish herself as a director with Little Man Tate, Home for the holidays and most recently The Beaver but continues to take sparing roles in front of the camera. Her most recent role was alongside Kate Winslet & Christoph Waltz in Roman Polanski's Carnage. Her next role will see her star alongside Matt Damon and Sharlto Copley in sci-fi drama Elysium; the new film from District 9 writer/director Neill Blomkamp.
Dakota Fanning
Dakota Fanning and her family relocated from Georgia to LA after a local playhouse spotted she had talent and told her parents to give it a chance. She was quickly snapped up by a professional agency and landed a national TV commercial for tide detergent at the age of five.
Three years later she wowed audiences worldwide with a performance of remarkable strength and charm in I Am Sam. Starring alongside accomplished veterans Sean Penn and Michelle Pfeiffer, she stole the show as Lucy Diamond Dawson the young daughter of a mentally handicapped man.
At just 8 years old she became the youngest person to ever be nominated for a Screen Actors Guild Award for her performance. In fact when she won the best young actress prize at the Broadcast Film Critics Association Awards she was too short to reach the microphone to deliver her acceptance speech.  Luckily Orland Bloom who presented her with the honour was kind enough to lift her up to the mike for the duration of her surprisingly length acceptance speech.
Dakota emerged from a pile of praise and awards and became one of the busiest child actresses in the business. She took the lead role and narrated Steven Spielberg's costly alien TV series Taken. She then starred opposite De Niro in 'Hide and Seek' and screamed incessantly at Tom Cruise in 'War of the Worlds'.
Where is she now?
Having quickly passed through a brief period of growing up Dakota Fanning has made a largely seamless transition to adult stardom. She plays evil Volturi Vampire Jane in the Twilight Saga and gave a decidedly raunchy portrayal of troubled rock starlet Cherie Currie in The Runaways alongside her Twilight co-star Kristen Stewart. With countless other projects already on the way she's definitely one teeny tiny star that's here to stay.
Elle fanning
Perhaps inspired by her big sisters vast success, Dakota Fanning's little sister Elle Fanning has happily stepped into her shoes as Hollywood's leading tweenage actress.
After a brief cameo as the two year old version of Dakota's character in I Am Sam she quickly went on to add a host of TV credits of her own in shows like CSI and House. On the big screen she has demonstrated that she can just as powerful and arresting in her accomplished performances as her sister.  She easily commands attention and looks capable of even surpassing her big sister as a dramatic actress.
She's played the abandoned daughter of a movie star is Sofia Coppola's somewhere, the love interest in JJ Abrams ET homage Super 8 and most recently stole scenes in Cameron Crowe's comedy drama We Bought A Zoo.
Elle Fanning epitomises the unique ability of child actors to harness their innate vulnerability. It's hard to imagine these subtle and sensitive performances can fail to translate to a long and positively stellar career if she chooses it.
Where is she now?
She's currently filming Bomb, starring alongside Mad Men beauty Christina Hendricks and Annette Benning. The film directed by Sally Potter tells the story of two teenage girls living in London in the 1960s.
Jake Lloyd
Not all child stars are destined for greatness, some have a brief brush with greatness and fame but are reluctant or unqualified to pursue it as a career.
When Jake Lloyd beat out thousands of young actors form around the globe to land the role of the young Anakin Skywalker in the first of George Lucas's long awaited star Wars pre-quells Episode 1 The Phantom Menace it could have been the role that catapulted him to being an A-list move star. It wasn't.
Stepping into the role as one of the most iconic characters in movie history armed only with a bowl shaped haircut and an alarming tendency to yell Yippee!  It was a cringe filled disaster.  Watching the pre-pubescent hero attempting to flirt with Natalie Portman was especially uncomfortable and embarrassing for us all.
Where is he now?
Having lent his voice to a handful of tie-in star wars video games he also starred in Madison, a lesser known film about a man entering a hydro-plane regatta. But as of of 2002 he stopped acting professionally and returned to Indiana to finish school before attending Columbia College in Chicago as a Film Major.
Daniel Radcliffe
Daniel Radcliffe was spotted by producer David Heyman in a school play and invited to audition for the most coveted children's role of all time as Harry Potter the infamous boy who lived and star or JK Rowling's magical adventure franchise.
Interestingly the part almost wasn't his as Steven Spielberg was briefly in line to direct the first harry Potter film and was planning to use an American cast with Hayley Joel Osment his choice for the boy wizard. But after JK Rowling insisted on a British cast and Chris Columbus stepped into directing duties the role went to Radcliffe.
Turning him into a household name overnight the phenomenal box office success of the seven film franchise has continued to propel him in the limelight. Not content to rest on his growing mountain of goblin gold, Radcliffe has been eager to prove himself as a serious actor, baring it all for edgy stage production Equus, singing on Broadway and most recently terrifying young fans with The Woman In Black.
The recent box office triumph of The Woman In Black has in particular proved that there may well be life after Potter for the young star. He might not have grown much in height but he has definitely gown in acting stature since his early wand waving Potter adventures.
Where is he now?
Radcliffe is currently in New York filming murder mystery Kill Your Darlings. He's playing beat poet Allen Ginsberg and starring alongside Elizabeth Olsen, Ben Foster and Michael C. Hall.
Emma Watson
Daniel Radcliffe might be the chosen one, but that hasn't stopped Emma Watson proving equally popular and successful as his know it all gal pal Miss Hermione Granger.
Although the role instantly earned her armies of Potter fans around the world it does highlight that there's a very fine line between being precocious and just plain irritating. Particularly with child actors it can be hard to distinguish whether it's their specific performance or simply the character themselves that are implicitly slightly annoying.
Shedding her bookish Heroine persona  Watson had a small role alongside Michelle William in Monroe biopic 'My Week With Marylyn' and has seemingly become the pixie faced darling of the fashion world with host of modelling gigs and advertising work.
Where is she now?
Currently filming Sofia Copploa's new film The Bling Ring, the film is inspired by actual events about a group of fame-obsessed teenagers that use the internet to track down celebrities' whereabouts in order to rob their homes. The film also stars Kirsten Dunst and Leslie Mann.  She also has The Perks of being a Wallflower ready for release later this year and a new project with Stanley Tucci lined up for next year called Your Voice In My Head.
Rupert Grint
It would be painfully unfair to leave Ron Weasley out of this list as well so we can happily include likeable ginger star Rupert Grint as well.
As with the entire young Potter cast we have literally watched them grow up on screen from nervous 11year olds to confident professionals. Though much of the glory and media attention may go to Daniel Radcliffe and pretty Emma Watson, it's fair to say that seven films and 16 hours of Potter Magic might have felt painfully long had it not been for frequent comic relief Rupert Grint provides.
Particularly in the first few films his performance was noticeable less wooden and awkward than his Hogwarts classmates.  Although the jury is still out as to whether he'll be able to conjure more mature roles and a range of performances out of these jovial talents.
Where is he now?
Having recently helped launched the Warner Bros Harry Potter studio tour at Leavesden, Rupert is now lending his voice to the new Postman Pat animated Movie and will then be back on our screens for a trio of new films… The Drummer, Eddie The Eagle and Cross Country.
Natalie Portman
Natalie Portman was discovered by an agent in a New York pizza parlour when she was 11 years old. Turning her back on easy opportunities to pursue a modelling career thanks to having a face clearly crafted by angels, she decided to concentrate on an acting career.
She made her spectacular film debut in Luc Besson's cult classic action thriller Leon, playing a young orphaned girl Mathilda who forges an unlikely friendship with a professional assassin. The film attracted considerable attention due to both the impressive range of her performance and the slightly controversial romantic undertones in her on screen relationship with Jean Reno's hitman.
It's commendable how well Portman handles the darker elements of her performance in Leon. She was initially rejected for the role because it was believed she was simply too young to cope with the material. But seeing the final film it's clear that was never the case.
What made Portman such an incredible young actress was that she managed to not only portray a subtle sophistication well beyond her young years, but simultaneously also captured a compelling and authentic innocence.
Most child actors simply aren't able to detach themselves form the experience of making a film enough to make an audience truly believe in their performance. When most young actors cry on camera you usually feel like leaving the cinema, when Portman cries you feel genuinely anguished. Nobody cries as well as Portman, nobody!
Surprising no one, Natalie Portman went on to become one of Hollywood's most in demand actresses and picked up her inevitable Best Actress Oscar for Darren Aronofsky's pyscho-sexual Ballet thriller Black Swan.
Where is she now?
Currently filming two new Terrence Malick movies Flawless and Knight of Cups, alongside Ryan Gosling, Rooney Mara, Wes Bently, Chrisian Bale and Cate Blanchett.  Then Natalie will be slipping back into implausible good looking physicist shoes for Thor 2.
Hailee Steinfeld
Hailee Steinfeld became another well-deserved young Oscar nominee when she received a Best supporting Actress nomination for her role as 14 year old farm girl Mattie Ross in the Coen brother's gritty western remake True Grit.
Though she was sharing the screen with acting legends like Matt Damon and Jeff Bridges, she held the entire film together as the stubborn young woman determined to see her father's murderer brought to justice.
It's impressive to steal scenes from Bridges and Damon, but even more laudable to do it whilst wearing a bonnet and sporting platted pigtails.
Where is she now?
Hailee is currently filming the movie adaptation of Orson Scott Card's classis ci-fi novel Ender's Game alongside the likes of Harrison Ford, Ben Kinglsey and a host of other emerging child stars.
Lindsay Lohan
It seems difficult to remember, but Lindsey Lohan used to be a wholesome child starlet with the world at her feet and a string of starring roles to boast of in successful Disney movies.
Lohan rollercoaster career started at three years old as a model for the Eileen Ford Agency. She made appearances in over 60 TV Commercials for brands like The Gap, Pizza Hut, Wendy's and Jell-O.
Having been hand-picked by Oscar nominated Writer Nancy Meyers, she played both of the identical twin sisters in the late 90s remake of classic kid swap caper The Parent Trap. The performance won her critical acclaim and a couple of minor awards.
After singing a multi-picture deal with Disney she stepped into Jodie Foster's shoes for a successful reboot of body swap comedy Freaky Friday, staring alongside Jamie Lee Curtis.  The film took an impressive$160 million and won her more praise and a 2004 MTV Best Breakthrough female award. These truly were the best of times.
With high school comedy Mean Girls, Lindsay had seemingly established herself as a bankable box office star and she was now easily commanding multi-million dollar salaries. She was paid $7.5million dollars for starring roles in rom-com efforts like Just My Luck.
She also managed to turn in descent performances in respectable dramas like Bobby, A Prairie Home companion and Georgia Rule.
For a few glorious years she seemingly had it all and looked set to become America's next auburn haired sweetheart. But then… everything collapsed in a pile of broken dreams drenched in bleach and drunken disappointment.  When child stars fall they fall hard and it can be impossible to get back up.
Where is she now?
Apparently she has a role in a new Rob Schneider comedy, but after all the years of drama, scandal and frequent visits to women's correctional facilities it's unlikely many people care. Thankfully Emma Stone has filled the husky voiced redhead shaped hole in our hearts.
Drew Barrymore
Drew Barrymore was literally born into acting. She is part of the Barrymore acting family and the granddaughter of John Barrymore, arguably the most acclaimed actor of his generation.  Wasting even less time than most of our child stars she starred in her first commercial when she was just 11 months old.
The world fell in love with her instantly after her role as Gertie the youngest of the three children in Steven Spielberg's beloved blockbuster about a suburban family befriending a lost alien.  Overnight the colossal Box office success of the film and her own immeasurable cuteness made her a household name and one of the most famous child stars of all time. While she was still only 7 years old.  She quickly went on to receive a golden globe nomination for best supporting actress for family drama Irreconcilable Differences just two years later.
Unfortunately she also wasted little time finding trouble and was infamously in rehab by the time she was 13. It's one of the most frightening examples of what can happen when children are exposed irresponsibly to the crushing pressures of fame and Hollywood success prematurely. But thankfully Drew recovered fully and went on to become a popular and acclaimed adult star.
Where is she now?
Drew Barrymore became a huge star again in the 90s and achieved box office success with countless rom-coms and occasional dramatic roles. She stepped behind the camera to make her directorial debut with superb roller derby coming of age tale Whip It, starring Ellen Page.
Henry Thomas
Drew Barrymore's E.T. co-star Henry Thomas played the film's lead role as Elliot the young boy who actually finds and initially befriends the stranded spaceman.
His performance epitomises the outstanding calibre of child stars in 80s kids classic. It was a time when child actors felt real and ordinary instead of being irritating polished nuggets of stage school smarm.
Beneath E.T.'s more obvious alien adventure story was a rich subtext about children dealing with the aftermath of divorce and Henry Thomas deals with both aspects of Spielberg's enchanting tale with accomplished depth.  He helped give us some of the greatest moments in cinema history and for that we'll always be thankful.
Where is he now?
Henry Thomas continues to act on TV and in films most notably with roles in Scorsese's Gangs of New York and starring alongside Amanda Seyfried and Channing Tatum in romantic drama Dear John.  We'll next be seeing him alongside Kate Bosworth and Josh Lucas in a film adaptation of Jack Kerouac's novel Big Sur.
Christian Bale
Steven Spielberg has an uncanny knack of discovering fresh talent and he found another diamond performance in the shape of Christian Bale in his adaptation of JG Ballard's autobiographical novel Empire of The Sun, about a young boy whose privileged life is turned upside down by the Japanese invasion of Shanghai.
Sharing the screen with the likes of John Malkovich and Miranda Richardson, the young Bale stunned international audiences with a mesmerizing performance in the WWII epic, having beat our 4000 other kids who auditioned for the role. Is haunted performance captured the grim realities of life that war so frequently and tragically brings.
Bale went on to channel the dark side as an adult with cult serial killer classic American Psycho and as The Dark Knight himself in the latest Batman franchise.  He continues to ring a determined intensity to all his rolls.
Where is he now?
Preparing to growl his way through a final instalment of Christopher Nolan's impressive Batman Trilogy with The Dark Knight Rises set to be the biggest film of the year.
Christina Ricci
Christina Ricci made her cinematic debut acting alongside Cher in Mermaids in 1990. She immediately became a household name and one of the most recognizable child stars of the decade thanks to her delightfully dark comedic turn as Wednesday Adam in both the Addams Family and Addams Family Values.  In the sequel she particularly stole the show during a sequence where she wages Indian war on a saccharine summer camp during a thanksgiving themed play. She also played the human befriending Casper the friendly ghost in the kooky big screen adaptation of the popular old kids cartoon.
With her wide eyes and razor sharp comedic timing her deadpan delivery was perfect for the roles she landed and almost won her far more. She narrowly lost out on projects like Interview with the Vampire and Little Women.
As she has gotten older she carved out a niche for herself playing sexy nymphets and has frequently worked alongside Johnny Depp on films like Sleep Hollow.  She remains a firm fixture on television and on the big screen.
Where is she now?
Recently shared steamy scenes with Robert Pattinson in French historical dram Bel Ami and is flying high on our TV screen in Pan Am.
Kirsten Dunst
Kirsten Dunst started acting at 3 and  appeared in over 70 commercials. She made her feature film debut in a segment of Woody Allen's 1989 film New York Stories. But it was in 1994 that she gave her breakthrough performance acting alongside Tom Cruise & Brad Pitt in Interview with the Vampire, playing an eternally childlike vampire.
Her other worldly performance of an increasingly cynical and jaded soul trapped inside an ageless child's body gained her a golden globe nomination and countless other awards. It also catapulted her to prolific success. Over the next few years she starred in films like Little Women, Jumanji, Small Soldiers and The Virgin Suicides.
Of course she's now best known as Mary Jane Watson the object of Peter Parker's affections in Sam Rami's blockbuster Spiderman franchise.
Where is she now?
She recently won a clutch of awards for her performance e in Lars von Triers Apocalyptic lament Melancholia and is currently reteaming with Sofa Coppola for The Bling Ring. Well also be seeing her in comedy the bachelorette alongside Isla Fisher & James Marsden & in On the Road alongside Kristen Stewart.
Chloe Moretz
Very much in the mould of scarily accomplished young actresses Chloe Moretz had already starred in countless films and TV shows by the time she became the instantly iconic child vigilante in Kick Ass based on Mark Miller's superbly dark and violent superhero comicbook.
The role, complete with brutally dispatching copious amounts of bad guys and dropping the C-bomb catapulted her into the centre of mass media attention and giddy fanboys praise.
Since then she's been more in demand than any other young star of her generation. She played the supernatural heroine in successful horror remake Let Me In and starred in Martin Scorsese's multi award winning children's tale Hugo.
Where is she now?
One of the busiest working actresses in Hollywood Chloe Moretz is next on our screens opposite Johnny Depp in Tim Burton's kooky comedy Dark Shadows. She has a host of other films lined up afterwards at various stages of production, including landing the lead role in Stephen King horror remake Carrie.
Asa Buttersfield
Asa Butterfield gained international acclaim thanks to his stunning performance in 'The Boy in the Stripped Pyjamas'. Set during World War II, he played Bruno, the eight-year-old son of the commandant at a concentration camp, whose forbidden friendship with a Jewish boy on the other side of the camp fence has startling and unexpected consequences.
It was a compelling performance which instantly marked him for future greatness.  He didn't have to wait long; he recently starred in Martin Scorsese's Oscar winning children's film Hugo, playing the titular role of Hugo Cabret, a young Parisian orphan who unlocks a strange mystery surrounding a broken robot.
Where is he now?
Asa is currently filming the movie adaptation of Orson Scott Card's classis ci-fi novel Ender's Game alongside the likes of Harrison Ford, Ben Kinglsey and a host of other emerging child stars. He plays the lead role of Ender Wiggin in the film expected to be a massive hit due to the books huge popularity.
Anna Paquin
Anna Paquin had only ever acted in a school play before she stunned audiences worldwide with her performance as Holy Hunter's angry young daughter in The Piano. She received an Oscar for her performance making her the second youngest Oscar winner ever.
She followed her awards success with a memorable and endearing performance in Fly Away Home a film about a young girl who raises a young family of Canadian geese and ultimately teaches them to migrate by flying with them in a light aircraft.
As she grew up she took on the role of superhero Rouge in the X Men movie franchise and recently won acclaim for her performance in drama Margaret.
Where is she now?
Anna Paquin is currently enjoying the company of various vampires and werewolves in HBO popular saucy supernatural series True Blood playing psychic waitress Sookie Stackhouse.
Abigail Breslin
Abigail Breslin first caught attention playing Mel Gibson's eccentric young daughter in Signs. The performance landed her subsequent roles in Raising Helen and more importantly Little Miss Sunshine. She was Oscar nominated for her role in that film about a dysfunctional family determined to get their young daughter to a beauty pageant despite an increasingly disastrous cross country trip in a VW bus.
More recently she starred alongside Woody Harrleson & Emma Stone in Zombieland and leant her voice to Oscar winning animation Rango. She also featured in Gary Marshall's all-star rom-com New Year's Eve.
Where is she now?
She's currently alongside most of the other talented child stars of her generation on the set of Enders game ad ready for a host of new roles which include films like Haunter, Innocence, Virgin Mary and The Hive.
River phoenix
When he was born River Phoenix's family were members of the Children Of God sect in South America. His father was their Archbishop of Venezuela. In 1977 the family  relocated to LA and changed their name to Phoenix.
By the time he was Ten River was regularly working professionally on TV. He made his feature film debut with Explorers in 1985, the Spielberg produced film about three children who receive instructions to build a spaceship in their dreams.
He followed this rapidly with box office successes with Stand By Me and The Mosquito Coast in 1986, before he took the coveted role as young Indiana Jones in the opening segment of The Last Crusade. In 1988 he earned an Oscar nomination for best supporting actor for his role in Running on Empty. He delivered one of the most compelling performances of his brief career in My Own private Idaho in 1991.
Where is he now?
Tragically River Phoenix died aged just 23  following a drug overdose outside the  Viper Club in Hollywood. He lives on through his early work as a bittersweet reminder of what we lost.
   22. The Goonies cast
Known as Mikey, Brand, Chunk, Mouth, Andy, Stef and Data The Goonies are and always will be the ultimate combination of child stardom. They were all a convincingly believable as a misfit band of friend on a wild adventure to find lost pirate gold. We really don't need to tell you why the Goonies re awesome, you already know this stuff.
Where are they now?
Sean Astin -  he obviously went on to play Sam, Frodo's hobbit bff, in the Lord of the Rings. He's also been on 24 and among countless other films and tv shows. Apparently he has an impressive 7 movies scheduled for release this year alone
Josh Brolin -is enjoying career resurgence with an Oscar nom for W, roles in True Grit, Wall Street 2 and soon to be in Men In Black 3.
Corey Feldman recently competed on Dancing On Ice, had his own reality tv show wth corey haim and continue to make mostly dvd calibre movies and sing in his rock band.
Jeff Cohen – is a successful top entertainment lawyer. He also got voted president class president at his university with a vote for chunk campaign slogan.
Kerri Green – made her directorial debut is 1999 and was last seen in 2012 drama Complacent.
Martha Plimpton – has become a very familiar face on American TV in the past few years with regular roles on How to make it in America, Raising Hope and The Good Wife.
Ke Huy-Quan – Had regular TV roles in the 80s and 90s. Is now known as Jonathan Ke Quan and last seen in 2002 film Second time around.
Macaully Culkin
Macaulay Culkin is arguably the paradigm example of a child star. He started acting at the age of four and grabbed initial attention alongside legendary funny man John Candy in John Hughes endearing comedy Uncle Buck. He then reunited with John Hughes for the film that would make him briefly one of the biggest film stars on the planet. He played Kevin McAlister a young boy accidently left home alone over the holidays who has to fight off two bumbling burglars using a deadly array of homemade booby-traps.
The film became a global box office phenomenon and spawned the inevitable sequel Home Alone 2 lost in New York. It predictably repeated the film's basic plot in a New York setting. In between his home alone bad guy torturing, Culkin also reduced audiences to tears with weepy young romantic drama My Girl.
Culkin then made his way through films like The Pagemaster, Getting Even with Dad and Richie Riche. They were greated with moderate box office success but a clearly declining audience enthusiasm as Culkin's angelic feature gradually became scarily adult.
Where is he now?
Last heard lending his voice to various characters in animated comedy series Robot Chicken he's currently MIA. If you do know where Mac is and how he's doing these days please give us a call. Mila Klunis we're talking about you here…