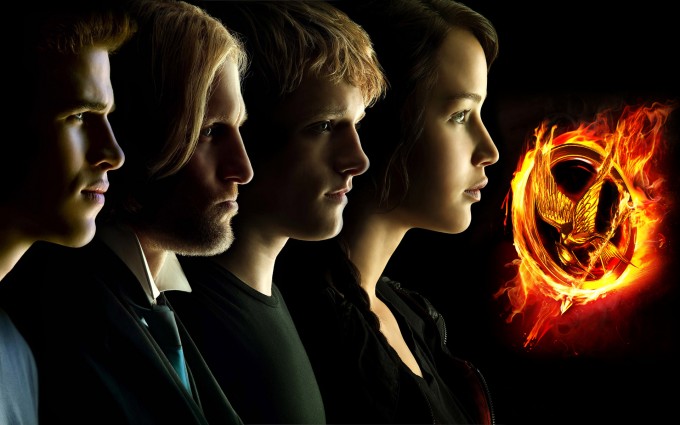 It's impossible to avoid The Hunger Games at the moment; cinema attendance for the first installment in the new franchise is practically mandatory. The film has engulfed the US box office and taken astonishing initial figures of $460million in its opening weeks worldwide.
The Plot
In a dystopian future, the totalitarian nation of Panem is divided between 12 districts, ruled by a ruthless Capitol. Each year two young representatives from each district are selected by lottery to participate in The Hunger Games. Part entertainment, part brutal retribution for a past rebellion, the televised gladiatorial contest forces the young participants to fight to the death.
When 16-year-old Katniss's little sister, Prim, is selected as District 12′s female representative, Katniss volunteers to take her place. She and her male counterpart Peeta, are pitted against bigger, stronger representatives who have trained for this their whole lives.

The Good
Fans of the original books should be left absolutely satisfied with a dutifully faithful adaptation of Collins compelling story. Those unfamiliar with the books should also mostly find it easily accessible and enthralling.
Former Oscar nominee Jennifer Lawrence is a superb fit for heroine Katniss Everdeen; clearly capable of delivering a convincing emotional performance she also brings a physical credibility to the role. It's simply difficult to imagine any of the waifish Hollywood IT girls in the role.  As in the book the film is almost entirely built around Katniss. It was vital the film and audiences could rely on this character and Lawrence's performance allows them to do just that.
There are no obvious deficiencies in Josh Hutchison's performance as Peeta, but if he does seem to carry a little less presence on screen then perhaps that's a symptom of the character not the actor.  The supporting cast does breathe extra life into Hunger Games though with Woody Harrelson, Rachael McAdams, Stanley Tucci and Donald Sutherland all on very fine form.
The Bad
For some people the noticeable lack of blood and gore in the deliberately restrained action sequences will perhaps be a slight disappointment. However this was always going to be a necessary compromise as the studio understandably pushed to keep the rating as low as possible to make sure younger fans weren't restricted from watching the film.
There is perhaps also a special sensitivity shown when handling the film's violence because by definition the fatal action sequences exclusively involve children.
Anyone left craving more of a graphic adolescent bloodbath would be happier watching Battle Royale, the blood drenched Japanese film that follows a similar plot to Hunger Games but has a much nastier tone.
The Ugly Truth
Whilst people may readily compare the scale of fan excitement and global audience figures for The Hunger Games to the Twilight saga it's a fairly superficial comparison.  There's no real connection between the two in either quality or tone.
The Hunger Games is a well-paced action film free from the clunky romantic melodrama and stilted performances that fiercely divide opinion on the Twilight saga. It largely deserves its huge box office success.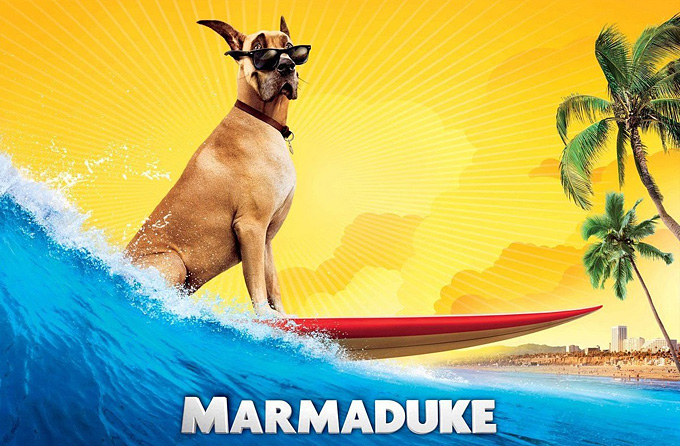 The miracle of CGI has created a monster, an unwelcome tidal wave of talking-animal comedies. Now, with the novelty of watching lips move on animals wearing dangerously thin, Owen Wilson lends his likeable voice to a Great Dane called Marmaduke. In a film based on the inexplicably long running and rarely amusing newspaper cartoon.
It's a real challenge to stretch a one joke comic strip into a feature length story. So the film predictably relies on all the familiar elements of a standard family comedy. A success-hungry father drags his reluctant family and troublesome pet dog to a new life in California, where his demanding boss keeps him too busy to notice his unhappy children. Meanwhile, our canine hero has to deal with doggy social cliques, love interests and a pedigree bully in a new park.
The most magical films are those which have the power to enchant children and adults in equal measure. Unfortunately, Marmaduke panders aimlessly to both audiences and rarely satisfies either. A few misplaced pop culture references won't keep mum and dad interested and young kids will likely grow grouchy at the surprising lack of silliness. It's impossible to avoid unflattering comparisons with the wealth of wonders that Disney and Pixar have gifted to the world.
The most confusing thing about Marmaduke is that the film seems frequently targeted at teenagers, the one demographic guaranteed to avoid watching it at all costs. Marmaduke's journey of self-discovery, as he loses sight of his real friends in an effort to fit in with the popular dogs, is borrowed heavily from classic teen movie Mean Girls. Different doggy breeds are an easy analogy for high school social clichés but it's not that relevant to an audience of toddlers and grownups.
It's surprising how much vocal talent has been lured into this film. Kiefer Sutherland, Emma Stone, Christopher Mintz-Plasse and Sam Elliot all do their very best with mostly recycled material. But even Owen Wilson's resilient charms can't disguise a lack of genuine wit in Marmaduke's constant narration. The film's real problem is that the essence of almost every joke is the same. It's all supposed to be funny because the characters act like people but really they're dogs.
Twenty years ago a genuine talking dog would have been a must see attraction, but sadly they don't impress anyone in a world where meerkats sell us insurance on TV. Pigs, Gerbils, Chipmunks and Chihuahuas… they've all talked and shamefully we've listened. But it's not enough anymore, unless they have something new to say and Marmaduke doesn't.
If you're looking for a film that allows you to combine your mutual love of dogs and Owen Wilson you're better off sticking with your Marley and Me DVD.
In Due Date, a highly strung father-to-be Peter (Robert Downey Jr) is forced to hitch a ride with an oddball aspiring actor Ethan (Zack Galifianakis) on a disastrous cross country road trip, in order to make it to the birth of his child on time.
The astounding global success of The Hangover has burdened director Todd Phillips with a huge weight of expectation. People simply expect to be laughing long, hard and often at his films. Due Date offers some good quality laughs, but not as frequently as some may have hoped. It's a little darker and more sullen in tone than the zany silliness of The Hangover.
Much of the success of The Hangover has been attributed to the bearded insanity of funnyman Zack Galifianakis and Due Date also relies heavily upon his nuanced awkwardness for laughs. The key to good 'buddy movies' is that not only do we have to feel sorry for the normal guy stuck with some irritating loser, we also have to feel sorry for the loser. It's a fine art to be obnoxious and sympathetic at the same time but Zack Galifianakis manages it fairly well. He has the sort of pathetic vulnerability that makes it impossible to loath his moronic oafishness.
In sharp contrast, Robert Downey Jr has emerged from the shadow of a bad boy reputation to establish himself as one of Hollywood's most charismatic and effortlessly cool leading men. Sublime star turns in Iron Man, Tropic Thunder and Sherlock Holmes have helped him become the household name he has always deserved to be.
It's an oversimplification to say that Peter (Downey Jr) simply plays the straight man to Galifianakis acting weird. There's a furious and slightly unhinged quality to Peter. He's essentially a good guy, but he's not above punching a child or rage induced animal cruelty. A less likeable actor could have easily left the character feeling like a hysterical bully.
Due Date's plot and characters draws obvious comparisons with classic road movie "Planes, Trains and Automobiles", but its grungy gross-out humour doesn't have quite the same warmth to it. It's certainly interesting watching our mismatched duo lurch their way through a series of escalating fiascos but it's not always joyous.
If you're a fan of The Hangover, Due Date might just offer you more than the disappointing repetition of The Hangover Part 2. If you don't quite get the Hangover hype then you really won't get this either.
Twilight stars Kristen Stewart and Dakota Fanning take a raunchy vacation from angst ridden vampires by starring in coming-of-age rock biopic The Runaways. Unfortunately the film isn't nearly as thrilling or fun as a guilty pleasure should be. Like a disappointing rockstar, the film pouts and postures, but fails to entertain. It's all just a little too self-assured in its own allure.
The Runaways is loosely based on lead singer Cherie Currie's autobiographical account of life in the 1970's all-girl rock band. After just a couple of years of successful notoriety they're best remembered now for a handful of songs and the subsequent solo success of guitarist Joan Jett. What's most remarkable about their story is how unremarkable it is. It's the generic story of every promising band that ever fell apart.
Michael Shannon plays the band's loathsome manager Kim Fowley, who plucks the girls from obscurity to craft them into stars. It's a painful rock and roll cliché to watch a sleazy manager exploit naive young wannabes. He directs a never ending stream of abusive motivation at the girls, but it's a little too vile and nasty to be enjoyably comedic. Maybe that ugliness is intentional and an accurate reflection of the true nature of rock and roll, but it's not fun to watch.
Casting former child starlet Dakota Fanning as the increasingly debauched and damaged Cherie will draw mixed reactions. There's a sharp contrast between her previously innocent image and her character's hedonistic self-destruction. It's an awkward juxtaposition and can be distracting for an audience. It doesn't help that Cherie is also an increasingly unlikable character, making it hard to sympathise during her predictable downward spiral.
Opinion is divided on whether Kristen Stewart's stalwart refusal to smile on camera constitutes talented performance or just unappealing glumness. Armed with a mullet and a leather jacket she does an impressive impersonation of Joan Jett. Unfortunately a shallow script doesn't allow her to prove she's capable of more than simply sullenness. Likewise the other band members and supporting characters barely have any presence or personality.
There are a lot of great films examining the infamous pleasures and perils of rock and roll. Unfortunately The Runaways is neither satirical nor effectively poignant. The film seems to try and revel in rebelliousness and lament lost innocence at the same time. It's a confusing contradiction. Unless you have an existing fondness for the band or the cast of Twilight, The Runaways probably won't be that captivating.