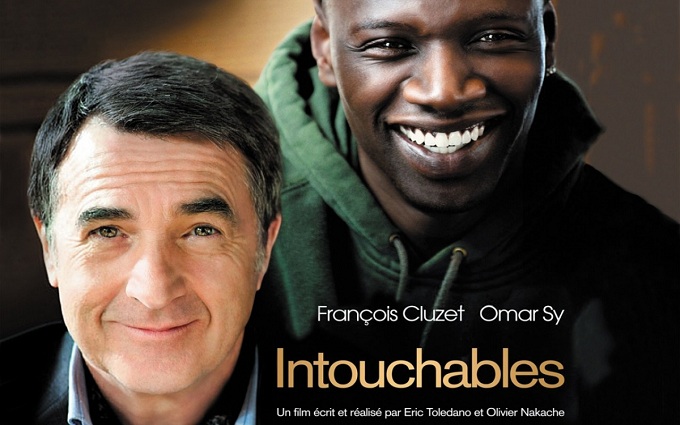 The Plot:
A rich quadriplegic, living in a mansion in Paris, requires a live-in carer. A young offender turns up for an interview, but he is not really looking to get the job. However, to his surprise, he is hired. The two men then develop a close friendship
The Good:
Untouchable probably isn't going to be the film that is marketed across the UK as the next big "blockbuster" movie, more the dark horse in the running. But if you do catch it, and we thoroughly recommend that you do, you will hopefully remember it as one of those cinema gems that you'll want to return to time and time again.
The true story of an unlikely friendship provides the platform for fantastic performances from Francois Cluzet (Little White Lies) as Phillippe and Omar Sy as Driss and a small but important supporting cast. The two leads are thrown together in an unlikely pairing which is not only heartwarming but endearing too. The film is a simple story and simple setting but through the actors charisma and chemistry with each other, audiences will find themselves laughing, crying and dare we say it, feeling that "warm fuzzy feeling inside."
Untouchable was not the film we were expecting to watch, prepped with a box of tissues we thought we'd be weeping from start to finish, but instead were engaged in a story about a man, who with the help of a pitiless, bolshy and honest care assistant was learning to live again, learning to look beyond his disability and still managing to get the best out of life. Its hard not to be almost sycophantic about this film, it shows the best side in people, and probably is the reason why its been catapulted to the top of some box office charts and has sat comfortably as the second highest rated French film in history.
What this film reminds us is that you don't need all these amazing effects, A-List stars or big budget studios, the essence of great film making is a brilliant story, and that is exactly what Untouchable is, a true and wonderful story.
The Bad:
As you can probably tell, its hard to find faults with this film, however as is often the case, the fact that it is in French may initially put off some audiences. However if you are the kind of audience goer who would normally walk on by when faced with a foreign language film, we would urge you to stop and take a punt on this one.
The Ugly Truth:
This is the type of film we would love to see getting some awards buzz later this year. The worldwide box office figures would hopefully provide some backup that Untouchable is worth a nod or two for Best Foreign film and Best Actor/Supporting for Cluzet and Sy. A film engaging from start to finish and simple storytelling at its finest. A must see.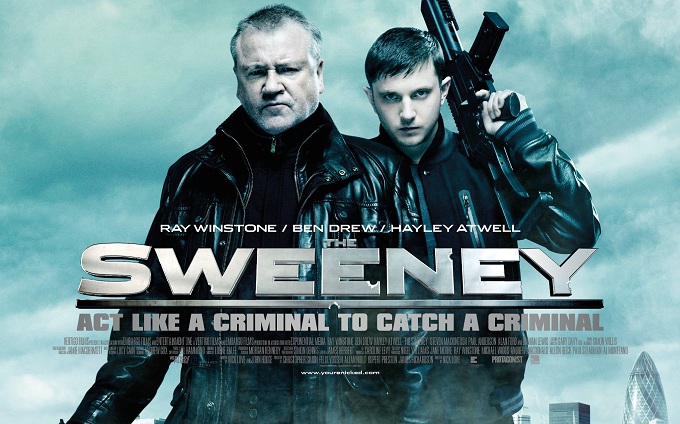 The Plot:
The hardened members of the elite police flying squad unit 'The Sweeney' do violent battle with crafty criminals on the streets of London; while trying to avoid getting shut down by internal affairs because of their aggressive no holds barred tactics.  The film drags the iconic 1970's TV series into the 21st Century and back onto the big screen with a very loud bang.
The Good:
Ray Winstone channels all his usual swaggering East End gangster charms into veteran copper Jack Regan.  He carries the lead role with a typical paunch and presence. He might be a gruff voiced stereotype, but at least he's never dull to watch. There is a certain silly pleasure to watching him slam a crook to the ground while informing them "You're nicked you slag!". If you give the film the benefit of the doubt and assume it's fully aware of the cliché, then it's simply having fun with that tough guy 'Geeza' image.
Winstone's character is a borderline unlikeable beast, but at least Hayley Atwell is around to provide a little beauty.  In addition to a pretty face, she lends the film a competent performance and a little subplot. The beautiful Captain America star is an awkward and unlikely romantic interest for a 55 year old Ray Winstone, but at least the film pokes a little fun at this. Although, Director Nick Love probably didn't intend their steamy love scenes to give the film its biggest laughs.
Ben Drew aka Plan B is rapidly establishing himself as a new breed of Renaissance man. Emerging from a successful career in urban music he has transposed that success quickly into acting and directing with debut effort ill Manors. The Sweeney now goes surprisingly far to establishing him as a potential British action star.
Ben Drew plays George Carter the flying squad's young protégé, a former teenage delinquent turned heavy handed police enforcer. There's a believable intensity and angry physicality to his performance. Though he might lack the range for period drama, on this evidence he could easily carve out a niche for himself as an action hard man.
Beyond individual performances, The Sweeney has enough exaggerated action to keep a simple plot moving. It doesn't take itself too seriously, but mercifully avoids the kind of awful camp parody that marred the unwatchable big screen re-imagining of Starsky & Hutch.
The Bad:
While the original Sweeney TV Series was a revolution in style and quality for British television, the new film feels too derivative of generic Hollywood action blockbusters.
The Sweeney does boast a glossy production value far beyond the average Brit crime caper. However, there's still something fundamentally implausible about watching police and thieves doing deadly machine gun battle on the streets of London, or giving frantic car chase down a quiet country lane. The film's violent mayhem would just feel so much more at home on Hollywood's gun-crime ridden streets of America.
Perhaps the only thing less believable than Ray Winstone's passionate affair with Hayley Atwell is watching him sprinting after bad guys or literally punching his way through walls. He commands the screen, but he's an ill-fitting action hero.
The Sweeney has energetic intentions but fails to deliver more than predictable superficial punches. It's loud, noisy and uncomplicated. If you're expecting a clever twist, a change of pace or a flash of emotional subtlety then unfortunately you'll still be left disappointed as the end credits roll. In truth you need a strong appetite for testosterone fuelled punches and cockney swagger to truly appreciate The Sweeney for the guilty pleasure it is. It's an acquired taste.
The Ugly Truth:
If you're a fan of no-nonsense coppers like Gene Hunt from Life On Mars, or Director Nick Love's past thug themed efforts, then you might enjoy all the loud bangs and macho posturing The Sweeney has to offer.  If you're looking for LA Confidential style clever crime drama then you'll certainly be considerably less impressed by it's over the top action antics.
Official Trailer below: 
Red Carpet Interviews with Ray Winstone, Ben Drew and Hayley Atwell: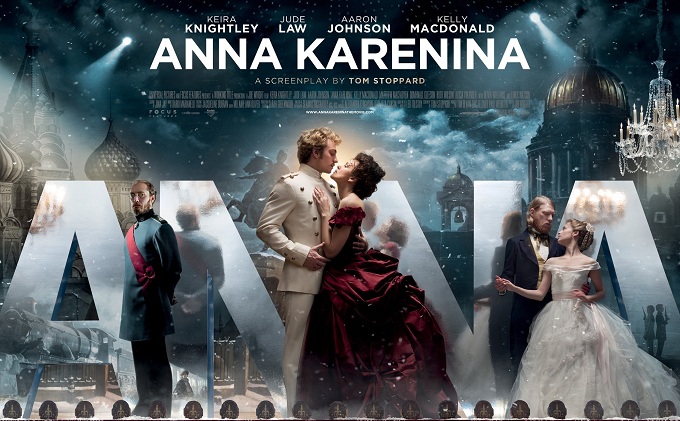 The Plot:
Set in late-19th-century Russia high-society, the aristocrat Anna Karenina enters into a life-changing affair with the affluent Count Vronsky.
The Good:
With any Joe Wright production you'll see a lavish array of costumes and set design, and Anna Karenina is no exception. This time Wright's world is almost entirely set on an old theatre stage and the intricate transitions from one scene to another are seamlessly done.
This is a big budget production, using clever means to depict a familiar story while taking a bold step away from past adaptations of Leo Tolstoy's book. This re-telling can definitely walk away confident that it will almost certainly gather Oscar nods for costume, set, sound and potentially cinematography.
In terms of casting, Jude Law is sublime as Alexei Karenin, (Anna's passive and tolerant husband) and by doing next to nothing, his presence on screen is scene stealing and captivating to watch. Aaron Johnson (despite his mustache) is a convincing Count Vronsky, a young virile officer who is tempted by the allure of married Anna.
As light relief, Matthew McFadden who previously played the brooding Mr Darcy, successfully don's a jovial moustache as Anna's lothario brother Oblonsky. Additionally newcomer Alicia Vikander deserves a notable mention for her innocent and gentile portrayal as Kitty.
The Bad:
Sadly there are a few flaws in Joe Wright's beautiful effort. First and foremost the film is 130minutes long, which may stretch the patience of audiences, especially those that might not appreciate the film's new take on period drama.
Though some of the film's elaborate set-changing choreography works very well, particularly during the early portions of the film, as the story progresses it's harder to sustain. Once the initial novelty of twirling scenery and people wears off, it may prove a distraction, especially for those eager to dismiss such an approach as heavy handed or pretentious.
However good the cast are, all the glamorous visuals can leave little room at times for them to fully develop their characters. The film's central narrative is laid out in such clear parts that it can feel almost episodic at times, with gradual emotions making way for lavish production value.
Keira Knightley in the title role of Anna is at least breathtaking to look at as she takes on one of the most complex female characters in literature. However, even the former First Lady of the silver screen Gretta Garbo had trouble tackling the part in 1935. Sadly critics will once again claim that Keira's performance is perhaps overly reliant on gasps and corsets.
Keira was Oscar nominated for Pride & Prejudice but it's unlikely she'll find similar accolades for Anna Karenina. The set and costume departments steal her thunder this time. Fans may also find her chemistry with Aaron Johnson, less passionately convincing than the intensity she found with James McAvoy in Atonement.
The Ugly Truth:
If you're after a visual feast of beautiful costumes, make up and set design you will definitely not be disappointed. The high concept theatricality of Joe Wright's production and Keira Knightley's trademark performance may not entirely charm or convince everyone though.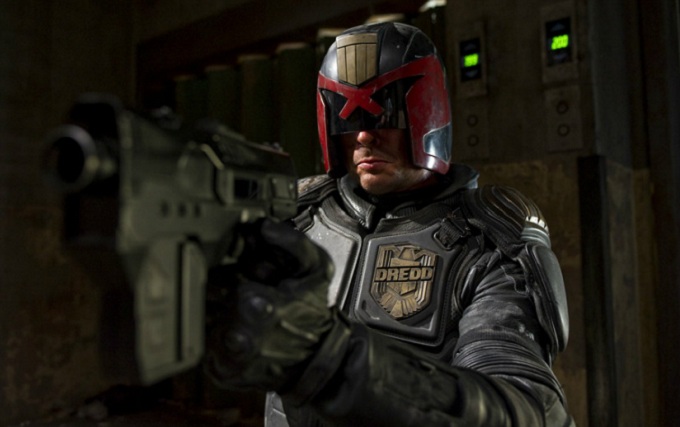 The Plot:
The future. America is an irradiated wasteland. On its East Coast, running from Boston to Washington DC lies Mega City One, a vast, violent metropolis of over 400 million citizens living in perpetual fear. The only ones attempting to impose order in the urban chaos are The Judges. Law enforcers, juries, judges and executioners rolled into one. The epitome of these Judges is Dredd. The Chief Judge gives Dredd a mission. To road test a rookie Judge, the powerful psychic Cassandra Anderson. It is going to be a training day. The Judges head for a seemingly routine homicide in the notorious Peach Trees mega-block – a 200 story vertical slum run by the pitiless Ma-Ma Clan. When the Judges attempt to arrest one of Ma-Ma's chief henchmen, Ma-Ma shuts down the entire building and orders her clan to hunt the Judges down. Our two judges are now caught in a vicious and relentless fight for survival.
The Good:
Well, welcome to the future ladies and gents, and boy is it bleak! It seems that any hope of clearing up the streets of America and living in harmony is well and truly out the window, instead we have a wasteland – oh Joy! But its not all bad folks, our brutal police has seemingly risen to the challenge of governing this dystopian future. Setting the scene for a distinctly fun filled action packed ride. An ultra-violent tale of a normal day in the office gone slightly askew for the legendary law dispensing  Dredd.
Unlike the infamous 90′s Sylvester Stallone version, this re-awakening of Judge Dredd, manages to avoid making this comic book adaptation unintentionally laughable. This time Dredd (Karl Urban) really does work his lower jaw at all the right times, and provides welcome light relief to some extensively violent scenes.  Urban's Dredd, brings us the comic book character we've been waiting for.  Emotionless, driven and without any sob story context for how he came to be the toughest cop in Mega City One. Judge Dredd simply is exactly what he is. So if its action you're after, then its action you are going to get.
The other characters in the film work well too without relying on huge Hollywood names.  Anderson (Olivia Thirlby) and Ma-Ma (Lena Heady)  are  engaging, understated disturbing and complex; as their characters joust with Dredd for your attention.
If you're not a fan of comic book adaptations, then don't be alarmed by yet another hitting your cinema screens. This is a far cry from The Avengers and doesn't have the "this could actually happen" feel of Nolan's Batman trilogy either. Dredd really isn't for kids, and that 18 certificate is slapped all over it for a reason! To top it off, it really is in glorious 3D. Dredd is one of those films that uses the effect for a very good reason. There are some spectacular slo-mo "300" esq moments which really do engulf the audience; with the audio soundtrack pumping through your blood you feel almost as if you are a spectator in Peach Trees complex.
The Bad:
It's difficult  to find to many faults with Dredd, but if you did watch recent Asian action effort The Raid, then you may find it hard to shake the suspicion you've seen key elements of this story somewhere before. It's unfortunate that both films coincidentally built themselves around the same concept, but if you missed The Raid in cinemas, then prepare to be wowed this time. Equally, those wanting to find out more about Judge Dredd's origins, may find the lack of backstory frustrating. This film picks a moment in time and concentrates on it, no more, no less.
Finally, be warned, Dredd does not hold back from its violence. Where you'd expect a jump cut to spare you from seeing the inevitable after a point blank shooting, it just isn't there. Within the first five minutes be prepared to see a head implode in grisly 3D detail. Director Pete Travis (Endgame) clearly delights in making audiences squirm, his approach will either be exhilarating or nauseating depending on your constitution.
The Ugly Truth:
Dredd 3D is a gore-fest action flick which keeps your pulses racing from start to finish. It doesn't paint a pretty picture of what the world could look like in a few years time, but whilst we speculate on whether or not that is the future spend a tenner in the cinema to check it out in all its 3D glory as its most definitely worth a watch.
The film is out this Friday 7th September, but till then check out the Official Dredd 3D trailer below: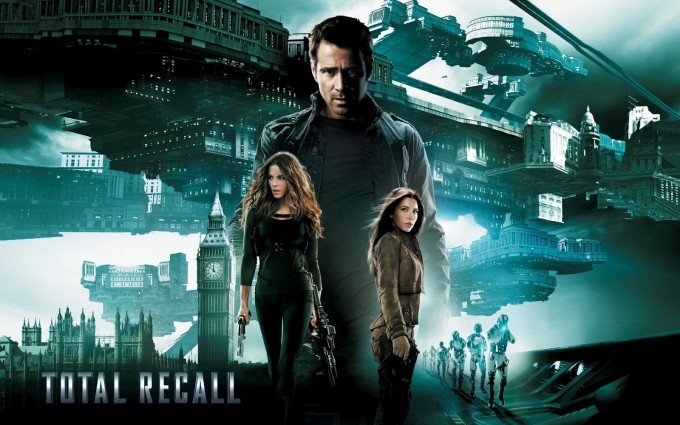 The Plot:
For a factory worker named Douglas Quaid, even though he's got a beautiful wife who he loves, a mind-trip from company Recall sounds like the perfect vacation from his frustrating life – real memories of life as a super-spy might be just what he needs. But when the procedure goes horribly wrong, Quaid becomes a hunted man as he finds himself on the run from the police.
Now where have we heard that before…ah yes the prosthetics heavy, Arnie grunting, mission to mars 1990's original….well not quite.
The Good:
For those who remember the original, the idea of a Total Recall remake could be a complete mistake, as the nostalgic elements that make up the Paul Verhoeven version stay cemented in your mind as the ultimate pre CGI (almost) 2084AD adventure. But fear not, as this version isn't half bad.
Total Recall (2012) stars Colin Farell as Douglas Quaid, Kate Beckinsale as Lori Quaid and Jessica Biel as Melina. Although this film definitely pays homage to the original, it does not frame by frame, line by line, recreate it, thankfully. Infact the great thing about this version is that it manages to blend Total Recall, Blade Runner and Star Wars into a sci-fi cocktail with a little bit of iRobot as the garnish on the glass.
Yes there are elements of the setting, particularly towards the beginning, where despite its oriental decoration looks decidedly like the colony you've seen before, and within the first twenty minutes a three breasted lady once again graces the screen, but there is no Johnny Cab and everything else is a lot less Fifth Element but a bit more Terminator Salvation in feel.
Now how about our Doug Quaid? Well he's no Arnie, but Colin Farrell is convincing and I'm pleased to say that his accent doesn't drop once! Farrell really does bring Quaid into the 21st Century with his smoldering looks and buff physique and he convinces the audience expertly that he really does have no clue what is going on and has no idea (for the majority) who to believe. Beckinsale also shows us that her Underworld training has come into good stead as she really does pack a punch, she's utterly convincing as Lori even if on the odd occasion you do want to tie her hair back so you can see more of her gorgeous face.
The Bad:
Now from the gorgeous to the ridiculous, although the casting in general is strong, Biel included, Bill Nighy in just two scenes makes you wonder if there was an element of laziness as Len Wiseman transforms him from Viktor King of the Lycans to Matthias a rather lack lustre Head of the Resistance. Thank goodness he's only in it for a short time, as I don't think he, along with the rest of the audience believed a single word he said, or that he would maintain that awful mock American accent for more than two minutes. It's a shame because that and the fact that the film was just a tad too long made it ever so slightly uncomfortable towards the end.
The Ugly Truth:
Overall Total Recall is not going down in the history books for anyone to reference as a masterpiece of our times, but it does showcase some flawless action sequences, slick CGI and an action film to enjoy on a Friday night. Definitely worth a watch but not sure if it will be top of your Christmas list.
Check out the Official Trailer below: