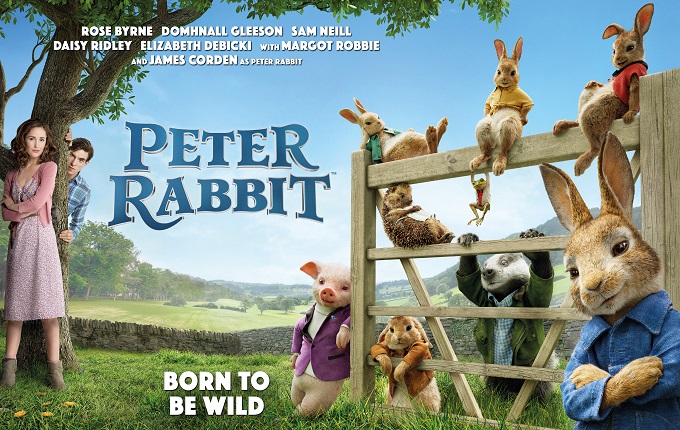 The Plot
Peter Rabbit and his family of mischievous bunnies are determined to reclaim their vegetable patch from the evil McGregor family. But just when their daring tricks seem to have finally won their land back for good, a new McGregor arrives to spoil their fun.
The Good
Beatrix Potter's animal creations are timeless childhood favourites that have spanned generations. Despite utilising the latest CGI effects this big screen adventure perfectly captures all of the whimsical beauty of Potter's ironically illustrated tales. Perfectly clad in tiny jackets, pinafore aprons and dresses the animal inhabitants of Potter's tales have retained every inch of their famous charm. The film's bucolic English countryside setting likewise provides a perfect backdrop for a world quintessentially British and timeless.
James Corden continues his unstoppable meteoric rise by providing a sensationally well matched performance as titular hero Peter Rabbit. The actor turned talk show host manages to imbue Peter with just the right mix of naughty recklessness and genuine heart. Surrounding his star turn is a simply amazing supporting cast, with each familiar beloved character brought to life with note perfect vocal performances.
Special praise in particular goes to the all-star trio of Margot Robbie, Elizabeth Debicki and Daisy Ridley as the bickering bunny siblings Flopsy, Mopsy and Cotton-Tail. It's hard to imagine anything more relentlessly amusing and charming than this winning combination. Margot Robbie deserves special praise for doubling up with narrator duties in a flawless English accent. Daisy Ridley also goes a long way to proving her comic timing and establishing a character range wider than 'too perfect' Jedi heroes.
The film's 'human' stars Domhnall Gleeson and Rose Byrne are both on magnificent form as the occasionally mean spirited Thomas McGregor and the Bunny family's faithful friend Bea. Gleeson does a great job of adapting the high strung Mr McGregor into a nasty villain and a romantic hero as the story requires. Rose Byrne likewise effortlessly bubbles throughout with the kind of sweet natured charisma only truly found in the very best children's stores.
As is seemingly standard for modern revivals of beloved children's characters, this new version of Peter Rabbit incorporates a soundtrack of instantly familiar pop songs. While this might initially seem like a potentially jarring juxtaposition with Potter's well defined world, in truth it actually works out wonderfully. Each song used is thankfully well chosen and integrated into the film in surprisingly effective ways.
Director and co-writer Will Gluck combines each well-chosen element of his cast, soundtrack and animation with a script that captures the true spirit of Peter Rabbit. The film manages to fuse every aspect of Potter's iconic heroes with an irrepressibly funny and sincere script. Packed with genuinely amusing slapstick comedy, memorable one liners and gentle moral lessons this is a rare gift of a film.
The Bad
Judged within the context of a children's film there is simply no flaw worth mentioning. This adaptation of Peter Rabbit simply could not be any better.
The Ugly Truth
A truly magnificent combination of modern animation, brilliant voice acting and joyously fun writing breathe new life into Beatrix Potter's utterly beloved characters. Peter Rabbit is a perfect piece of cinema magic that will leave children and adults alike equally delighted.
Review by Russell Nelson
The Plot
Titular hero GG aka 'Good Girl' narrates her own life story from early childhood, through painfully awkward adolescence and into even more uncertain adulthood.
The Good
Set against an expertly chosen backdrop of 1990s pop culture references and catchy pop tunes this sensational one woman show deservedly graduates to the West End, having emphatically dazzled audiences at Edinburgh Fringe and the Vault festivals.
Writer and star Naomi Sheldon breathes captivating life into every moment of a brisk 60 minute run time. Lurching expertly from joyous explorations to painful disappointments she makes GG the kind of sincere nuanced heroine that is so tragically rare on stage or screen. Sheldon's performance is overflowing with an abundance of comedic charm. In particular her flare for instantly transforming herself physically and vocally into a wide range of characters, allows this one woman show to explore a rich expansive world.
Sheldon convincingly portrays both GG and her loyal gang of fellow Sheffield schoolgirls in a journey that spans decades and the entire emotional spectrum. Her unflinchingly candid observations and instantly recognisable caricatures connect instantly and powerfully with audiences. Her vividly descriptive narration and richly imaginative performance combines to leave audiences in frequent fits of laughter. This rich reservoir of bold comedic charm allows Sheldon to succeed in handling complex issues of identity, gender and sexuality with an effortless grace and precision.
It's impossible to ignore just how timely and urgently relevant this show feels, set against a backdrop of seemingly unstoppable social self-examination and recriminations. Perhaps the biggest compliment possible is that Good Girl transcends the current white noise of increasingly hysterical tabloid headlines to speak directly to women and men with equal passion and grace. This show has a urgent and sincere voice of its own, rather than just being an angry kneejerk reaction to current Hollywood drama.
Sheldon and her semi-autobiographical heroine GG are brave and fragile in the most utterly compelling ways. Standing alone on a small circular stage with no props beside raw imagination and sensational comic timing, Sheldon is simultaneously commanding and exposed. Similarly the distinctive twang of northern accents of the various characters she inhabits lends both gentle and harsh qualities to some of the plays most crucial moments.
Naomi Sheldon is clearly destined for great things and deserves every success that will assuredly come her way in due time. For now it's essential not to miss the chance to spend an hour inside the warm welcoming wit of her intimate adventure.
The Bad
The only minor flaw in Naomi Sheldon's otherwise perfect piece of stage magic is that it may at times be too daringly honest and perceptive for more emotionally repressed audiences.
The Ugly Truth
Good Girl is a truly essential piece of live theatre magic that perfectly captures the poignant pleasures and pains of adolescence. Naomi Sheldon is an astonishingly adept new voice as both a writer and performer. You MUST watch this while you can. Do not miss the chance to experience this vivid storytelling masterclass in a fittingly intimate space.
Review by Russell Nelson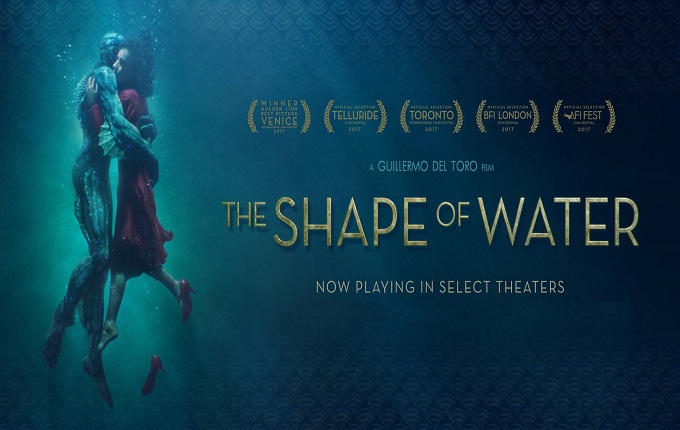 The Plot
During a time when cold war paranoia and thinly veiled prejudices grip American society, an unlikely relationship develops between a mute cleaning lady and a mysterious creature being held at the secret government facility she works at.
The Good
Guillermo Del Toro is a rarely gifted storyteller with an unashamed passion for the transformative magic of fantasy storytelling. His much acclaimed previous work on Cronos, Hellboy and Pan's Labyrinth are masterclasses in the clever use of practical effects to bring a fascinating array of creatures and strange worlds to life on screen. In The Shape Of Water Del Toro uses all of that considerable technical skill and absurdly imaginative vision to craft a powerfully sincere romantic fantasy.
Actor Doug Jones has long been Guillermo Del Toro's secret weapon. The statuesque performer has collaborated with the acclaimed director countless times as a creature performer, proving himself to be uniquely capable of working with complex prosthetic makeup and visual effects wizardry. In this film Doug Jones gives one of his finest performances as a truly original leading man. His muted performance as the film's muted amphibious 'creature' is the perfect counterpoint for Sally Hawkins equally mute leading lady.
Del Toro's exquisite visual style gives the film its beauty, but it is the expertly nuanced performances from a fantastic ensemble cast that gives the film its heart. Sally Hawkins is simply glorious as a mute leading lady who is by turns meek and inspiringly bold.  Likewise Richard Jenkins, Octavia Spencer and a villainous Michael Shannon each bring considerable depth to supporting performances that help the film paint a complex picture of the struggle between unlikely love and ugly evil. Michael Shannon in particular deserves praise for delivering yet another performance that bristles with menacing intensity from his first moments on screen till the very last.
An achingly romantic soundtrack helps provide the film with extra dimensions of nostalgic charm and sincere yearning. The film's more uplifting and beautiful moments largely counterbalance its occasional flashes of ugly violence and menacing subtext.
The Bad
Like much of Del Toro's unique work The Shape Of Water lurches between moments of indescribable beauty and ugly violent horror. While this is a very deliberate element of Del Toro's dark fantasy it will prove at times jarring and potentially deeply unsettling for more squeamish audiences. At times when the film strays into more graphic body horror it risks alienating audiences lured by a marketing campaign mostly based around the film's more softly romantic undertones. Del Toro's trademark lush visual style and Alexandre Desplat's emotionally warm soundtrack can't entirely shield audiences from the film's more unsettling moments.
The Ugly Truth
Guillermo Del Toro offers audiences a beautiful and visceral fable that echoes much of his acclaimed past efforts and pays tribute once again to the most iconic elements of fantasy storytelling. Accomplished visual effects and a stellar ensemble cast bring a truly unique if sometimes challenging love story to life. While not always an easy watch for squeamish audiences, overall The Shape Of Water is unforgettable movie magic.
Review by Russell Nelson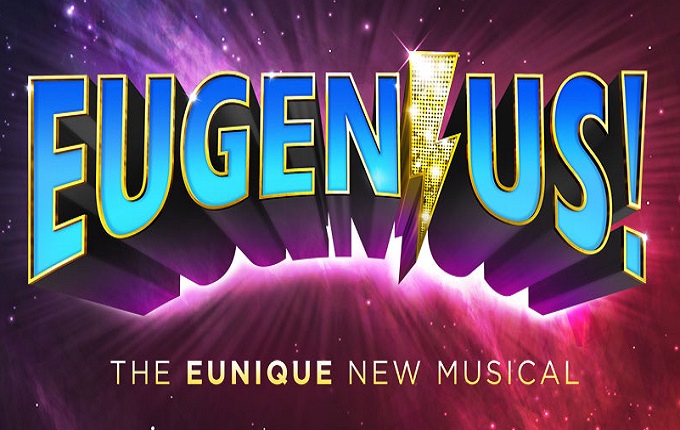 The Plot
In the magical heart of the 1980s, a teenage geek named Eugene spends his nights dreaming of superhero adventures in far flung galaxies and his days turning those visions into comic books. Little suspecting that the heroes and villains he's dreaming of are actually all real. When Hollywood decides to turn Eugene's creations into a blockbuster movie it looks set to change the lives of Eugene and his loyal best friends. But things quickly get much more complicated when the world of Hollywood make believe starts colliding with real life adventures.
The Good
Eugenius! is a truly joyous comic book homage that utterly embodies the most beloved elements of the genre. Undeniably original and fun throughout, the show strikes a nice balance between knowing comedy and genuine heart.
Musically Eugenius! does a magnificent job of fully capturing the quirky magic of the 1980s, with original songs showcasing a wide array of crowd pleasing genres. The show has more toe taping rock anthems, seductively cheesy love songs, awkward raps and belting power ballads than you can shake an electric keytar at. Song title's such as 'Comic Book Kind of Love' and 'No Pants Dance' give a flavour of the abundant playful charm on display. The biggest challenge for audiences is not singing along, particularly during catchy choruses and a memorable finale.
Eugenius! has a wonderful ensemble cast that do full justice to the often demanding score while also delivering acting performances bursting with effortless enthusiasm. Liam Forde is a well-chosen fit for the reluctantly heroic Eugene, his boyish frame and powerful voice make for an endearingly awkward leading man. Likewise Dan Buckley is shamelessly entertaining as Feris, Eugene's loyal ally who regularly proves to be a show stopping self-deluded delight. Perhaps the show's most valuable asset though is the dazzling vocal power of Laura Baldwin, giving a literally note perfect performance as Eugene's love lorn fellow geek Janey.
Surrounding this central trio of west end superstars a versatile cast that breath hilarious life into Hollywood cliché's and characters like Tough Man and Superhot Lady. The production does a fine job in particular of recycling its modest ensemble in a compact performance space. The show's choreography deserves special praise as well for consistently packing blisteringly energetic displays into almost every scene. The dance performances add an extra dimension of spectacular spectacle to proceedings, crafted with a loving fusion of classic 80s moves and modern musical magic.
The overall look and feel of Eugenius! is a colourful mash up of classic comic book charm and 80s throwbacks. Smoke machines, knowingly cheesy special effects and spectacular spandex perfectly embody the true spirit of the production. Mark Hamill lending his instantly recognisable voice to a robot sidekick is also an extra special treat for fans. It's hard to imagine a more perfect sign of just how loving well-crafted this production is than the fact that Luke Skywalker himself has given it such a vocal seal of approval.
The Bad
Audiences that are either too old or too young to have any affectionate memories of the 1980s and its timeless pop culture charms will obviously be a little less delighted by this shows relentless barrage of in jokes and playful references. Thankfully most of the show's inspirations are iconic enough that even those with merely a passing knowledge should be able to laugh along quite easily. While the show's silly slapstick sense of humour won't appeal to more sombre cynics, thankfully there's nothing more infectious than irrepressible joy.
The Ugly truth
Eugenius! is a delightful explosion of musical madness fuelled by power ballads and pop culture. A brilliant ensemble cast, catchy original songs and camp clever comedy combines to make this show a truly delightful treat. Eugenius! is absolutely essential viewing for comic book fans, 80s obsessives and all musical theatre lovers. We urge you, book tickets for this show now, if you want a better life.
Review by Russell Nelson
The Plot
An amazing new technology allows people to shrink themselves to just 5 inches tall, diminishing their environmental impact while allowing them to live lives of extravagant luxury in miniature cities. A couple concerned by their own bleak economic outlook considers making the big move and Downsizing…
The Good
Downsizing is a film which combines thought provoking and intelligent themes with well executed special effects and an entirely convincing cast. The result is an entertaining and entirely original experience for audiences.
The central questions that Downsizing explores are truly universal concerns about the environment, global economy and the ultimate future of humanity. These daunting and potentially depressing themes are however thankfully wrapped up within a series of uplifting personal journeys and the entertaining concept of miniaturization.
Matt Damon is a much adored leading man and continues to transition skilfully from his former boyish charms and action heroics into more mature roles. His character in this film acts as a wonderful vehicle for audiences to discover the world of Downsizing. In particular, his kind hearted good nature and relentless optimism are a welcome contrast to the more cynical portrait of mankind which the film often presents.
Alongside Matt Damon a host of familiar faces like Christoph Waltz, Udo Kier, Jason Sudeikis  and Kristen Wiig help populate the newly tiny world. However the film's secret weapon is a star making turn from actress Hong Chau.
Playing an outspoken political refuge Chau is a consistent scene stealing revelation. Her performance is absolutely the heart of the movie, providing the film's biggest laughs and most sincerely poignant moments. Pairing Chau's joyously blunt Vietnamese prison survivor with Damon's brow beaten and increasingly bemused American suburbanite, frequently yields excellent odd couple chemistry.  This unlikely coupling helps carry the film in many unlikely but rewarding directions.
One of the things that also enables Downsizing to tell a sincerely emotional and thoughtful story is the convincing special effects on show. Fine acting performances would not be capable of carrying audiences into the world of Downsizing if it didn't look and feel so tangibly real. The film strikes a clever balance of making the reality of Downsizing equally wondrous and mundane.
The Bad
Director Alexander Payne has a specific style of melancholy storytelling. While some give him considerable credit for striking a consistently wistful balance between tragedy and bittersweet joy, others no doubt find the emotional tone of his films a little less readily satisfying. Downsizing takes a number of unexpected twists and those emotional and intellectual tangents force audiences to confront real life problems in a way they might not necessarily always welcome.
Likewise audiences lured into the film by the promise of dazzling special effects will be less happy about the fact that though the film showcases well executed and clearly expensive visual effect work, the film isn't ever trying to be just 'an effects' film.  The goal of the film is always to make the effects less noticeable, not merely to showcase them in the most crowd-pleasing ways possible. People might go to Jurassic Park films just to see CGI dinosaurs, but you probably shouldn't go to see Downsizing just to see tiny people.
The Ugly Truth  
Downsizing is an intelligent and well-made piece of cinema that holds audience's attention thanks to brilliant work from a well-chosen cast, polished special effects and thought provoking subject matter.
Review by Russell Nelson