Orange Is The New Black Season Three Review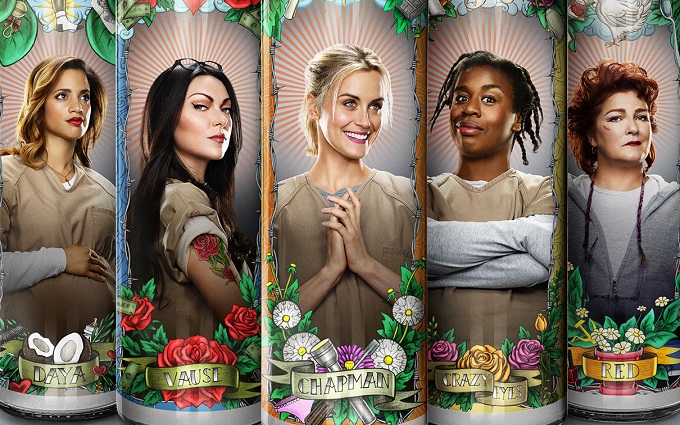 The Plot
With Vee gone for good, season three focuses on some of the less known characters back-stories. Meanwhile, Litchfield is threatened with closure before a corporate company steps in to save them. But their new rules and regulations create hostilities between the guards and upper management when new untrained staff are hired. Meanwhile our leading lady Piper begins a new moneymaking scheme involving her fellow inmates used underwear…
The Good
Opening with a Mothers Day themed episode in which Litchfield organises a 'bring your child to prison' day for the inmates, the tone for this latest season is set instantly. While the present day goings on are still very much going on, it's mainly the back stories that are what keeps this latest batch of episodes interesting.
With most of the bigger characters pasts explored widely enough, Orange Is The New Black season three instead turns to the last few dregs, with episodes focusing on Chang, Big Boo, Norma and even Litchfield's new boss Caputo. Caputo's episode is one of the standouts this series as not only do we get to see a great piece of character development for him, which sees him sacrificing a potential future in a rock band to become a devoted father, we also get a brief glimpse of Rosa, our first since her escape from the prison at the end of season two – more on that later…
On the subject of character development, season three also shows just how much Pennsatucky has grown. From being the bible bashing villain of season one to Big Boo's new bestie and even accepting her as the brilliantly sassy lesbian she is, Pennsatucky has slowly grown from a hated character to a fan favourite over the past three seasons.
Though much of the present day happenings of season three aren't particularly interesting, one exception is Suzanne 'Crazy Eyes' Warren's storyline. After becoming a new critically acclaimed writer (if you can call her fellow inmates critics) when she pens a time travelling sex story that EL James would no doubt be jealous of, Crazy Eyes experiences the effects that no doubt every fan fiction writer can relate to as her fan base grows larger and larger and demands for new chapters come flooding in. It's a fun storyline which also shows her insecurities in love and sex which come to a satisfying cliffhanger in the shows finale.
We can't finish this section without mentioning the chicken though. Last seen in season one, the chicken's triumphant return is a brilliant way to answer the question that has been hanging on fans' minds since it's first appearance. Sure, Doctor Who may have cracks in the wall and lost planets, but neither are as satisfying as finally finding out once and for all whether the chicken is a myth or not!
The Bad
Though there are a whole host of highlights to be found in the latest season, it's undoubtedly the weakest of the three. Jumping back to Rosa for starters, even though we get a glimpse of her in Caputo's flashback episode, her story isn't really finished satisfyingly enough. Last seen driving off for freedom and killing Vee in the process, season three starts off with a small throwaway scene to signify that the cancer did indeed kill her. But the question of whether she managed to stay free or had to spend her last weeks stuck in prison isn't truly answered.
Then there is the overlaying theme and story in season three. Or rather lack thereof. While the past two seasons had a clear endpoint to where the final episode would undoubtedly take us thanks to the villainous roles of Pennsatucky and Vee, season threes lack of a clear antagonist makes it somewhat unorganised. Instead we get Piper starting up a Breaking Bad style empire in which she hires her fellow inmates to surrender their dirty underwear for her to sell to perverts on the outside. It could have been an interesting story for the entire season but starts a little late and doesn't have an ending yet nor does it have an enticing cliffhanger to whet our appetites for season four.
There are of course some additions to the cast, but the one highlight has got to be the incredible Ruby Rose, who comes in as Piper's new assistant/possible love interest. Unfortunately it only takes three episodes before she is unceremoniously thrown aside seemingly never to return.
Piper and Alex seem to have switched roles this season, with the newly returned Alex being paranoid and needy for much of the show while Piper becomes more and more manipulative. It's odd to think that she was once the driving force of the entire show and admittedly it's somewhat refreshing to see that she has been turned into a mere supporting character giving the less known characters a chance to thrive. But with her gone as a main lead, there doesn't seem to be a replacement. And though it's certainly nice to see the show try to pack more into each character, some have completely uninteresting story lines. The main example being Norma. For season three she has left Red's side for good and has now somehow become a new messiah for many of the inmates in a story that seems incredibly dragged out and never-ending.
The Ugly Truth
Orange Is The New Black's return has some interesting additions to it's already strong host of characters. But ultimately it becomes unhinged with the lack of a decent running storyline, antagonist of even protagonist. Perhaps it was time for a breather after the intensity of the first two seasons, allowing us to see more back stories for other characters. However season four really needs to have a change in order to stay interesting…