Only Lovers Left Alive Review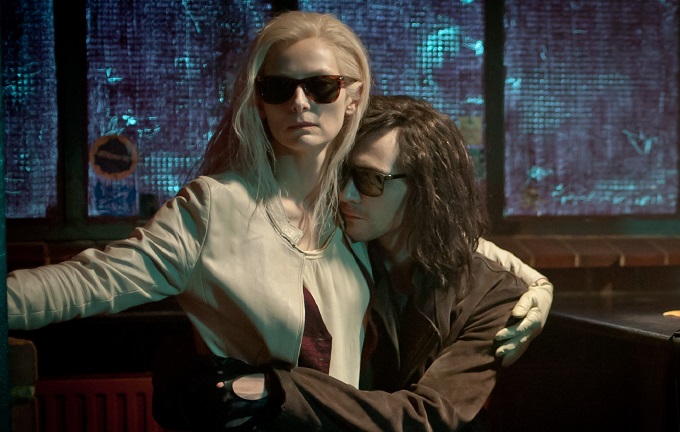 The Plot:
Adam and Eve are two centuries old vampire lovers reuniting after some time apart, in an effort to sooth reclusive musician Adam's growing disdain for mankind and despair for the future. Their blissful domestic reunion in Adam's dilapidated home and on the dark streets of Detroit is however, rudely interrupted by the arrival on Eve's sassy little sister Ava.
The Good:
Tom Hiddleston has emerged from his role as mischievous comic book villain Loki as an undisputed global superstar. His soft spoken wit and piercing stare is a magnificent fit for melancholic vampire Adam. Hiddleston gives a sensitive and subtle performance as he prowls around Adam's decaying home, brooding beneath tussled jet black hair. It's a sharp reminder that his broad range stretches well beyond fan favourite Loki.
Tilda Swinton is an actress with a naturally ethereal and other worldly quality, rarely if ever has it been put to such effective use as in this performance. Beneath a flowing mane of bleached blonde hair she is the perfect visual and emotional counterpoint to Tom Hiddleston's Adam. Eve's enthusiastic optimism instantly balances out Adam's sullen melancholy.
Swinton and Hiddleston create a remarkable chemistry together, depicting a fascinating portrait of a centuries old marriage. Eve and Adam share a convincing dynamic of casual understanding, tenderness, occasional lust and mutual obsessions. Their lethargic approach to existence seems entirely appropriate for creatures unconcerned with the pressures of human mortality.
Alongside the electrifying central paring, John Hurt and Mia Wasikowska add an extra dimension of colourful personality to the film. Wasikowska is effectively precious and irritating and Eve's immature vampire sister. Meanwhile John Hurt adds some gravel voiced gravitas to proceedings as an immortal Christopher Marlowe.
Director Jim Jarmusch has a cult following based on his flair for charismatic slow paced storytelling and distinctive visual style. Only Lovers Left Alive echoes much of his finest work like Ghost Dog and Broken Flowers. The film has a languid pace, but it's consistently thoughtful and packed with wry dark humour.
As with many of Jarmusch's  films Only Lovers Left Alive embraces the full awesome power of music with a soundtrack that enhances the scenery and characterisation in a way dialogue and visuals alone never could. It's an expertly deployed tool for setting a subtle tone for the film and uniting the radically different landscapes of Detroit and Tangiers.
Set entirely at night, for obvious reasons, the film has dark magical quality to its visual that lends an added air of gothic romance to proceedings. Even the decaying urban wasteland of an abandoned Detroit has a strange excitement about it in the dark corners of the night.
The Bad:
Those unaccustomed to Jarmusch's unhurried style of storytelling may perhaps find the film a little slow moving. Likewise those searching for Twilight style romantic melodrama or hoping for genuinely scary Vampire horror may both be left disappointed. In truth Jarmusch panders to neither stereotype and his creatures of the night are very much full and complex characters in their own right.
The Ugly Truth:
Only Lovers Left Alive is a seductive gothic romance of the highest caliber; boasting magnetic performances, black comedy and a well-chosen soundtrack. Director Jim Jarmusch successfully reclaims Vampires from the clutches of young adult fiction and restores their brooding menace and lust.
Check out our interview with star Tom Hiddleston on the red carpet at the London Premiere as part of the BFI London Film festival 2013: