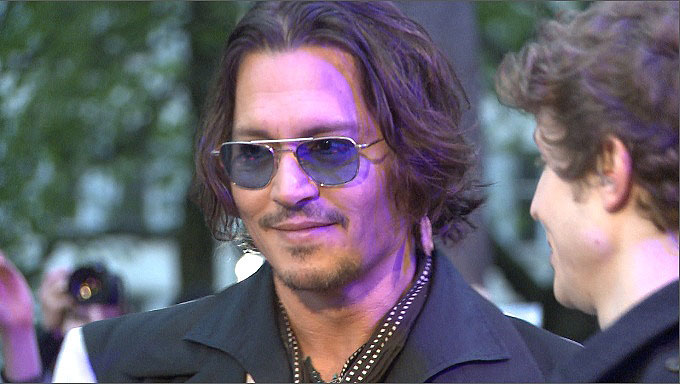 At the Dark Shadows European Premiere in London,  Johnny Depp  talked about landing his dream role of cursed Vampire Barnabus Collins and how he got into character for his 8th film with visionary director Tim Burton. Here's what Johnny had to say:
How does it feel to be back in London for the European Premiere?
It's great to be back. I'm always sort of without words and overwhelmed by the welcomes I receive here.
Tell us how this project came about, what made you and Tim Burton want to bring Dark Shadows to the big screen?
It actually came about in such a casual way, we were doing Sweeney Todd at the time and you know I just casually mentioned to Tim, you know we should really do a vampire movie someday. Then we got onto the subject of Dark Shadows, which we'd both been fans of as kids. One thing led to another and then a couple of years later it happened like a bang.
Is it true that when you were a child you used to proudly announce one day you'd become a character in the show?
Yes I was obsessed with it as a kid. Barnabus Collins is one of those characters that has sort of been lurking in the back of my mind for many years
Did you re-watch episodes of the original series to get yourself into character?
I watched them every night while we were shooting. I'd watched them for weeks and months before we started. But Michelle Pfieffer was unbelievable she was watching them every morning in the makeup trailer.
You always take on interesting roles that feel unique, how easy was it for you to slip into this one?
I mean I just felt instantly comfortable on this film. Of course being with Tim again, but also we quickly worked out the hair and makeup process and together with the wonderful costumes I just felt instantly at home.
How would you describe Barnabus to audiences who might not be familiar with the original series?
I would describe him as obviously essentially a reluctant vampire. He's a very elegant well-bred 18th century man who was cursed, locked in a box and thrown into the very strange era of 1972.
Among other things Barnabus has a pretty eccentric style, did you manage to keep any of his wonderful outfits when filming finished?
Oh yeah. Quite a few fell off the truck for sure.
It's clear this role has been really important to you for a long time, was it a dream come true for you to finally play Barnabus?
Well, I think there are always still more boxes to be ticked, but this was a big one for me yeah!
Johnny Depp, Director Tim Burton and the entire cast of Dark Shadows walked the purple carpet in London's Leicester Square tonight at the European Premiere of their new comedy film.
Based on a cult classic TV series, the film marks the 8th collaboration between Tim Burton and his kooky muse Johnny Depp. We spoke to the genius director about his special relationship with Johnny and why he simply can't stop working with his 'surprising star' .
Check out what he had to say:
We also spoke to Johnny's lovely co-star Eva Green, who plays Angelique Bouchard an evil witch who curses his character Barnabus Collins, turning him into a grumpy vampire. Eva tells us why it's so fun to be bad and  talks about her electric on-screen chemistry with Johnny.
Here's Eva's Interview:
Finally here's a lovely glimpse of Johnny Depp looking dashing as always in front of an army of screaming fans who had traveled from all over Europe  for the chance to meet him. The charming Pirates of the Caribbean star didn't disappoint, spending a very long time shaking hands and signing autographs, much to their delight.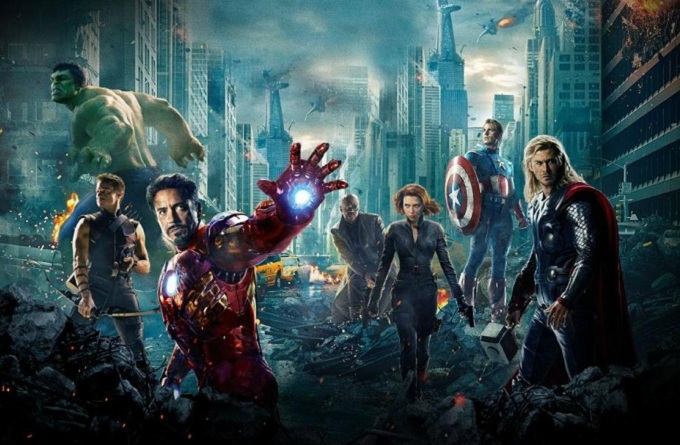 Disney have officially confirmed that there will be a sequel to The Avengers. The news was of course inevitable following a worldwide box office haul of over $642 million in less than two weeks for current superhero blockbuster.
Stan Lee, who created many of the characters, recently revealed his hopes for a second movie, saying:
"Oh, I'd be happy if they add Black Panther and maybe Dr Strange. Those two and probably Ant-Man, which I think they are working on. Maybe I'll play a little role in that."
Ant-Man, who in the comics was a founder member of the superhero squad, is getting his own movie in the capable hands of Shaun Of The Dead and Scott Pilgrm director Edgar Wright.
Marvel producer Kevin Feige recently confirmed an Ant Man script was finally ready after several years of polishing, with actual production likely to begin later this year.
Scarlett Johansson has also been open about her desire to make a solo movie exploring the back story of her catsuit clad character Black Widow, in the vein of the Bourne movies.
The Avengers Assemble sequel will follow forthcoming Marvel releases Iron Man 3, Thor 2 and most likely Captain America 2. Disney CEO Bob Iger said:
"The success of the film (Avengers Assemble) is a great illustration of why we like Marvel so much"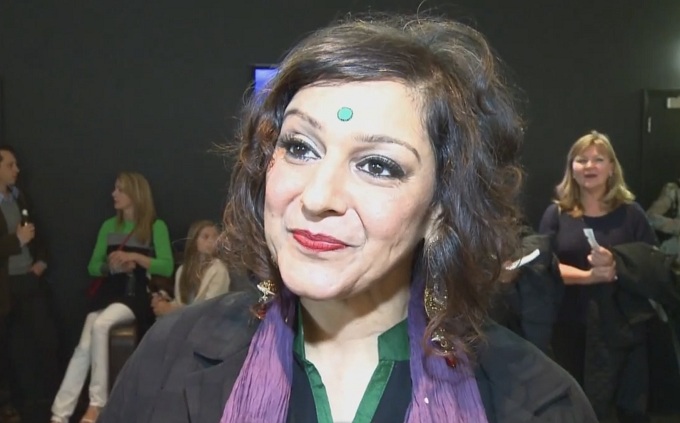 Star Meera Syal spoke about the return of popular comedy favorite The Kumars, while walking the Red Carpet at the BFI Southbank for the gala screening of her new film All In Good Time.
The Kumars at No.42 ran for seven series, winning two international Emmy Awards. Since then there's been a variety of failed efforts to revive the show internationally. Now Hat Trick Productions and the original cast are bringing the show back for a brand new series airing on Sky1 this autumn.
The revived show under new title The Kumars at Number 42B will find the Kumar family down on their luck, having moved form their Wembley mansion into a small flat about their Hounslow gift shop. Meera explains that the new format has been in development for a long time and should reflect life in Britain in the aftermath of the recession.
Full Video Interview below: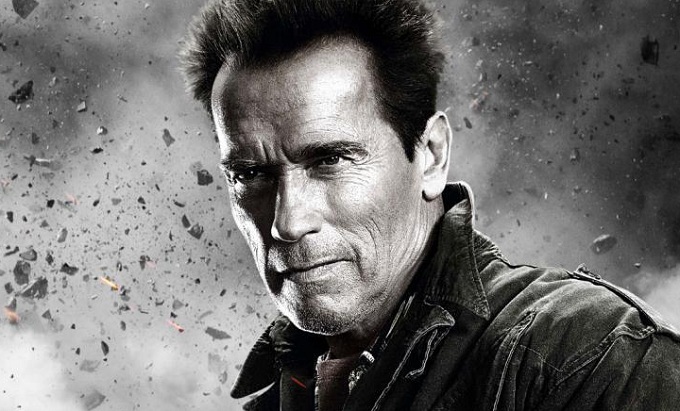 Resurgent Superstar Arnold Schwarzenegger adds yet another film to his growing list of gun toting action projects, signing on for the lead role in new movie Ten.
Ten follows members of an elite DEA task force who steal millions from a drug cartel safe house only to find someone is now trying to take out them out one by one.
Arnie will be blasting his way back onto the big screen and into our macho hearts this summer in all-star sequel The Expendables 2 and is currently filming The Tomb alongside fellow muscle-bound action icon Sylvester Stallone.
Before then Schwarzenegger will also be starring in The Last Stand, playing a small-town sheriff squaring up to a notorious criminal kingpin and his gang who are making a run for the Mexican border.
Arnie's role in Ten was once intended for fellow Expendables co-star Bruce Willis, but he'll now be busy making fifth Die Hard Sequel 'A Good Day To Die Hard'. Both films coincidentally have scripts written by Skip Woods, his past work worryingly includes Swordfish and X-Men Origins: Wolverine.
Ten will be directed by David Ayer who previously scripted Training Day and made his directorial debut with gritty crime drama Harsh Times.