Muppets Most Wanted Review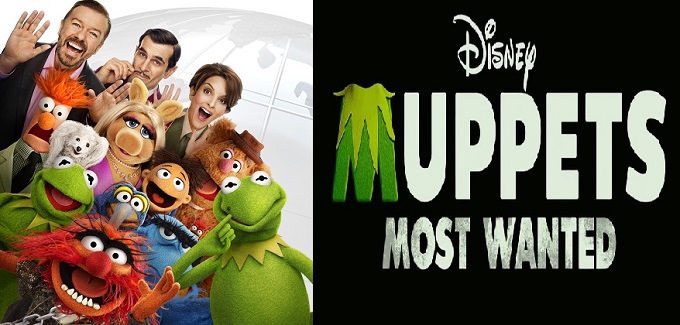 The Plot:
Having reunited and re-established their fame The Muppets are convinced by a smooth talking agent Dominic Badguy to set out on a world tour. But when the world's most dangerous Frog Constantine breaks out of a Siberian prison the Muppets find themselves caught up in his evil schemes and another elaborate crime caper, pursued by Interpol and the CIA.
The Good:
The Muppets made a long overdue but triumphant return to the big screen in 2011. Director James Bobin and musician Brett McKenzie recaptured much of the magic of the Muppets that had once appeared lost with the untimely passing of Jim Henson. Rescuing the franchise from inferior quality straight to DVD efforts the last film was a heartfelt homage to the original charms of his beloved creations. Muppets Most Wanted happily continues that revitalisation.
Music has always been one of the Muppets most effective tools for demonstrating their unique combination of whimsy and humour. Opening number We're Doing a Sequel is a catchy encouraging start and the songs that follow are all likely to provoke big smiles. A lavish musical homage to a Siberian prison, cheesy love ballad I'll Get You What You Want and a final reprise of classic Muppet track Together Again are among the toe tapping highlights.
The Muppets have also always been able to rely on cameos from an array of famous faces. The Muppets are so universally popular that the likes of Lady Gaga, James McAvoy, Tom Hiddleston and Céline Dion will gladly drop everything for just a brief appearance. Armed with their resurgent popularity Muppets Most Wanted is easily the most star packed of all the Muppets adventures.
Ricky Gervais, Ty Burrell and Tina Fey do fine work in more substantial human roles, both clearly relishing every moment they get to play alongside their childhood heroes. Though easily and consistently outshone but their Muppet co-stars they clearly don't seem to mind.
New villainous Muppet Constantine is also great fun. The evil frog that bears an uncanny resemblance to Kermit is a mischievous delight, complete with a garbled Russian accent and amusing mean steak.
The Bad:
While Flight of the Conchord's funnyman Brett McKenzie returns to provide an array of entertaining songs for the new sequel in truth they don't quite match the memorable charms of his Oscar winning efforts in the last film. Although there's plenty to smile about and a few catchy moments at times it perhaps lacks the heart that made songs like Rainbow Connection and Man or Muppet so effective.
Overall that is perhaps the only criticism to be made of Muppets Most Wanted; it's slightly lacking the cohesive emotional narrative of the Muppets 2011 return. Unlike its nostalgia infused predecessor Muppets Most Wanted is a throwback to the straightforward silliness of the usual Muppet adventures, its charming fun but without quiet as much emotional subtext and sentimental impact.
Devoted Muppet fans may perhaps also be a little disappointed to see popular characters like Gonzo, Rizzo the Rat and Pepe the King Prawn once again given minimal screen time. As the latest film continues the trend of giving prominence to key figures like Kermit, Fozzie and Miss Piggy.
The Ugly Truth:
In a world of cynicism and overblown CGI it's a heart-warming delight to have the tangible whimsy of the Muppets back on the big screen. Lifelong fans and the newest generation of captivated kids will welcome the latest dose of well-polished Muppet musical madness.