Johnny Depp Interview Dark Shadows European Premiere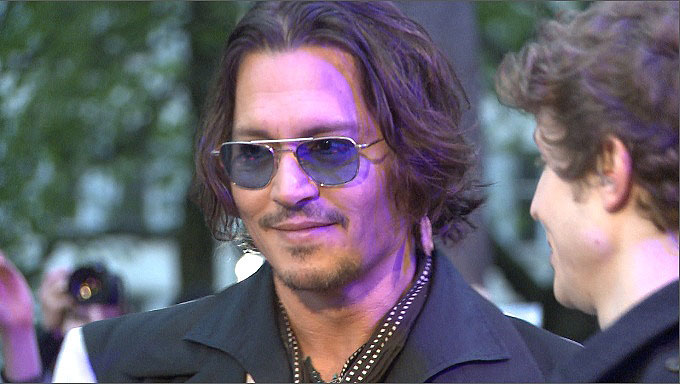 At the Dark Shadows European Premiere in London,  Johnny Depp  talked about landing his dream role of cursed Vampire Barnabus Collins and how he got into character for his 8th film with visionary director Tim Burton. Here's what Johnny had to say:
How does it feel to be back in London for the European Premiere?
It's great to be back. I'm always sort of without words and overwhelmed by the welcomes I receive here.
Tell us how this project came about, what made you and Tim Burton want to bring Dark Shadows to the big screen?
It actually came about in such a casual way, we were doing Sweeney Todd at the time and you know I just casually mentioned to Tim, you know we should really do a vampire movie someday. Then we got onto the subject of Dark Shadows, which we'd both been fans of as kids. One thing led to another and then a couple of years later it happened like a bang.
Is it true that when you were a child you used to proudly announce one day you'd become a character in the show?
Yes I was obsessed with it as a kid. Barnabus Collins is one of those characters that has sort of been lurking in the back of my mind for many years
Did you re-watch episodes of the original series to get yourself into character?
I watched them every night while we were shooting. I'd watched them for weeks and months before we started. But Michelle Pfieffer was unbelievable she was watching them every morning in the makeup trailer.
You always take on interesting roles that feel unique, how easy was it for you to slip into this one?
I mean I just felt instantly comfortable on this film. Of course being with Tim again, but also we quickly worked out the hair and makeup process and together with the wonderful costumes I just felt instantly at home.
How would you describe Barnabus to audiences who might not be familiar with the original series?
I would describe him as obviously essentially a reluctant vampire. He's a very elegant well-bred 18th century man who was cursed, locked in a box and thrown into the very strange era of 1972.
Among other things Barnabus has a pretty eccentric style, did you manage to keep any of his wonderful outfits when filming finished?
Oh yeah. Quite a few fell off the truck for sure.
It's clear this role has been really important to you for a long time, was it a dream come true for you to finally play Barnabus?
Well, I think there are always still more boxes to be ticked, but this was a big one for me yeah!