John Hurt Receives Cultural Honour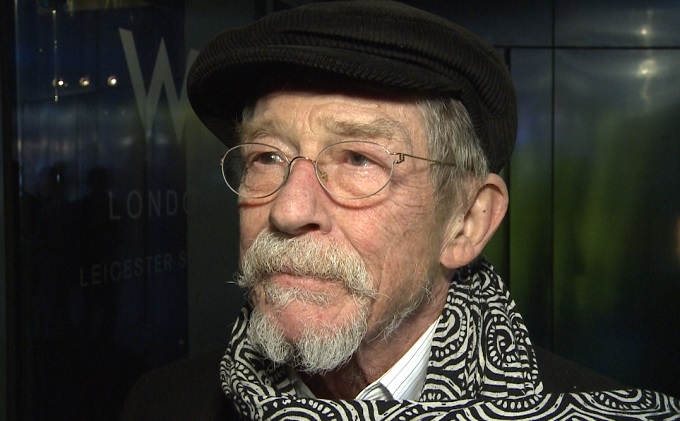 Global cultural diplomacy organisation Liberatum has awarded veteran British actor John Hurt CBE its prestigious annual Cultural Honour for his contribution to cinema at a glittering gala reception and dinner at Spice Market in W London – Leicester Square attended by leading figures from the worlds of art, film, music, theatre, media, literature and fashion.
Liberatum founder Pablo Ganguli said of the award:
"John Hurt is one of Britain's most cherished cultural icons. His incredible voice, which is instantly recognisable, and his magnificent  talent in acting have given us countless memorable films to fall in love with over and over again. Liberatum also applauds his work in supporting Amnesty International's extremely important causes and promoting human rights. We pay tribute to a great cultural figure."
Previous recipients of the Liberatum annual Cultural Honour include Gore Vidal, Sir VS Naipaul, Terry Gilliam, Sir Peter Blake, Marianne Faithfull andDame Zaha Hadid. This year's award was presented to John Hurt by Pablo Ganguli, in association with artist and sculptor Svetlana K-Lié, who has created the award.
John Hurt has enjoyed a celebrated film career spanning six decades and is considered one of Britain's most cherished and versatile actors. His credits include leading roles as John Merrick in The Elephant Man, Winston Smith in Nineteen Eighty-Four, Mr Braddock in The Hit, Stephen Ward in Scandal, Quentin Crisp in The Naked Civil Servant and An Englishman in New York, and Caligula in I, Claudius. Further film highlights include Midnight Express, Alien, the Harry Potter series and the recent adaptation of Le Carre's Tinker, Tailor, Soldier, Spy. Hurt has also worked extensively in theatre and television. He is the recipient of two Academy Award nominations, a Golden Globe Award and four BAFTA Awards including a BAFTA Lifetime Achievement Award and was awarded a CBE in 2004 for services to drama.
Last night's event was attended by guests including Billy Zane, Amber Atherton and founding Rolling Stones Member Bill Wyman.
Exclusive Red Carpet video interviews below with John Hurt and celebrity guests: