Empire Awards 2013 Voting Under Way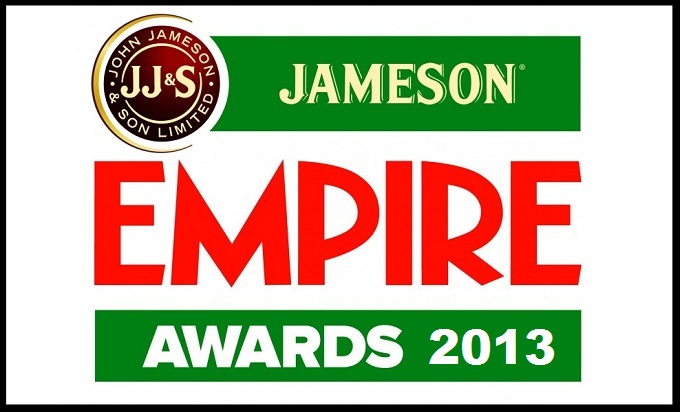 Film fans across the globe have the opportunity to make their voices heard at the Jameson Empire Awards 2013 . The awards ceremony takes place on Sunday March 24 in London and is expected to attract a host of star names from the film industry.
The Jameson Empire Awards are not voted for by the film industry or critics — they are one of the
biggest awards ceremonies to offer film fans the opportunity to have their voices heard. Hot on the heels
of the Oscars and BAFTAs, the Awards allow film fans and casual cinemagoers alike to vote for their
favourite films and performances of the past year. Voters can choose  in a variety of categories including: Best Male and Female Newcomer, Best Sci-Fi/Fantasy, The Art Of 3D, Best Comedy , Best British Film, Best Actress and the Jameson Best Actor.
2012 was a record breaking year at the UK box office maintaining cinema-going as the nation's
leading and most passionate pastime. Bond's return in Skyfall alone made an unprecedented  £100m, Marvel Avengers Assemble became the third biggest movie of all time and The Dark Knight
Rises also helped to drive over one billion people into the cinema.
Each year, the Jameson Empire Awards attract some of the biggest names in Hollywood, with last year's guests including: Gary Oldman, Danny DeVito, Bérénice Marlohe, James McAvoy, Tom Hiddleston and Michael Fassbender. Previous years' guests have included: Tim Burton, Russell Crowe, Daniel Radcliffe, Keira Knightley, Christian Bale, Matt Damon, Sigourney Weaver, Emma Watson, Tony Curtis, Quentin Tarantino, Kate Winslet and Dustin Hoffman.
Because the Awards are voted for by the public, they honour an eclectic mix of films, from big-budget blockbusters to independent cinema. Previous winners have included: Tinker Tailor Soldier Spy, Harry Potter And The Deathly Hallows —Part 2, Thor, Kill List, The Inbetweeners Movie, Avatar, Inception, Four Lions and In The Loop.
To see the full list of categories and cast your vote, visit:Empire Awards 2013 Voting . Open
voting continues throughout the 'awards season' until Wednesday February 27. The shortlist will be
announced on Friday March 1, with the final nominees shortlist open to a second round of public voting.
Picture Gallery below from last year's Awards: