Bula Quo! Review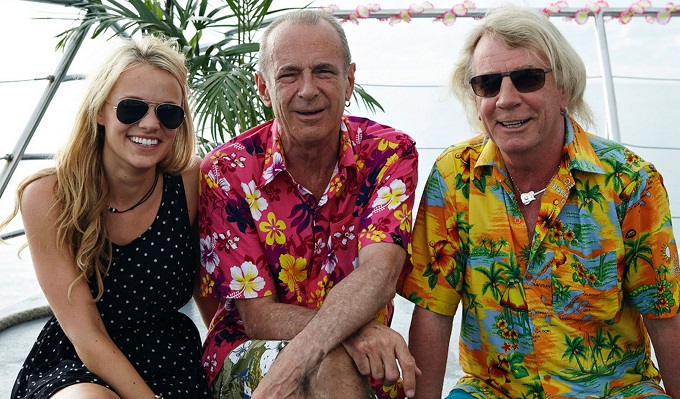 The Plot:
Real life rock legends Status Quo find themselves in deep trouble during a tour of the island paradise of Fiji when they witness a murder. Pursued by local mafia thugs, the police and the clueless world's press, Rick Parfitt and Francis Rossi must dodge danger at every turn to stay alive and keep rockin' all over the world…
The Good:
Status Quo are one of the most enduringly and surprisingly successful bands on the planet precisely because their instantly recognisable songs and jovial disposition has a unique cheesy charm.  After recent documentary Hello Quo!, this new film sees the band's mischievous frontmen making their most unlikely acting debuts. Though fans have enjoyed/endured decades of countless tours and albums, they'll certainly never have experienced Status Quo like this before.
Bungling duo Rick and Francis have such an utter lack of acting ability and comic timing that there's a perverse pleasure in watching them try. Their performances are packed with a steady stream of self-deprecating jokes and a blatant willingness to sacrifice all possible dignity. It's actually oddly endearing and makes it very abundantly clear that nobody is taking things too seriously.
At times Bula Quo is so unashamedly ridiculous it actually threatens be a work of accidental comedy genius. It's like watching the increasingly bizarre dream of a devoted Quo fan. A progressively ludicrous plot sees the geriatric rockers uncovering a black market organ harvesting scheme being run by a dastardly local mafia boss (Jon Lovitz). What follows is 90 minutes of painfully absurd action sequences, woefully inadequate acting and frequent breaks for impromptu music videos.
It's difficult to adequately describe just how strange an experience it is to watch Bula Quo! It's perhaps the first film in history to feature a 'high speed' chase that conveniently involves both kayaks and golf carts. It also features Idiotic thugs attacking our hard rocking heroes with deadly weapons that include… flip flop shoes. It's really just a lot of tame family friendly shenanigans with occasional moments of genuine hilarity.  Whether it's intentional or by happy accident, some of the film's delightfully atrocious dialogue is actually memorably magnificent. Such occasional moment of insanity combined with an ashamedly familiar/catchy Status Quo soundtrack keep Bula Quo! tolerable and at times even enjoyable.
The Bad:
Being brutally honest Bula Quo has a production value akin to a Saturday morning children's TV show and about the same level of sophistication in its heavy handed slapstick humour. Much like the band's music, this film will immediately divide opinion between those won over by its brazenly silly charms and those simply left irritated or bored by it.
The fact that the film's soundtrack is exclusively packed with the band's own infamous back catalogue and a fresh batch of new Quo 'hits' certainly won't help if you loath rather than love their music. The film isn't shy about openly taking a break from the 'action' to squeeze in an arbitrary music video or two. It will be a pleasure for Quo fans, but a brutal test of patience for anyone else.
Memorably wooden acting and a fantastically farcical script will be a guilty pleasure for those with a fondness for kitsch comedy, but it will be utterly unbearable for anyone who doesn't appreciate a 90 minute in-joke. In particular it doesn't help that the film noticeably recycles both jokes and actual footage, presumably due to a shortage of money and ideas.
The Ugly Truth:
Bula Quo! will no doubt be a welcome treat for Status Quo fans, but should be approached with caution by anyone who lacks a fondness for the band or silly slapstick hijinks. The film could easily become a cult classic and remains consistently weird enough to be watchable and unforgettable. Whether you want to or not…
Red Carpet Video Interviews below with Rick, Francis their co-stars and Director at the London Premiere: