Björk Film Premiere at BFI London Film Festival 2014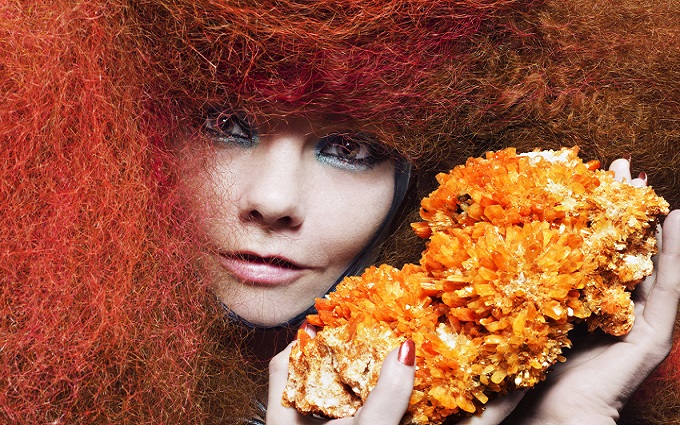 The 58th BFI London Film Festival has confirmed that BJÖRK: BIOPHILIA LIVE will be presented as the Sonic Gala at this year's Festival. Björk will attend the UK premiere with directors Peter Strickland and Nick Fenton on Thursday 9 October at the Odeon West End.
BJÖRK: BIOPHILIA LIVE is a concert film by Peter Strickland (The Duke of Burgundy, Berberian Sound Studio) and editor Nick Fenton (The Selfish Giant, Sigur Rós film Inni) and produced by Jacqui Edenbrow (Teenage, Joy Divison), that captures the human element of Björk's multi-disciplinary multimedia project: Biophilia.
Recorded live at London's Alexandra Palace in September 2013, the film features Björk and her band performing every song on her eighth studio album Biophilia and reworked versions of classic songs from Björk's extraordinary catalogue using a broad variety of instruments – some digital, some traditional and some completely unclassifiable. The live performance is augmented with animation created by top designers and features science and nature archive and found footage inspired by the themes of the album, which explore the relationships between musical structures and natural phenomena – atomic, cellular and cosmic.
The infinitely creative journey presents a culmination of work that represents one of the most original musical endeavours of a generation. The film will receive a series of screenings at festivals, museums, galleries and cinemas in the UK and worldwide through Autumn 2014.
Clare Stewart, BFI London Film Festival Director, comments:
"Under the curatorship of BFI Head of Events and Production, Stuart Brown, our Sonic cinema programme in both LFF and year-round at BFI Southbank presents an exceptional selection of screenings and events that revel in the connection between music and film. Björk is a true innovator, collaborating with exceptional filmmakers and artists to produce intoxicating work at the intersection of music and film. We are delighted to be welcoming her, along with Peter Strickland and Nick Fenton, to the BFI London Film Festival's UK premiere."
True to the daring spirit of the Sonic programme, director Peter Strickland said
"Being offered the Sonic Gala is gleeful revenge for all those many occasions when people complained about the music I was playing!"
Nick Fenton adds
"Let's not get too excited as it is only a concert film with some volcanoes and a few viruses; thunder and lightning; plankton and planets. Not forgetting Björk, the jellyfish, David Attenborough and the beautiful sounds of the choir Nobili.  So just another Sonic Gala at the BFI London Film Festival."
The Sonic Gala is the lead film for the Sonic programme at BFI London Film Festival. The Sonic programme features music inspired films and events to leave you dancing in the aisles. In addition to its gala and competitive sections, the Festival's sections are: Love, Debate, Dare, Laugh, Thrill, Cult, Journey, Sonic, Family and Experimenta.
The 58th BFI London Film Festival in partnership with American Express runs from Wednesday 8 October-Sunday 19 October. The full programme for the Festival will be announced on Wednesday 3 September when the full Sonic programme will be revealed.