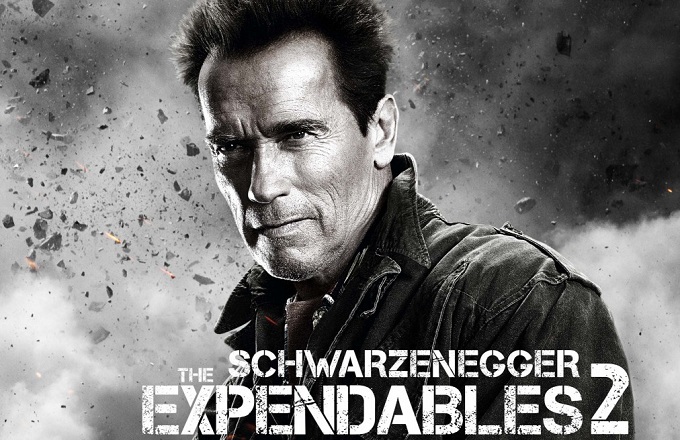 Arnold Schwarzenegger has spent the past 8 years serving as the 38th Governor of California, having stepped away from his position as the biggest action film star on the planet to pursue political ambitions that at one time seemed to stretch as even as far as a historic run at the White House. Now to the delight of action movie fans around the world Arnie is back. The Expendables 2 mark his triumphant gun toting return o the big screen, alongside fellow action legends Jean-Claude Van Damme, Bruce Willis & Sly Stallone.
At an exclusive press conference ahead of the London premiere Arnold spoke in depth about his political experiences and how it feels to finally be back dispatching bad guys on screen. Arnold spoke about what it was like to be such a big part of creating the modern action movie genre and the importance of a good one-liner. In particular Arnold shares how close he came to almost never saying his classic line "I'll be back". Arnold also shares his training tips and the life lessons he's learnt throughout his extraordinary career.
Read the full interview below:
Q. The first film blew fans away how do you think The Expendables 2 has raised the bar?
I was happy that I was asked again to be back. For me it was really interesting because you know one day you are making policy and trying to stimulate the economy, fixing the budget problem of the state, talking about education issues and inmates. The next day you're on a set having a shoot-out with Van Damme, Sly and Bruce Willis and all those guys. That's been the interesting part of my life; it's really such an interesting ride to go from one thing to another.

I was very appreciative that Sly asked me again and I think this movie is really going to blow everyone away because there's so much great action and funny scenes. You know the movie made me laugh enough. It has a lot of terrific funny scenes in there, which is important when you have an action movie to have some comic relief. I thought that everyone's performance was great. I thought that the first one was impossible to top, but when you see this one you'll all agree that this is even bigger and better than the first one . I think it's going to be very successful.
Q. Was there any competition on set given your past history of rivalries on screen?
I felt that everyone on the set was very helpful, because they knew I had been out for the movies for 8 years. So they actually went a little bit overboard, thinking I don't know how to hold a gun anymore. But everyone came together and helped which was really terrific, but at the same time we were very competitive like you said. I think if you grow up and try to be the best then you have to be competitive because  the more you compete and the more there's someone there who's a challenge then the more your performance improves.

I think because of watching them with their action movies I tried to step it up. So we were always competing about who has the most defined muscles, the best body, the lowest body fat, who has the biggest gun, who kills the most people and who kills them in the most unique way. So we competed about all this stuff all the time.
Q. Arnold have you found parallels between politics and acting?
I think there are a lot. You know you're always as good as your last movie and I think that's the same with politics. If you're successful with a certain policy then you're hot, if you're successful with the economy or bringing down the unemployment rate then you're hot! But if you're not successful then things go south very quickly.

I think that in communication and how to talk to the people politics is the same as show business.  In acting class they always used to tell you to be real, don't act be real, connect with the people and connect with your partner. The same is also in politics; you have to connect with the people. There are some politicians who act like they're talking to a wall and they cannot penetrate.

One thing that I think is extremely important is to connect with the people and bring the people in to become your partners in. That's what you need to do in order to be successful. So there are a lot of similarities, but then there are a lot of differences also.
Q. For fans the finest moments of many action films is the one-liners and there's some fantastic ones in this film, but looking back over your illustrious careers , could  you share what you consider to be the best and perhaps worst you've ever had the privilege to utter on screen?
I think that one-liners are very important and sometimes you don't even know when you make the movie that this is going to be a great line.I remember when we did Terminator and we did the line "I'll be back", I had no idea this is going to be an important line or something people are going to repeat.

In fact I had an argument with Jim Cameron about saying it "I Will Be Back". He said no! I wrote it "I'll be back". I said I don't like the way the I'll sounds… the I'yalll… it sounds a little soft. I said maybe it's more machine like to say "I will be back". He said No I wrote it I'll be back so just do me a favour and say I'll be back!! We shot it ten times, with ten different versions and then we just picked one.

So anyway, I did say the line "I'll be back" and when the movie came out I had people coming up to me saying "Oh say the line! Say the line!!!"  I said what line? They said "I'll be back" so I said "I'll be back" and they were like No, say it like you do in the movie. So I said "I'LL BE BACK" and they were like yeah yeah yeah that's the way!  I realised that lined clicked with the people and it was a big line, but you know I didn't realise it when I shot it.

But then sometimes you do know, like on Commando when I held the guy by his feet and said "I lied" then I dropped him… I knew this was going to be a funny line and was going to get a big laugh. So sometimes you don't know.

I've never had a bad line!
Q. Arnold this is your fist film in 8 years, what were you're feeling the first day of shooting?
The interesting thing is when I was governor I would visit a movie set, which I did quite frequently in Hollywood because I wanted to thank people for shooting in California. It's a huge help for the economy and a lot of states have gotten smart and started offering tax incentives so now productions go outside the state of California. So I always wanted to go and thank them.  When I walked away my assistant or aide would always say "Don't you miss all that?"

One time I was coming from a set where Tom cruise was filming. He was hanging upside down in a harness doing some fight scene and I said "No, I'm so happy I don't have to hang in this harness upside down and do that fight scene over and over. I'm happy being governor and I could not imagine doing that again." The all of a sudden a few years after I said that I'm on a movie set and I'm having the greatest time. I think this was just the ideal movie to be in while coming back.

First of all because you're working with the top action heroes, everyone works together, the spotlight doesn't go on me its spread among all the action heroes. So it was a safer way to come back. I was very fortunate that Sly liked what I did in the first film, the little cameo I did and then this time he asked me to come back for bigger role. I had the best time from when we got to Bulgaria and started filming, all the way to the end. It was difficult for me to leave because I knew that those guys were going to go on to have fun there for a few more months. I had to leave to go to my next film The Last Stand. But it was a perfect way to get into the movie business again.
Q. How have you adapted your workout regime as you've gotten older?
Yeah, I do the curls first now. I do the squats last… (Chuckles loudly) No but seriously I think Sly always used more scientific way of training and what I remember was you were always hunger for what is the latest method and the latest findings. All of that stuff. I'm come much more form the old school, I believe in reps. To just do it every day for an hour a day. I do the same exercises I did 50 years ago. They still work. I eat the same food I did 50 years ago, it still works. I have a great time. I'm addicted to exercising. I have to do something every day. Also some cardiovascular training here in London has been fun. They have the Boris bikes here all over London and we've been going around everywhere cycling and sightseeing at the same time. I've been having a great time! For me exercise has always been part of my life as well as watching what you eat.

But it is without any doubt tougher as you get older, your metabolism slows down, your muscles don't respond the same way anymore. You do action scenes, fight scenes, you're running around and you take longer to recuperate. But so what it doesn't matter. It' not like we don't get paid for it, it's not like we don't have a good time or that we're not passionate about what we're doing. It's all terrific no matter what age you're in we have a great time. It's a great time working with all of the action stars that were in the movie. I had a great time working with Jason Statham, It's my first time working with him and he's such a talented actor so believable on the screen and he really shines in this movie again. So I'm happy about that. Everyone was terrific to work with.
Q. You and Sylvester Stallone helped to re-invent the action genre, but who were your idols for this growing up?
I remember when I was around 14 or 15 years old, I got to that age when physical strength and athletics, looking like a He-Man and all that stuff, really started to matter a lot to me. So I also watched Hercules movies. One guy in particular Reg Park, who was a British bodybuilder who became Mr Universe very young, ten won it a 2nd and 3rd time before ending up in Rome doing Hercules movies. So he was my idol.

I read everything about Reg Park and followed his footsteps. I trained like him and thought if he can make it then I can make it. It was a blueprint for how to get there. How to win the championships and here was how to get into movies. Become a Mr Universe then make Hercules movies. I though terrific that's the rout I'm going to go.  Yes he was an idol and a very important motivating factor for me. He gave me a vision of where I could go and how I was going to get there.

Then of course there were American stars like Kirk Douglas, or the one that comes to my mind was John Wayne. I saw a lot of the John Wayne movies that were very heroic to me. It was that age and they were very inspirational to me. I took it a step further than most kids who say I'm going to go and work out a bit.

To me it was I'm going to go win the championship, I'm going to get into the movies, I'm going to make millions of dollars like Reg Park, I'm going to get into the gym business. I'm going to have exactly the life he had. That's what I did and then I took it a little step further.
Q. Arnold you've such an amazing career, but what has life taught you?
I think most of the lessons that I learnt were form sports. I think that's why I always emphasise to young kids to get involved in sports. Because that's where you learn about discipline and you learn to never listen o people who say that's impossible or you can't make it. Because you can! I've heard all my life that I couldn't make it, that things were impossible or that I would fail but I didn't listen to that and I made it. You also learn how to get up when you fail and when you fall.

When you go through life you will never be successful in everything. I remember the amount of times I tried to lift 500lb on the bench press and I failed and I failed but then one day at the German championships in powerlifting I did finally lift it. After ten times failing!

So that's something I remember in politics when we tried to do a policy like redistricting in California, we failed five times and the press asked me don't you understand that people said no it's over don't try it again. I said look I failed so many times in lifting and I came back and then I did it. Sure enough in this particular instance the 6th time we won. So you learn never to give up. There are a lot of important lessons that you learn in all of this.

You have to have vision, no matter what you do in life you have to first have vision. You have to see your goal and believe in it, have faith in it, and then you can chase it. It is fun to chase it. That's the most important thing. If you have no goal or no vision you have nothing. That's what I've learned.
Or you can Listen to the full press conference below: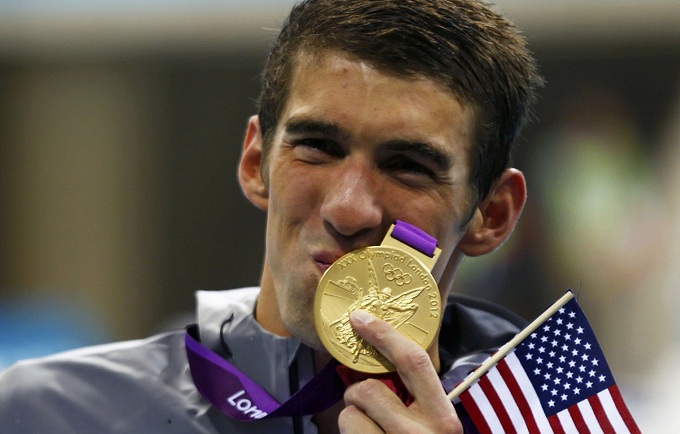 Michael Phelps won a fitting four gold medals while competing in his forth Olympic Games at London 2012. In doing so he broke the record of  Larissa Latynina to become the most decorated Olympic athlete of all time with an astonishing 22 Medals.
Speaking at the Omega Spotlight on Swimming event, Record breaking champion Phelps spoke about plans for his retirement and shared his reaction to new young swimmers like Chad Le Cros and Ye Shiwen at London 2012. Michael Phelps explained what he thinks the secret of his success in the pool was and what he thinks the true magic of the Olympics is.
He also revealed what happened during his recent amazing encounter with Soviet Olympic gymnast icon Larissa Latynina, where the Russian star gifted Phelps with one of her own prized medals in recognition of his astonishing achievements and in a show of support for his successful bid to break her long standing Medal record.
Read the full Interview Below:
You seem like the most appropriate person alive to ask, what do you think defines the Olympics and distinguishes it from all other forms of sporting competition?  In particular is there one Olympic moment that inspires you or that you might consider to be the greatest?
I think it is hard say which one Olympic moment is the greatest. I think the coolest thing about the Olympics is that people from all over the world come together for two weeks. The best athletes in the world come together. We're all in one gigantic Olympic Village. We all eat in the same dining hall we all see each other, I think that's something that I love the most. You get to see everything! Like all the basketball players in the village, people who are like eight feet tall! Well probably not quite that tall but still, I remember walking past these three women in the village and I literally had to look up at them. I mean I thought I was tall but that was pretty cool.

So yeah I think it's just the experience of everyone from all over the world coming together in one city and competing. It's something that's been pretty amazing for me. Being able to represent the United States and wear the stars and stripes for four Olympics has been a dream come true! I got that opportunity to stand at the top of the medal podium while listening to the national anthem play with the gold medal around my neck. It's been pretty fun, it's really very special.
For Team GB winning gold at these games will feel like the pinnacle of their career, but can you explain what motivated you to extend your career to keep coming back to the Olympics and keep winning medals?
I think one of the things that I think would be pretty cool would be to be able to win a Gold medal in your home country. That's got to be a pretty special feeling, doing it for a home crowd. That was one thing I thought would be pretty cool if I'd been able to swim my last Olympic race in front of a home crowd. London has been a great Olympics for me, not only in the pool; I've been able to experience some pretty great parts of the city. I've been able to have fun and you know the only thing that kept me coming back were the goals that I had. I knew I wasn't done.

There were still things deep down inside of me that I wanted to accomplish before I retired and I wasn't going to retire until those things were accomplished. After looking back at the last four years, sure it was very challenging and I had ups and down throughout, but I wouldn't change anything this has all been a great experience for me. I prepared for this Olympics how I wanted to.  I can now retire and say I've done everything I've ever wanted to. That's how I always wanted to retire and go out.
Many former champions continue to play once they retire out of a love of the sport. Do you plan to spend time in the pool now you're officially retired? Do you truly enjoy swimming?
I won't be swimming masters; I won't be doing any of that. The competitive side of me swimming is no longer there. That's finished. Maybe when I go on vacation and I'm by the pool or the Ocean and I feel like jumping in I will, but it won't be something that's on the top of my to do list.
What are you looking forward to now that you're out of the pool?
I mean I think the biggest thing is just being able to relax. I want to relax; I want to be on my own time. If I wake up one morning and say I want to go here, I want to just go do it. It's kind of cool that I have my freedom. I've got a box at the Raven, who knows I might get into horse racing. There are a lot of options and it's kind of cool to just not have anything to do. That freedom's pretty special.
Quite a few former Olympians have enjoyed competing on shows like Dancing with the Stars, is that something you'd ever consider?
I haven't really been known for my dancing but who knows. I've talked to Apollo and Natalie about it and they said that they enjoyed it and had a blast. I'm not saying I'd rule anything out so who knows it could be fun. I don't know who I'd choose for a partner though. That's a good question, maybe Natalie because she's gone through it all before. Natalie and I have been on a lot of teams together before.
Can you articulate your mental drive and focus on a race day?
Not really too much goes through my head. I know that once I'm at a swim meet I've done all that I can do to prepare myself and at that point the only to really do is get out there and race. I've always been able to really just tune everything out and I think you do need a good combination of being mentally tough and of course being physically in shape as well. I think you need all parts of that equation to be great at something. That's something that Bob and I have just always worked on. You Know I think Bob is not just prepared me to swim as fast as I can; he's helped me be prepared for anything. Whether it's my goggles filling up with water, problems with my suit or my goggle are cracked or something. I've just prepared myself for anything that could happen so it doesn't take me out of being focused on what I'm there to do.
Where do you think that extraordinary focus came from?
I think I've probably just always been someone who's been a very goal orientated person. Whenever I don't achieve a goal it kind of like failing. I try to put myself always in the right spot to be able to accomplish a goal so I can move onto the next one.
Did you feel something special when you broke the record of Soviet Union Olympian Larissa Latynina?
We actually spent a day together in New York a couple of months ago. You know being able to be around such an Olympic icon like that was something that was really fun. The language barrier was a little tough but she gave me a medal. It was a 1960s gymnastic medal from whet h Soviet Union competed against the USA and she won it and she gave it to me. It was pretty cool feeling to see her and spend the whole day with her. Also she told me that she was behind me and supporting me. That was something that was amazing for me to hear. I was able to do something that I put my mind to. I'm sure someday this record will be broken, all record are there to be broken. I hope I can watch it get broken and see what happens.
You recently said you didn't want to be a swimming coach because of what you put your own coach through, can you elaborate on that?
I could be pretty annoying person to coach. I could be frustrating. There are things that Bob and I argued about. I like purposely frustrate him I deliberately do stuff to annoy him. It can be like anything, I've been around him for so many years that I know the small things that literally drive him up the wall and I do them sometimes just for laughs.

When I was younger I used to always just take my cap off and that would always upset him. It was a little way of showing him that I just don't care. I'd like take it off in the middle of a warm up. I'd just throw it and you could just see him starting to steam. Like steam was coming out his ears. He was so frustrated. He'd storm off sometimes and drink a cup of coffee then he'd come back relaxed afterwards again. I don't think I could deal with that. It's not really for me.
Do you see Chad Le Clos as perhaps a successor?
You know watching Chad over the last year, he's somebody who's a great competitor, he' very tough. Obviously he has a lot of goals and things he wants to accomplish. Him and his coach work great together and you really see that. Him and his coach are as close as Bob and I are. They work well together just like Bob and I work well together.  They are very passionate about what they do, they are very passionate about what they do and Chad does have all the talent. You know he can swim anything from the 100 to the 400 and he can swim alternate strokes.

So it's going to be cool for me to follow his progress over the next four years. There's definitely going to be at least some good races in the future especially with Ryan. Those guys are going to be racing each other to see who's faster. It's going to be fun.
What have you thought of the performances you've seen in the pool at London 2012, particularly the astonishing form of some of the very young swimmers from America and China?
I've been able to watch all of the swimming here. Some of the most impressive swimmers were like the men's 1500. The winner could easily go like 14.25 without question. He's so talented, his stroke is perfect, his catch, his kick is literally flawless. There are some things I'm sure Dennis is going to help him on in the future and I mean watching that mile was absolutely incredible.

The women's 400IM I was happy I was able to out split everyone on the last couple of lengths. I think I squeaked through by like a couple of hundred tenths. We had a laugh about it, everyone was joking about it in the dining hall afterwards.

It's cool being able to see swims like that because you see people who actually want to work hard and love the sport. They're out there setting goals for themselves and they're going out an achieving them. If there's one thing that I'm very excited about over the next four years it's to keep following the production of swimmers all over the word and see what they're capable of and the faster they go. We have a lot of new faces but it's going to be fun.