About Time Review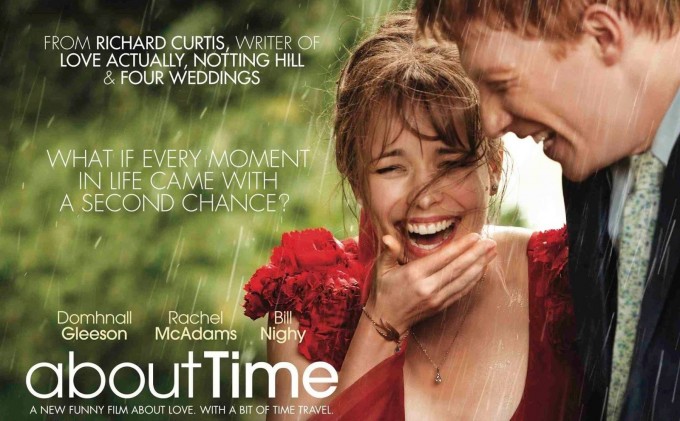 The Plot:
When a young man learns an extraordinary family secret he discovers he has the ability to time travel and relive or even change the past. Exploring his newfound abilities he learns valuable lessons about life, love and family.
The Good:
Writer Director Richard Curtis is the undisputed master of heart-warming romantic comedy and with About Time he delivers another satisfying slice of feel-good. Confident in his well-practiced romantic formula Curtis adds even more whimsical fantasy with the added element of time travel. More interestingly About Time also looks beyond a predictable love story to explore the love between a father and son.
Curtis has always been able to rely of the effortless charms of leading men like Hugh Grant or Colin Firth and in young rising star Domhnall Gleeson he continues that tradition. Gleeson gives a performance packed with likeable everyman charm. Rachel McAdams is equally endearing as Mary the American object of his determined affections.  However as with Curtis's definitive effort Love Actually, it's actually Bill Nighy who steals the show as our heroes doting dad.
Nighy and Gleeson craft a sincere portrayal of the profound bond between a loving father and adult son as the film makes a surprising shift in focus at its halfway mark. It's a relationship so rarely given proper focus on the big screen, but just as moving and powerful as any romantic love story. It's a tribute to the film's success at adequately capturing that love that over 90% of the audience will likely immediately call their family after leaving the cinema to tell them how much they love them.
The film could easily have stumbled over the confusing complexities of time travel. Luckily Curtis simply sidesteps unnecessary over thinking and keeps things as simple as possible. It's an obvious source of easy comedy, but it's also a clever vehicle for exploring love, loss, pain and joy.
The Bad:
Richard Curtis is often accused of being overly sentimental or saccharine and those who find his trademark romantic comedy formula more irritating than inspiring will probably have a similar reaction to About Time as his previous efforts. In essence, yet again likeable central characters fall happily in love surrounded by silly eccentric friends and whilst living mostly stress free lives.
While some will commend the film's efforts to explore fresh territory and look beyond merely a simple story of boy gets girl, others may find it less purely romantic the Curtis's past offerings like Notting Hill or Love Actually.
The Ugly Truth:
About Time is by his own admission Richard Curtis's most personal work to date. Whilst it features all the familiar elements of his previous films it's perhaps even more whimsical, thoughtful and profound.